Industry insights: Analysis reveals the destinations most favoured by SVOD switchers as service-stacking reaches an all-time high and there's a new focus on streaming in Central & Eastern Europe.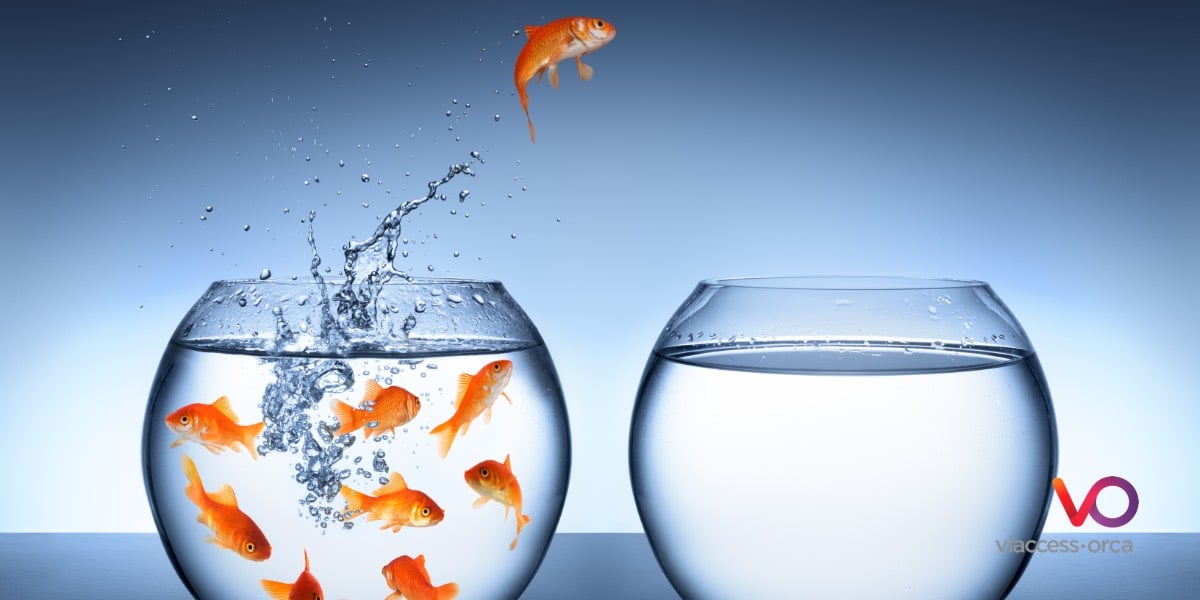 Apple TV+ and Paramount+ big winners in churn wars
Research from Ampere Analysis has revealed some interesting underlying patterns to the rising amount of SVOD switching now prevalent in the US. The data shows not only the competitors that people are most likely to switch to, but also how their existing services can alter the direction in which they decide to switch.
The table below shows the top five services chosen by switchers, defined as those who move from one subscription service and commit to another contract within 60 days, and covers the 27-month period between Q1 2020 and Q1 2022. And this is a substantial number of people we are taking about, as many as 30% of users switching services in any two-month period.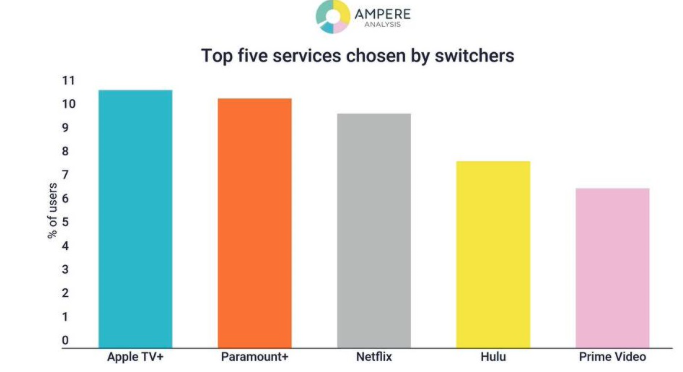 11% of switchers chose Apple TV+, with a similar number also selecting Paramount+ as well. And Apple remains the top choice for those switching from Netflix, which, just by the sheer volume of subscribers Netflix has, will produce a distinct boost for the Apple service.
It is starting to be an interesting turnaround for Apple. As Broadcast writes: "Research by Kantar earlier this year, underscored industry observers' views that Apple's preference for a smaller collection of high-profile tentpole originals over a big library of shows is paying dividends." By way of contrast, the magazine went on to point out that Apple TV+ has 78 original series out of a total of 129 series and films, while Netflix's US catalogue alone currently has over 3,700 original-branded TV series and films.
Some other interesting figures from the Ampere research:
Just over half (56%) of users who leave a service choose not to re-subscribe or switch to a new service within two months
There is a distinct 'keep it in the family' vibe, with Disney+ users switching to Hulu and vice versa, and Paramount-owned Showtime indexing well amongst Paramount+ churners
An average 14% of customers leaving a platform return within two months
Netflix leavers were most likely to boomerang: 23% of its churners re-subscribe within two months
Rates for other service boomerangs were 11% for Disney+ and Hulu, 10% for Apple TV+, and 15% for both HBO Max and Paramount+
"The analysis also showed that the higher-spending, high-stack households were engaging in 'dipping' - moving in and out of services higher up the stack," writes Rapid TV News. "Smaller services are currently being taken in homes that are already avid SVOD watchers and chasing more variety. By contrast, those with only one or two streaming services are satisfied (for now) with the major providers and tend to move between the big two or three streaming choices."
OTT service-stacking at an all-time high in US
According to Parks Associates' latest quarterly survey of 10,000 US internet households, an impressive 50% now report subscribing to four or more OTT services, with nearly 25% having nine or more services.
Perhaps unsurprisingly the percentage of those having no services has fallen sharply over the last three years to barely over 10%, just slightly more than those who maintain a single service. Rounding up the snapshot, just under 10% had four services, while almost 20% had between five and eight.
These numbers have changed considerably over the past three years. In 2019, barely 10% of homes had four or more services, while just over 25% had one service and around the same percentage had two.
Yet despite this growth, Parks warns that while service-stacking in the US continues, there will inevitably be a saturation point where households will no longer be willing to add another service and may look to trim back on their number of subscriptions. This is leading to service providers actively pursuing expansion in other territories.
"Service providers are anticipating this and looking to expand worldwide with content and coverage to boost their global offerings," said Parks Associates contributing analyst Eric Sorensen commenting on the study. "This global push led to a bidding war for the exclusive streaming rights to the Indian Premier League cricket event, where Mumbai-based Viacom 18 beat out Disney. All providers are looking for new avenues to expand their global appeal."
SVODs target growth in Central and Eastern Europe
Elsewhere in the world, according to an excellent and impressively detailed piece in Streaming Media, one of the main areas where streamers are looking to expand on global appeal is Central and Eastern Europe. (CEE) The theory is that the rollout in Latin America and Western Europe is largely complete and reaching saturation (and possibly beyond given the service stacking figures above), so the focus has turned to countries including Poland, Czech Republic (Czechia), Bulgaria, Romania, Slovenia, and Hungary (along with Turkey and, presumably once it has lost its current embargoed status, Russia).
Netflix tends to dominate in these countries with Amazon Prime also well-established, but the introduction of Disney+ and SkyShowtime is changing the landscape. And that landscape is a fertile one; the overall number of online video subscriptions in the region jumped to 31 million in 2021, up from 25 million in 2020, according to Omdia. And, as more OTT services begin to look to the region as an expansion point, Ampere reckons that CEE's SVOD subscriber base is projected to grow over 60% from 2020 to 2022, primarily driven by Netflix, and the launch of HBO Max and Disney+.
"The average CEE SVOD user subscribes to 1.6 services, but with the launch of more US competitors, rotational churn (subscribing to different services at different points of the year) could occur for budget-conscious viewers," Streaming Media quotes Callum Sillars, senior analyst, Ampere. "As the market becomes inundated with a deluge of competing SVOD services, cheaper ad-supported tiers could prove the difference and key to growth in a relatively price sensitive market."
The article charts the progress of the major international streamers and local SVOD players in CEE in more detail than we can go into here. But it does note three distinct differences from Western Europe and the US which will make global SVOD's incursions into CEE challenging. First is a strong local market, particularly in the Baltic states where, unusually for anywhere in the world, Netflix is not the market leader; second is a low penetration of both broadband connections and video-capable mobile connections; while third, the cost of pay-TV packages is broadly much lower in the region, which means the vital spark to start mass cord-cutting is largely absent.
The long and the short of it is super aggregation is going to be a key play in the market. Partnerships between telcos and online video services will be vital for any streamer looking to break into the market, while Pay-TV providers will actively look to add services and hold on to their established businesses.