A joint VO and ATEME solution allows operators of any size to quickly achieve scalable and future-proof OTT TV services.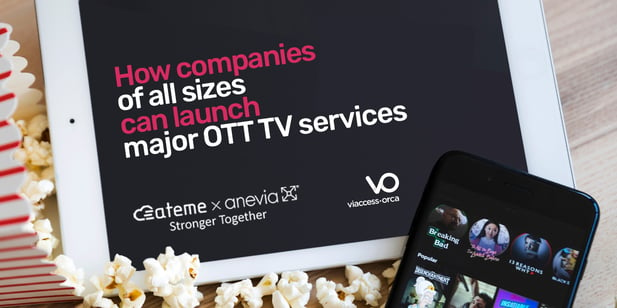 The broadcast industry is changing on an almost daily basis. Yet one of the underlying themes driving that change remains constant: more people are watching more videos on more devices than ever before. That means two things. Broadcasters must find new ways of connecting with their audiences and following them into increasingly online consumption patterns. Also, ISPs must provide OTT services.
But organizations face many questions when launching new services and choosing the technology that powers them. How do they ensure they build a robust, reliable, and future-proof OTT platform? How do they guarantee interoperability? How do they keep on top of costs? How do they decrease time-to-market? How do they maintain both quality and the ability to scale?
With the explosion of ISPs in many regions worldwide, these questions are even more pertinent. Agile, hyper-local companies are increasingly competing against the larger national and regional telcos. They are laying or leasing their own fiber and offering a variety of benefits – lower cost, more personalized services, greater bandwidth, or all of the above.
So, an OTT solution must answer all of the above questions – and also be economical to use by hyper-local and targeted companies. Many of these have very small audiences.
Working with our colleagues at ATEME, we believe we have just such a solution.
A complete ecosystem
The complete ecosystem we have developed is illustrated below. It encompasses everything from content acquisition (left) through to delivery on all devices (right). ATEME provides end-to-end video delivery, from encoder to CDN. VO provides the all-important content security, the Service Delivery Platform including content and customer management, analytics, and more, and a way for ISPs to white-label their offerings.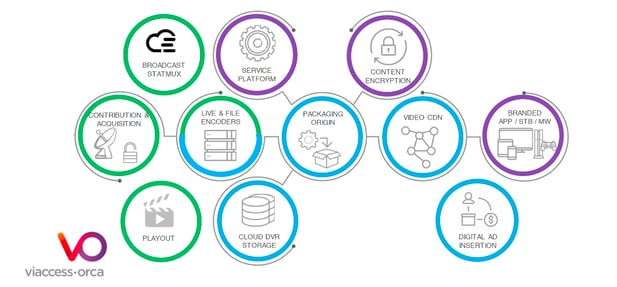 We covered this fully in a recent Anglo-Spanish webinar which you can access here (the Spanish section is subtitled in English). It's worth highlighting some of the key benefits of the solution.
The ATEME elements ensure an immersive experience with high video quality and latency below 7 seconds, on par with the broadcast. This is achieved thanks to the CMAF protocol. (We covered this in detail in How CMAF is a Key Factor in Reducing OTT Latency).
Crucially, it scales too. It can increase CDN streaming capacity, Origin streaming capacity, and storage capacity with ease and with no negative impact on system reliability. And it provides server-side ad insertion for targeted ads. It also offers other personalized services that help to increase ARPU and ensure OTT providers can target audiences down to impressively granular levels.
While ATEME powers the headend, VO secures and manages the content with its Service Delivery Platform. This provides a range of powerful features and allows users to create all service offerings within minutes. These include Live Channels, NPVR, Start Over, Catch-Up, Pay-Per-View, TVOD, SVOD, Season Pass, Movie Package, VOD Promotions, and bundles. It manages sign-up and billing and provides a single interface to overview and manage all the OTT services, including content and customer management, business offers, personal recommendations, and analytics.
And an illustration of the power of this joint solution, and the advantages it confers, can be seen from its deployment at TV Red Digital in Colombia.
Use case: TV Red Digital
Based in Colombia's capital, Bogota, TV Red Digital operates the new platform as the core of a white-label OTT resource that it can offer to ISPs across Colombia. ATEME provides a headend comprising Genova encoders, NEA-Live® origin packagers, and NEA-CDN® CDN solution. These are integrated with VO's Service Delivery Platform, VO DRM, and VO Secure Player.
Not long after its rollout, this system enabled TV Red Digital to serve 35 separate ISPs with a combined potential subscriber base of 50,000 viewers. That averages out at a little over 1400 viewers each, emphasizing the increasingly hyper-localized nature of the ISP business in the country. TV Red provides them with a fully-featured solution that would be prohibitively expensive for each operator to build alone.
Indeed, it addresses many of the questions for ISPs and operators that we posed at the beginning of this piece.
How do they ensure they are implementing a robust, reliable, and future-proof OTT platform, and how do they guarantee interoperability?
We have done the hard work for them. The continuing R&D efforts and feedback from a customer base that has millions of daily users around the world ensure the solution remains on the cutting edge of OTT developments.
How do they keep on top of costs?
As a centralized solution, ISPs can take advantage of the scale already achieved. For example, rights have already been negotiated with content owners. This gives smaller operators access to higher-tier programming and more premium content than they would be likely to achieve solo.
How do they decrease time-to-market?
The solution is centralized and ready to deploy within minutes. It is simply a case of the ISP hooking up to it with the main time being spent over the white-label process.
How do they maintain quality while also retaining the ability to scale?
Both companies operate award-winning technology stacks in their respective fields and are used to providing high-quality video at scale to millions of customers.
Colombia is a good example of the ideal ecosystem for this solution to work in too. There are estimated to be over 1000 ISPs now operating in the country, with more being added all the time. Having over 1000 headends operating simultaneously to service them is as improbable as it would be economically unsustainable.
Short-circuiting the complexity of OTT TV Services
While launching OTT TV services is an urgent necessity for many companies, there are a lot of questions that need to be answered to ensure they have the right solution for their needs. And that means keeping on top of costs while finding a solution that both works now and will work in the future. The technology stack must be able to evolve, and the solution must be able to scale to satisfy future demand. And it must deliver the premium experience in terms of quality, functions, and content that viewers expect.
The joint VO and ATEME solution does just that. And by ticking all those boxes, provides a powerful way to ensure that companies of all sizes, including the dynamic new breed of hyper-local ISP providers, can offer the OTT TV services they need to capture new customers and keep them.