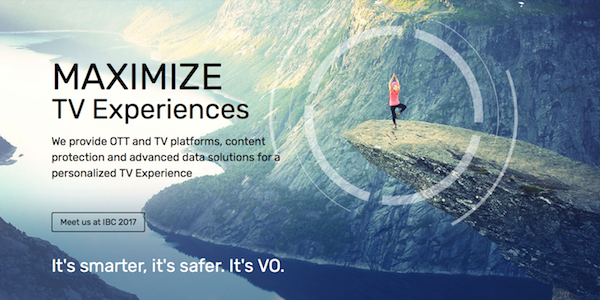 VO's new website has been unveiled to the world and we're excited to not only share it with you, but also to talk about what led us to create it.
A year ago at IBC2016 we introduced our new tagline: "It's smarter, it's safer. It's VO." Our new website takes the concepts embedded in this statement and gives them solid URLs, allowing you to see exactly how our solutions can benefit you, both now and in the future.
Have a look at the new site here

Based on detailed strategic research that we undertook with a selection of customers and stakeholders, the site and the focus of our messaging concentrates on how we help our customers maximize the TV experience for audiences worldwide. Our smart and safe solutions deliver a full spectrum of personalized technology solutions, across multiple platforms, to make the content experience as rich and vibrant as possible.
This is reflected in the graphic elements we have chosen for the site and our messaging, particularly the circle. The circle image represents the focus we put on our customers, with holistic support and innovative solutions and services. The circle also denotes the all-inclusive nature of our solutions in content protection, TV platforms, cloud, Virtual Reality and more.
Viaccess-Orca completes the circle
The circle also shows how seriously we take our commitment to our customers, enabling them to offer optimum, comprehensive services and solutions that discover, deliver and monetize their content and operations. Their success is our success
To further emphasize our customer-centric approach, we have also used many images throughout the new website featuring people out in the great outdoors and on their devices, enjoying outstanding TV and video experiences. The vivid spectrum of colors on show reflects the wide array of services we deliver, from proven content protection through to innovative new products and services, as well as the increased picture fidelity throughout the industry as we move towards Ultra HD and HDR pictures.
Ultimately any website is a distillation of a company's essence: both in the solutions it offers and the culture it embraces. Our new site embodies VO as we are now in 2017; a company wholly focused on enabling our customers to maximize the televisual experience they provide to their viewers. And, by helping shape a smarter and safer TV experience, our solutions do just that.
Check out the website here. And don't forget to make an appointment to see us at IBC2017