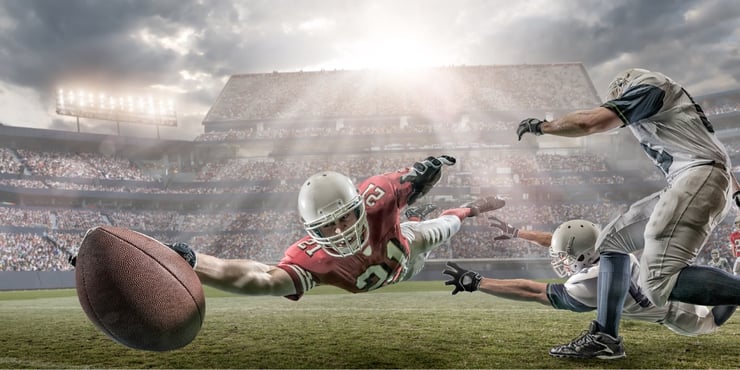 For so long the cornerstone of broadcast offerings, is sport losing its Midas-touch with broadcasters while at the same time being wooed by new SVOD and social players?
As opening weeks go, this season's first NFL games in the US were a disappointment in terms of viewing figures. Week one games were down 13% from 2016's figures in terms of live and same-day average viewers, according to UBS. And while Hurricane Irma undoubtedly had an effect — both in terms of limiting the audience and providing a distraction on the news channels on the other side — the bigger picture is of a 9% decline in the regular 2016 season and 6% in the playoffs.
Meanwhile, in the UK, average viewing for Sky's live (ie sports) TV channels fell 14% over the course of the 2016/17 English Premier League season.
We wrote about the subject of falling viewing figures last year in "Sport is Now Less Important": Is Sport's Dominance of TV Coming to an End?, a blog post which was made all the more significant by the quote in the title coming from Sky's Group CEO, Jeremy Darroch. Sky in the UK has almost single-handedly driven sports rights inflation in Europe, with knock-on effects across the globe, so any rethinking of its position is worth paying attention to.
Sport & SVOD: Enter Amazon
NFL and Sky both figure strongly in the next chapter of the story. In April, the NFL announced that Amazon Prime was its "new exclusive partner to deliver a live OTT digital stream of Thursday Night Football to a global audience across devices during the 2017 NFL Season." This was a doubling down of its previous season streaming, which was done via Twitter.

Then, in August the news broke that Amazon had outbid Sky for ATP tour tennis rights from 2019 in a deal that is costing the web giant a rumoured £10 million a year, as opposed to incumbent Sky's £8 million.
The following video from Bloomberg illustrates nicely the step change that is starting to occur in the industry.
"Amazon is trying to find a bunch of different ways into rights, especially with sports with global appeal," says Bloomberg News' Lucas Shaw. "It might also be looking at some of the popular American sports and looking to add them on to Prime."

There are a couple of things to note here. First, tennis is hardly a priority for Sky. Popular though it is with a subset of viewers it was hardly in a bidding war to keep the rights, and had already dropped the US Open tournament. Measured against that though is the knowledge that Amazon paid 5x what Twitter did for the NFL streaming rights, $50 million as opposed to $10 million according to Recode. This is a potentially unwelcome sighting of sports rights inflation moving onto new platforms.

Sport Goes Social
For once, this is a conversation about SVOD that is taking place without Netflix's involvement. Time and again Netflix senior execs have emphasised that it is the whole experience of binge-viewing that really transforms the business for the company, which means that it is leaving live to others.
"Investors ask us about Amazon's move into NFL football," the company stated in a letter to shareholders earlier this year. "That is not a strategy that we think is smart for us since we believe we can earn more viewing and satisfaction from spending that money on movies and TV shows."
The attitude of that other great disruptor of the digital age, Facebook, could not be more different. Sport is a key component of Facebook's increasingly aggressive move into video, and it has inked several deals so far this year covering LIGA MX soccer, Major League Soccer, the World Surf League, Major League Baseball, UEFA Champion's League, US college football, and more. It was also involved in the bidding for the NFL games won by Amazon.

It is probably fair to say that these are not Tier 1 rights. They are mostly either a smaller package of games, niche interest sports, or aimed at a diaspora population, but it is not short of ambition. At the start of September it tabled around $600 million for five years worth of digital rights to Indian Premier League cricket. In the end it was beaten substantially by a $3bn bid from the 21st Century Fox-owned Star India for all electronic rights, including television, but its arrival at the negotiating table with serious amounts of cash in its pockets will have been noted by all

The Old Balance: Reach vs Revenue
It's a complicated picture and an increasingly fluid one as well. One of the other major trends that has emerged this year is that of sports properties launching their own digital services, either OTT or via a platform, to engage directly with their fan base, a subject that we will probably return to again soon.
These are often complementary to the standard broadcast, but are becoming increasingly significant. Alexandra Willis, head of digital for the Wimbledon tennis tournament, told The Drum that across the 2017 tourney viewing figures were in the region of 150-200,000 for its breakfast show on Facebook and closer to 500,000 for its evening wrap-up, Wimblewatch Live.
The choice is, as it has been for 25 years now when the pay-TV boom started, between reach and revenue, between audience size and financial security. What is perhaps different this time round through is that the new platforms have some very large audiences indeed.
Last word for now goes to Chase Carey, the man running Formula One nowadays for ambitious new owners Liberty Media, who sees Sport & SVOD as part of a larger mix

"Part of what we have to do is make sure it's more than [just] free or pay," he told Autosport. "It's digital, and how you engage fans across the broader spectrum of free, pay and digital. Our goal is going to be to engage the full spectrum of video platforms."

The next round of rights renewal deals are going to be fascinating.