Industry insights: Streaming giants promise AVOD deployments, passwordless sign-in could ease password sharing problems, a fork in the road for video codecs, and more.
Streaming giants flirt with AVOD
Contrasting fortunes in the first quarter of 2022 for Netflix and Disney+, Netflix losing subscribers and forecasting more losses to come, totaling about 1% of its user base, Disney growing by around 10%.
Netflix's downturn created a huge amount of stories and articles, not least due to CEO Reed Hastings' remarks about the potential for launching an AVOD service as a consequence. Initially mentioned in a timeframe of "over the next year or two," as TVB Europe reports that could be brought forward to the end of this year.
"I don't think we have a lot of doubt that [the ad model] works," added Hastings, citing Hulu and HBO Max as well as Disney Plus's plans to launch an AVOD platform. "I'm sure we'll just get in and figure it out — as opposed to test it and maybe do it or not do it."
Disney meanwhile has been talking about the low ad load it will be offering when its AVOD service goes live later this year. Movies or shows that last an hour or less will only feature four minutes of ads per hour, the same as HBO Max but less than Peacock (five minutes). It's also much less than Disney-owned Hulu, which currently runs anything up to 9-12 ads per hour.
Disney also plans to make sure that the ads it carries match its family-friendly branding. That means no alcohol or politics at all, nor will it allow ads to be served when the individual user profile controlling the viewing is a very young child (its Disney Junior cable channel typically doesn't run any commercials). Happily, this is all something that is easily achievable with Targeted Advertising. It is also, according to reports, not interested in carrying any ads for rival entertainment services.
"Media buyers indicated they were a little surprised by the amount of control the company is exerting over the potential ad roster for the service," said Variety, "but also noted the dynamic might create a sense of scarcity for Disney+ commercial inventory, which could in turn increase demand from marketers interested in the service."
Passwordless sign-in coming to all major platforms
Say hello to FIDO.
Three of the largest tech giants Apple, Google, and Microsoft, certainly the three that control most of the browser-based access to the internet, have committed to building support for passwordless sign-in across all of the mobile, desktop, and browser platforms that they control in the coming year. That's Android and iOS mobile operating systems; Chrome, Edge, and Safari browsers; and the Windows and macOS desktop environments — which is a pretty comprehensive list.
This is all going to be made possible by FIDO. As The Verge reports, this uses the principles of public key cryptography to enable passwordless authentication and multi-factor authentication in a range of contexts. A user's phone can store a unique FIDO-compliant passkey and will share it with a website for authentication only when the phone is unlocked. Passkeys can also be easily synced to a new device from cloud backup in the event that a phone is lost.
FIDO is already in use in some apps, but has previously needed a password for initial set up. The new initiative does away with that entirely, allowing users to choose their phones as the main authentication device for apps, websites, and other digital services. That can be in a variety of different ways too, from entering a PIN to using biometrics such as a fingerprint or facial recognition, after which the unique cryptographic token is generated.
It does wed users to their phones more than ever, but promises to be significantly more secure than any current methods.
Industry support has been a long time coming. The Samsung Galaxy S5 was the first phone to support FIDO when it launched in 2014, but the new momentum looks like it could really lead to change. Password sharing in the OTT space has been in the news again of late (UK Culture Secretary, Nadine Dorries, caused consternation when she blithely admitted to sharing her Netflix account with four other households calling the streaming service an "incredibly generous system") but FIDO could go some way to solving that problem, at least for browser-based viewing — and as long as you have your phone beside you.
DTG: A fork in the road coming for video standards
After several years of H.264 (AVC) cross-platform dominance, a new report from the UK's Digital TV Group suggests that there is a split starting to appear between video codecs used for broadcast and video via broadband or mobile.
"The video industry is at an inflexion point, with the newer VVC, EVC and LCEVC standards competing to become credible alternatives to AVC, HEVC and even AV1," states the report.
It suggests that streaming video providers will likely select AV1 (or the forthcoming AV2), while broadcasters will stick with the MPEG standards, most likely VVC.
However, it also highlights MPEG-5 Part 2 LCEVC (Low Complexity Enhancement Video Coding) as the codec to watch. LCEVC specifies an enhancement layer which, when combined with a base video encoded with a separate codec, produces an enhanced video stream with boosted resolution and quality. This makes upgrade paths potentially a lot smoother.
Let's take an example. A video file encoded with an AVC base layer will be accessible to any TV or STB that can play H.264, even without a LCEVC decoder. It is when you add an LCEVC decoder into the device, though, that it can then receive full resolution and quality.
"The primary benefit here is that LCEVC offers a credible pathway for transitioning to a newer codec and could even use VVC as the enhancement layer," says the report. "Many in the industry believe that LCEVC is likely to have an impact because of the more favourable licensing terms. Nevertheless, the best indicator of LCEVC's viability will not just be in recognition of its potential but through active deployments by top-tier content publishers and streaming service providers."
Streaming climbs to new heights in April 2022
Lastly, April saw another milestone achieved for streaming audience reach in the US, as 30% of total TV time was spent with streaming services.
The below digram shows how the figures break down as reported by Nielsen's The Gauge study. HBO MAX grew its share to 1% (the standalone representation threshold) while new entrants and growth in other streaming services has led to the 'other streaming' category gain two full share points since May 2021 to a 9.2% total.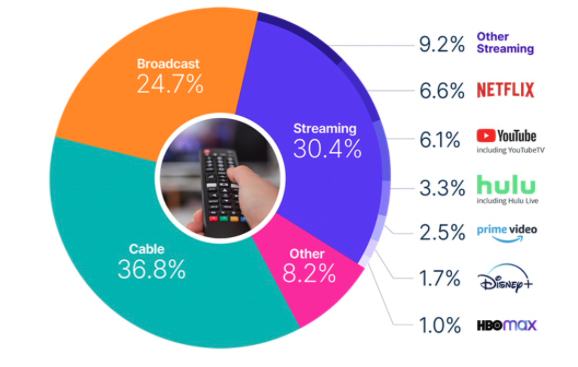 Overall there was a 2.1% dip in total TV viewing, which Nielsen said was seasonally reflective of usage at the start of spring as sports seasons come to a close. Broadcast and cable saw a decrease in viewing by 3% and 2.5%, respectively.