We celebrate International Women's Day 2022 by looking at some of the progress in equality for women in tech and what still needs to be done.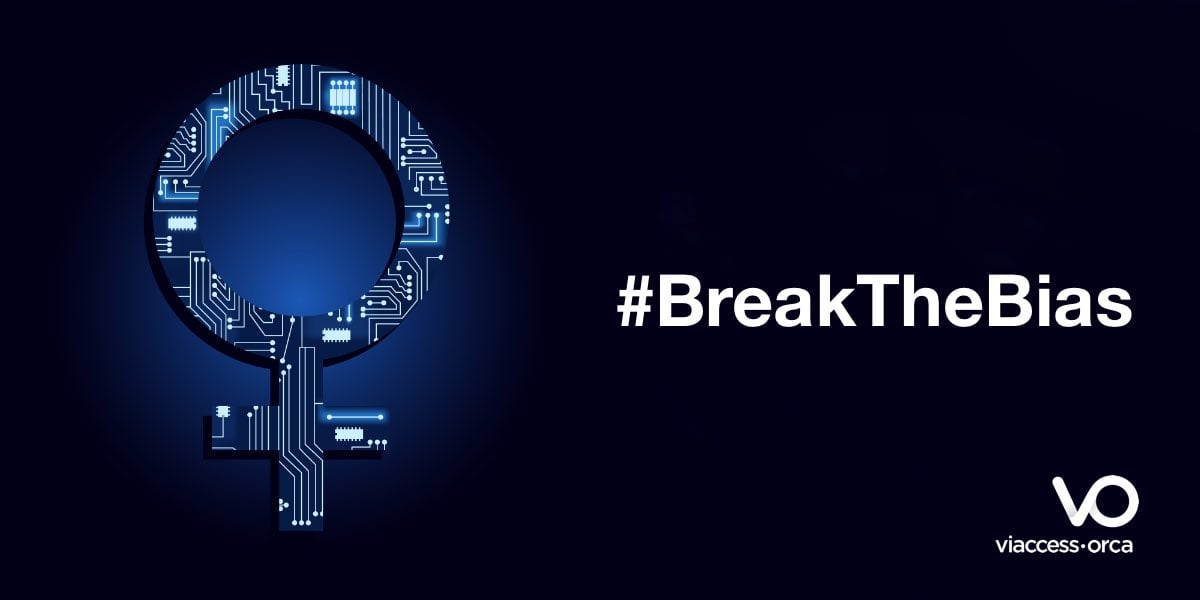 After having spoken to our own employees last year to mark International Women's Day, this year we thought we would widen the scope to look at women in the broadcast industry and the tech sector in general.
The good news is that there is some progress that can be celebrated. The bad news is that there is not enough. The journey towards gender parity across the world of work and equal representation at all levels in all companies is very much characterised by a two steps forward one back approach. So, while we can celebrate, for example, that the number of women in FTSE 100 boardroom roles rose to to 39% from 12.5% in a decade, that is both still short of where it should be and is also characterised by what is referred to as a "shocking lack of diversity."
The theme for this year's IWD is #BreakTheBias. So, where are we currently? And what advantages does having a more diverse workplace bestow on companies. The answer to that latter question is quite a lot.
Industry progress on equality
First, the wider picture.
There is no doubt that the pandemic hindered progress in gender equality and had effects that were disproportionately felt by women. Here are some stats from last year's annual TrustRadius Women in Tech Report.
57% of women in tech felt burned out at work, compared to 36% of men
Women in tech were nearly twice as likely as men to have lost their jobs or been furloughed due to the pandemic
72% of women in tech were regularly outnumbered by men in business meetings by at least a 2:1 ratio. 26% of women report being outnumbered by 5:1 or more
Women in tech were 4x more likely than men to see gender bias as an obstacle to promotion. 39% of women see gender bias as a barrier to promotion in 2021.
The number of women reported working in the tech industry worldwide in general varies depending on what survey you read, but on the whole seem to be hovering around 20%. This is, of course, not enough.
The broadcast industry itself seems to be performing slightly better. Industry advocacy group Rise and the IABM conducted a survey in summer 2020 that reported a 43|57 female to male gender split. There is a notable difference in the age groups here too, with women outnumbering men up to the age of 44 years old, and from then on, the men take over. The hope is that the numbers will achieve balance over the next few years as more women enter the industry and more men retire (though this does indicate a stubborn imbalance at the higher echelons of companies for a while yet to come).
Men are more likely to represent media technology vendors, with the median age being higher than average for this type of organization. Women meanwhile are skewed towards self-employment/freelancing. That means less job security and lower salaries, of $80-85K per annum on average compared to men who bring home $100-135K.
There are, of course, companies that buck this trend, with Netflix being a notable example. According to the company's latest diversity report, in 2021, 51.7% of the streaming giant's 10,000 worldwide employees were women. That is up from 48.7% the year before. Perhaps more impressively given the glass ceiling that seems to still be in place in many companies, women also comprised 51.1% of its leadership — classed as those with director roles and higher. That figure was up from 47.8% in 2020.
Meanwhile, female employees in creative or corporate roles made up 59.5% of Netflix's workforce in 2021, up from 57.3% the year before.
With technical roles still only 37% female, the company still has progress to make, and keeps on pushing forwards. It has a three point plan in its diversity program of increasing representation, including expanding its training regarding inclusive hiring policies for recruiters and hiring managers; improving its culture of inclusion and belonging; and expanding the inclusion strategy team around the world.
"Transformational change won't happen overnight," writes Vernā Myers, VP of Inclusion Strategy at Netflix. "Progress takes consistent discipline, heart and practice. We're committed to doing our part in inspiring change within our industries — so more people can feel seen, heard, and supported to contribute at their best."
Greater diversity = greater advantage
The ongoing battle for greater equality — Diversity, Equity, and Inclusion (DE&I) is the HR-friendly buzzword term — has recently got a powerful boost from some Mckinsey analysis of data regarding the effect it has on companies.
In Diversity wins: How inclusion matters, the analyst details how diverse organisations have a significant advantage over others in a variety of metrics. They achieve 83% more engagement from employees, enjoy 20% more innovation, perform 35% better on financial return, and generate 38% more revenue on average.
These are big numbers. And they indicate why DE&I — of which gender equality is such a big part — is being paid serious attention to in more and more boardrooms where it was perhaps seen as a peripheral issue in the past. And there is another factor too that we can attribute in part to the pandemic: the growing impact of 'the war on talent'.
This is the term used for the skilled employee shortage throughout the tech industries, and the pandemic has only made it worse. Indeed the power relationship between companies and employees has changed considerably in the past decade, to the point where it is employees that can dictate terms. Post pandemic they want hybrid work environments and the freedom to choose how they manage their work/life balance. In fact, 60% of recruiters now believe organizations will lose employees if they do not transition to a hybrid, fully remote, or even remote-first culture.
These working relationships traditionally advantage women, and the increasing numbers of Gen Z and younger millennials entering the workforce only drive this further. A recent report concluded that Gen Z cites a good work-life balance, ethical leadership, and demonstrable diversity and inclusion as key considerations when choosing an employer.
All that translates into the need for more equality. And for businesses, especially those in the tech sector, it is no longer going to be an optional process. The new employees coming into their organisation that business growth and continued success depends on will expect it. And the companies that do not pay attention to it will start to fall by the wayside.
The journey to equality is not finished yet, not by some distance. But in the skilled tech sector at the very least it is starting to go just that bit faster. We keep aspiring to equality, not just in our own industry, but across the entire workforce - and the whole wide world.