The Streaming Wars took a step up in November as both Apple TV+ and Disney+ launched long-awaited services but with very different approaches.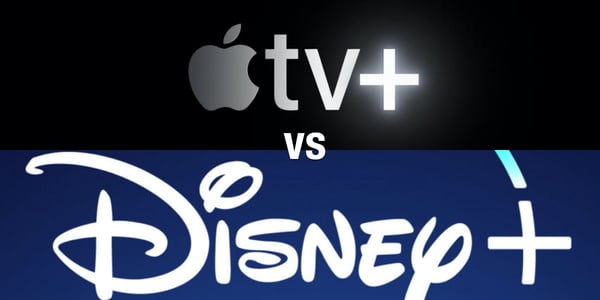 Apple and Disney have a lot in common. They are two of the most recognisable brands in the world with a genuinely global footprint; they both have a serious amount of money — Apple became the first trillion dollar company in August 2018, Disney's approximate $250bn market capitalisation only look small in comparison; and both have been long-awaited and potentially extremely disruptive entrants into the streaming wars with service launches in November.
The Streaming Wars, for want of a better phrase, have been primarily a two-sided battle since both Netflix and Amazon Prime Video launched global services in 2016. There are other important players, especially when you examine regional pictures (and indeed we have long made the argument that there is plenty of room for other services to co-exist - see our infographic The Pivot Towards SVOD and elsewhere) but on a global basis you have two main protagonists.
That can now be considered a four-way battle. Disney and Apple are not only already big enough and rich enough to compete even against incumbents that have had close to four years to establish themselves, they also have several important USPs that act as clear differentiators with consumers. Coupled with what are very different paths that the two companies have taken to get to the market, and you have a fascinating picture emerging.
The Streaming Wars: Play by Play
Let's look at some key areas of the two company's business models in detail. We'll start with what is considered by most to be the overriding feature of the modern SVOD players, content.
1. Original Content
Apple's path towards SVOD has been long, winding and tortuous. It started under Steve Jobs with the launch of the Apple TV in 2007 — the same year as the original iPhone — a device that underperformed so dramatically that three years later he was dismissing it as "just a hobby." So, a dozen years on, what does it seem Apple has learned about the business of television?
Initially it seems not as much as you might have hoped. One of the touchstones of the modern OTT service is that volume of content counts and Apple TV+ launched with a slate of just nine shows and not all episodes of them either, favouring a staggered release schedule rather than a binge-friendly drop. Reviews were mixed too, noting high production values but a lack of actual hits (though some Apple show producers have been quick to point out that sentiment regarding the company is often not neutral).
Disney's approach to content has to be split into two. When it comes to original content it is a similar story, the service launching with an almost identical number of 10 original titles and favouring a weekly release schedule rather than an entire season drop. Its profile has undoubtedly been helped by the fact that one of those shows, The Mandalorian, is the first live action television entry in the Star Wars cannon too.
There are similarities elsewhere as well. Content budgets for both are broadly similar. Disney plans to invest $1billion in 2020, ramping up to $2.5billion a year and 50 original series by 2024. Apple's initial budget for the first year of content was around $1billion too (though The Financial Times suggests this has ballooned impressively out to $6billion). Netflix, by way of contrast, was expected to spend $15billion on content in 2019 at the start of the year, and it would be unsurprising if that figure hadn't risen since. (It's worthwhile noting here Netflix content chief, Ted Sarandos', recent warning about price inflation too. "On a very competitive show, there has probably been 30% price escalation since last year," he said during the company's latest earnings call.)
2. Archive Content
Of course, one of the biggest differentiators between the two is in the size of their archive. While large libraries and efficient surfacing of content have been themes in the industry for a while now (see our post Entertainment Technology and the Rise of the Fat Channel for more), Disney has taken this to the extreme by launching with a truly enormous back catalogue of content that stretches all the way back to 1928 and Steamboat Willie.
It announced this with a 300+ tweet Twitter thread detailing every title, though as The Verge pointed out for every Miracle on 34th Street or Iron Man there is at least one, if not more, titles such as The Computer Wore Tennis Shoes or The Barefoot Executive. "The last movie is about a chimpanzee named Raffles who has the uncanny ability to predict the popularity of TV shows. If ever there was a movie deserving of a remake, Disney, it's this one."
3. Partner Content
Against the backdrop of Disney's giant back catalogue and Apple's distinct lack of one, it's worth pointing out that Disney is very much a walled garden for Disney-owned content. If it isn't owned by Disney, it's not on the service. Apple, by way of contrast, under the banner of Apple TV Channels, has partnered with a range of networks including HBO, CBS All Access, Showtime and Starz, to act as gateways to their content too.
To be fair, a lot of media is owned by Disney. But coupled with the strategy of pulling all its content from other outlets over the years — such as the well-documented retreat of Marvel titles from Netflix — it is very much putting all its eggs in the single basket. The counter-argument is that with ESPN+ and Hulu as additional brands in the empire — and available with Disney+ at a bundle price — it has more than enough variety to cover all bases. Indeed, it's even going to be pushing R-rated films such as the Deadpool series over to Hulu to preserve the family-friendly aspect of the main Disney brand.
4. Cost and Availability
Both services have come in substantially below the market baseline. Apple TV+ launched at $4.99 a month, Disney+ at $6.99. Netflix Basic is $9, though that just covers the use of a single screen in standard def. Netflix users have to pay $13 for HD and, to match the 4K HDR of the two new services, $16.
The pricing, in other words, is aggressive, though how long it can sustainably be kept at those levels is open to question for Disney in particular. Disney has also had a very limited roll out to date, only being available in the USA and Canada, The Netherlands, and Australia and New Zealand. An equally limited European roll out is slated for 31 March 2020, with "all major markets" to be online by the end of 2021. It would be unsurprising to see The Mandalorian compete with the last series of Game of Thrones for Most Pirated Title 2019 as a result.
By contrast, Apple TV+'s roll out was far more global in nature, covering 100 different countries. Part of the reason it can do this, of course, is because it has control of the complete chain. Most relatively new Apple devices in the wild are capable of running the Apple TV app and, with an advanced media distribution channel already in place (and long-established with first iTunes and then the Apple Music streaming service) it has the channels firmly set up for distribution.
Battlefield Reports
Apple's expertise in this particular area seems to have paid dividends. While its UI is possibly underbaked — Cupertino's trademark minimalism is great on the one hand, but some information such as number of episodes and/or series isn't easy to come across — technically Apple TV+ has had a good rollout.
Early indications are that its streaming quality for 4K HDR — a format common across both services — is the highest yet seen for a steaming service, See, for example, averaging 29Mbps across an episode with a 41Mbps peak. Netflix, by comparison, tops out around 16Mbps. And the episode of Game of Thrones that set off so many complaints about picture quality earlier this year on HBO streaming services in the US (see The bottom line on why Video QoE matters) went out at an estimated 5Mbps.
Disney+, meanwhile, was hit by a range of issues at launch as it struggled to cope with demand. Despite having acquired streaming specialist BAMTech for several billion dollars in 2017 specifically to help with the build up to launching Disney+, its infrastructure failed to cope with the sheer number of people signing on. Kevin Mayer, chairman of Disney's direct-to-consumer and international business speaking at the Code Media Conference, also laid the blame for some troubles on the app infrastructure. "It's a coding issue," he said. "We're going to recode…and we're going to start seeing new updates to our client software over the next week and half."
Interestingly, there are a few questions about Disney's tech stack. IBC365 cites Enders Analysis' Tom Harrington as questioning Disney's technology offer ,and pointing out that Netflix has spent a cumulative $5.4 billion on technology and development since 2007. Netflix is "years ahead in online content distribution technology and data management."
For now though, Disney probably has enough credit in the bank of public opinion to be forgiven for launch day issues, and it also soon became apparent quite how extreme the level of demand was as the graphic below shows.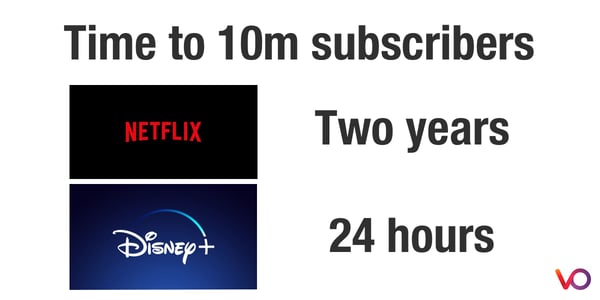 How many will stay beyond the free trial period is a figure the company has been less forthcoming about, nevertheless the initial subscription figures are impressive and the company looks to be well on course already for its target audience of between 60-90 million customers by 2024
Apple is playing its cards close to its chest when it comes to subscriber numbers, but its long-term ambition to move towards service-based revenues and away from solely being a hardware vendor is well documented. But it has to be pointed out that that hardware gives it fabulous leverage; much like Amazon, it's a tech giant that is not solely in this battle to sell video content to people.
Consider this for starters. Apple is giving away a free year of Apple TV+ to everyone who buys a device or computer in its launch year. And Apple sells 250 million of them a year. Not everyone will sign up and not everyone who does will stay, but if even 10% do that puts it within touching distance of Hulu's 29 million subscribers almost instantly. And, of course, there are many more that 250 million Apple TV+ capable devices out in the wild already.
So who will win the Streaming Wars?
It will also be interesting to see how Apple and Disney evolve their offerings over the course of the next year. Disney+ has already been updated to add a missing "continue watching" section, whose absence at launch was distinctly odd. We would expect to see the Apple TV+ interface iterate as well, though of course one of the difficulties that Apple faces is balancing the demands of the new TV service with all the other parts of its empire, especially after an autumn of headline software releases that were not without their problems. On the flip side of that, it does mean that it can bundle TV+ with its Music and Arcade services into an overall package.
It will also be fascinating to track how their use of data evolves. Neither of them seem particularly strong out of the gate when it comes to making recommendations though their UI, and this needs to improve. Elsewhere, Disney has promised that it won't be reliant on data when it comes to commissioning. In this it is only perhaps following current trends; Netflix, for instance, now saying that it follows an '80% instinct and 20% data' model, when in 2015 it was closer to a 30% instinct / 70% data split.
"We make programs that are super popular, so I think we have a good finger on the pulse of what consumers like — or actually love," said Disney's Kevin Mayer at Code Media.
It would be very surprising if we revisited this subject in a year's time and either of them were still not extremely active and already well into their second season of the first tranche of originals. There are still some huge shows in development too, such as Apple's forthcoming adaptation of Issac Asimov's Foundation series and plenty more from the Disney-owned Marvel and Star Wars stables.
The only real question is how big they will have grown and how much, if at all, they dent the existing viewership of the global SVOD incumbents or place limits on their growth as part of the four-way tussle that is in front of us. For the results of that, stay tuned. And no, we don't need to sift through the data either to know that it's going to make for fascinating watching as 2020 unfolds.