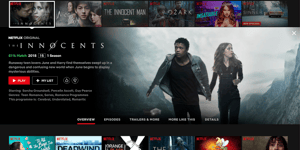 Netflix might not like to talk about binge watching anymore, but more viewers than ever are doing it. And that has definite implications for all broadcasters and operators. Over the summer, while promoting a new Netflix original series, actor Guy Pearce let it slip that the company has asked him not to use the term 'binge watching' during interviews.
"I don't think Netflix likes the term 'binge'," he said during an Empire magazine podcast. "When we did the promotion for ['The Innocents'] in the [United States], we were strictly sort of instructed beforehand not to talk about binge watching."
While prompting many entertaining comments along the lines of 'Guy, you had just one job', it's interesting to see Netflix trying to distance itself from a phenomenon that it created in the first place. In fact, this December is effectively binge watching's fifth birthday, the company first using the term itself in a December 2013 press release titled Netflix Declares Binge Watching is the New Normal highlighting the then new behavior.
At the time 61% of what it refers to as 'TV streamers' said they binge watched regularly. In the five years since that number has increased quite dramatically. If, as a society we not yet quite addicted, certainly we are showing signs of dependence. And, as we have written before, this has profound implications for the way that Operators make and distribute television shows.
Binge Watching Demographics
First of all, what do we mean by binge watching? What behavior are we tracking here? There are several different definitions in circulation, but the base level seems to be the one mentioned in the 2013 Netflix release: watching two or more episodes of the same show in one sitting. Various other metrics are in circulation, such as watching an entire series in one week, but it's that contiguous block of time that seems to be the main differentiating behavior.
The key takeaway here though is that more of it is happening. From 61% in 2013 the number has risen to 75% according to the latest Deloitte figures, driven in part, says the analyst, by the wider availability of data plans and the increasing number of OTT platforms.
It is not a uniform picture though, with binge watching behavior increasing dramatically amongst younger demographics. 80% of Generation X binge watch, 86% of Millennials, and a massive 91% of Generation Z. What's more, they're consuming a larger amount of content while they do it.
The graph below charts the number of episodes per binge session that each age grouping is watching.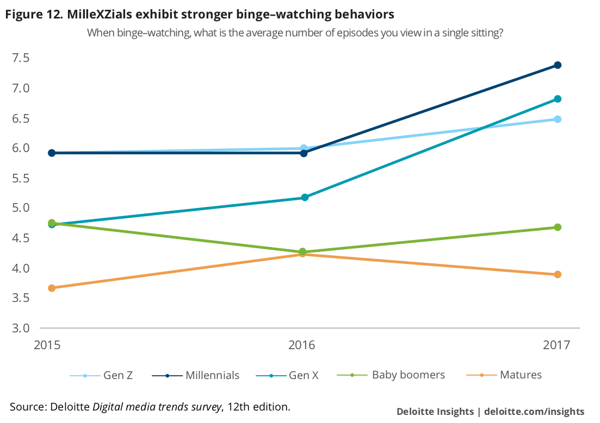 The difference is stark, with Millennials watching close to double the number of episodes, seven, of the mature audience in what Deloitte further says is an average six hour session that occurs with a weekly frequency. That's over 300 hours of viewing a year solely taken up by binge watching.
Another aspect that's worth pulling out from the Deloitte data is that the behavior is migrating upwards through the generations. At one time it was thought — 'hoped' is perhaps not too strong a word when it comes to the linear television industry — that as the Millennial group aged so their behaviors would change to mirror that of the generation above them. This seems not to have happened. Instead Generation X has seen the new world of media consumption their children are experiencing and deciding to emulate it; Deloitte going so far as to lump Generations X and Z and Millennials together in a new super-category it dubs the 'MilleXZials'.
"Millennials were the first generation to embrace streaming media and watching video content on smartphones," commented Dr. Jeff Loucks, the executive director, Deloitte Center for Technology, Media and Telecommunications, Deloitte LLP, on release of the data. "Some hoped that as Millennials got older, they would settle down and watch pay TV. Instead, their Gen X parents are acting more like millennials, using streaming services, watching TV shows, movies and sports on smartphones and binge watching."
The Psychology of Binge Watching
When it comes to the whys and wherefores of this behavior, the most recent data shows that 34% of people say they binge watch because they want to keep the storyline going, though there is probably a significant crossover there with the 37% who say they are hooked. 39% say they do it simply because they have free time.
It all depends on how you phrase the question, though. One of Netflix's 2013 questions generated the oft-repeated stat that 76% of TV streamers say watching multiple episodes of a great TV show is a welcome refuge from their busy lives. In everyday terms we'd term it 'escapism', and there is plenty of research that indicates that the more involved the narrative the viewer is escaping into, the deeper the level of immersion into the story.
Psychologist Uri Hasson of Princeton University, for example, played subjects four very different video clips and observed how much of their brains lit up as a result. Using a metric called inter-subject correlation, an unedited video of a concert performance in a park on average engaged 5% of the cortex, a segment of "Curb Your Enthusiasm" 18%, "The Good, the Bad and the Ugly" 45%, and Alfred Hitchcock's "Bang! You're Dead" a massive 65%.
"Hasson concluded that the more "controlling" the clip—in other words, showing the viewer exactly what they're supposed to pay attention to—the more focused the audience," writes Psychology Today. Hitchcock, of course, was the master at such orchestration.
But why binge watch TV shows instead of, say, movies? There are two factors at play.
First, length. Simply put, there are more hours to consumer of a given TV show. If viewers so desired, according to data from BingeClock they could race through all three extended releases in the "Lord of the Rings" trilogy in a mere 11 hours and 32 minutes; "Game of Thrones", meanwhile, will occupy them for 2 days, 15 hours, and 30 minutes. And there's still one final season to come. Meanwhile, watch two episodes of "Breaking Bad" a day, the minimum binge watch criteria, and it will take 31 days, an entire month.
Secondly, there is a behavioural reward. We would hazard a guess that, in the same way that social media is engineered to feed a steady succession of feel-good rewards to its users (the exact mechanisms of the brain chemistry are disputed) so deciding to watch a second — or third, or fourth — episode of a TV show elicits the same sort of response. This becomes self-reinforcing, especially as the system is typically programmed to AutoPlay a next episode where available.
The Implications of Binge Watching for Operators
As to the wheres, increasingly that's everywhere. What started with Netflix has spread through the whole SVOD ecology and on to linear broadcasters who increasingly find themselves compelled to offer both box sets through catch-up services and/or dropping entire seasons online concurrently with their linear scheduling.
A Royal Television Society article examining the phenomenon in the UK highlighted the fact that commercial broadcaster ITV had seen a 20-30% uplift in VOD viewing on shows that had a 'watch the series so far' button attached. Meanwhile, when Sky released six-part crime thriller "Save Me" as a box set at the same time as first broadcast, 6% of the total audience across the first 28 days of availability watched all six episodes within the first 24 hours. That's a relatively small number, but the following wasn't; by day seven half of all viewers in the initial 28-day window had viewed all six episodes. The BBC meanwhile, offered box sets for the first time over the Christmas 2017 period, despite its position as license-fee funded meaning it was unable to monetize the reportedly 'sizeable and young-skewing' audience that arrived. This Christmas, it is offering over 100. The message is that if you want to stay relevant, you have to compete.
There are multiple issues that accommodating binge watching surfaces for Operators that start with content planning and acquisition, extend through catalogue management and rights negotiations, and move on to User Interface design and peak delivery management. Crucially, it is not looking like a short-lived phenomenon either. Ampere Analysis has detected a distinct positive correlation between SVOD penetration in a market and the average hourly time spend binge watching, implying that as more markets mature so the behavior will increase. And quoted in the previously mentioned RTS piece, it says that while two out of three UK households expect to continue watching linear broadcasts in five years' time, but they also expect them to be adding more catch-up and box sets.
The word binge appeared 15 times in Netflix press releases in 2017 and was a significant part of its marketing thrust. With a month still to go till the end of the year, we will have to wait to compare that with what it's said in 2018, though for the record its last statement on the subject was in April when it concluded with the important news that 58% of people find pets to be the best binge partner.
Whatever its protestations on the subject, AutoPlay of the next episode is still enabled in the Netflix settings by default. And with the binge watching phenomenon showing no sign of slowing down as it celebrates its fifth birthday, it seems that everyone else must follow suit.