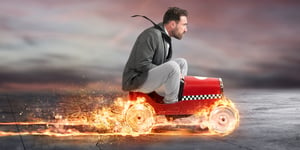 2019 looks set to be a landmark year for 5G video as the first networks go live and the first devices are launched. But will the real inflection point have to wait until 2020?5G is the latest and greatest next generation of mobile phone connectivity. Designed to operate at much faster speeds than current mobile networks and to deliver millisecond latency, it's the network technology that will enable such mainstream technological innovations, such as autonomous cars and always-on connections to the cloud. It will also dramatically increase the amount of video that can be consumed on mobile devices.
The first launches are occurring now and the first devices are well into their prototype stage. A huge amount of 5G activity is expected in 2019 as more networks rollout and the first smartphones are available to buy, holding out the potential to revolutionize TV Everywhere services and more. This is helping fuel some dramatic predictions from companies such as Ericsson regarding spectacular increases in mobile consumption on video in the future.
5G Launches to Teething Problems
It has to be said that the first real world introduction of 5G was less than successful. Qualcomm is the leading 5G chip maker at the moment and, at its Snapdragon Summit in Maui at the start of December, 350 invited journalists were expected to experience the sheer speed and responsiveness of 5G for the first time.
It didn't quite work out like that. The few prototype devices available weren't allowed to be touched and the hastily thrown together, spectrum-limited 5G network set up for the event performed well below the multi-gigabit speeds that 5G promises. Nevertheless, such is the combination of hype and momentum behind the new format, that this feels more like a blip than a serious problem.
In the US AT&T is promising to launch 5G in 12 cities by the end of the year and Verizon not far behind. 5G officially rolled out for the first time in South Korea at the start of December, with SK Telecom, KT, and LG Plus — all three major players in the market — holding launch ceremonies. The level of investment is impressive, with LG Plus already having deployed 4100 5G base stations and planning to raise that number to more than 7000 by the end of the year. Costs for the consumer, meanwhile, are also coming into focus, with KT offering 10GB of 5G data for around $45 a month.
This is rather at odds with the general perception of 5G as being an all-pervasive, always-on nanosecond-delay data ecosystem. It will be interesting to see how the business model evolves. Hints so far are, that from devices to charges, none of this will come cheap for the consumer.
The first announcements regarding those devices are starting to appear too as the chip manufacturers tool up for production. A trickle will very soon turn into a flood as first CES and then Mobile World Congress kick off 2019, but Verizon and Samsung are the first major players to break cover. The two companies have announced plans to release a 5G smartphone in the influential US market — probably the upcoming Galaxy S10 — in the first half of 2019.
Other Android manufacturers will follow suit during the year, but it looks increasingly like Apple will defer its own 5G iPhone model till 2020. Partly, as Bloomberg suggests, this is down to its ongoing dispute with market-leading 5G chip-maker Qualcomm, but the company also has a history of embracing new connectivity slightly behind the curve. To date that hasn't affected iPhone sales; indeed, it's even been an advantage as it's meant Apple can use later generation components that have decreased size and power consumption. Much will depend on the size of the market.
5G Predictions
Industry predictions regarding that market size and 5G adoption have been overwhelmingly positive and are getting more so over time. It is worth sounding a note of caution here though regarding pricing. If 5G devices come to market at significantly higher price points than the current crop of mobile phones — a $200 to $300 uptick is the current best guess — and if network charges are also punitive, then there is a good chance that initial uptake may well be flatter.
There are a fair few figures in this section, so here are the key takeaways:
1.5 billion 5G subscriptions worldwide by 2024

55% of North American mobile market will be 5G

43% NE Asia, 29% Western Europe

Mobile data traffic growing at 31% a year

Video to be 74% of all traffic by 2024

6x more video by 2024 than 2018
"Clearly 5G is at the front of everyone's mind – but it should also be remembered that this is just the beginning of a major technology shift, with many challenges ahead," says Ericsson at one point in its November 2018 Ericsson Mobility Report. Nevertheless, the numbers are impressive. While LTE is still continuing to grow as well, up to 5.4 billion global subscriptions, Ericsson reckons there will be 1.5 billion 5G subscriptions for enhanced mobile broadband by 2024; 17% of the 8.9 billion total generated by 6.2 billion unique subscribers.
The following graph shows the projected regional breakdown, with North America very much leading the way with 55% penetration over the next five years.

It's interesting as an aside to see how the overall projections have progressed in the time since we last wrote in detail about 5G in February 2018. With the usual caveat about the dangers of comparing different surveys from different organizations, back then the GSMA (the organization behind Mobile World Congress) was forecasting a significantly lower 1.2 billion connections by a year later, 2025.
Overall data traffic will increase markedly as a result. Ericsson reckons that mobile data traffic is expected to grow at a CAGR of 31% up until 2024, by which time 25% of it globally will be carried by 5G networks. The highest growth rate will be in MENA, which is forecast to see a 9x increase from 1.8 Exabytes a month to 17EB, not far behind the current figure for North America.
Unsurprisingly, video is expected to make up the majority of that traffic. This is in both percentage terms, rising from 60% to 74%, and in overall terms where it will increase from 16 Exabytes per month to just over 100 Exabytes per month. This is an astonishing 6x increase and has distinct implications for not only the build out of 5G networks but also the ongoing maintenance of 4G deployments which, with the exception of North America, are still going to be carrying the majority of the traffic.
Ericsson suggests that each smartphone in the US market will be consuming 50GB of data per month by 2024 compared to the current figure of 8.6GB,
5G in 2019? Or in 2020?
One final snippet from the Ericsson report. It also states that 2019 will be take-off for 5G, with 8 smartphones on the market by the middle of the year. 2020 will be the year of true mass market breakthrough, however, with third generation chipsets providing better architectures and lower power consumption.
The networks will also be more established. Samsung, Qualcomm and Verizon issued a joint press release on 5 December that stated they had achieved 5G data connections in the 28Ghz spectrum that topped out at 1.7Gbps. However, that was under lab conditions and few locations on the new networks are likely to see anything close. In fact, the silicon to support the lower range of the 5G spectrum, the lower frequency signals that can penetrate walls and buildings, is not liable to be available at all till next year. It certainly won't make the first generation phones.
While no one doubts that 5G is the future, that future is perhaps not right now. There is still time to plan for it. But one thing is certain though: video consumption on mobile is going to rocket above and beyond the already high levels we have already seen to date.