Industry insight: Research seems to indicate consumers value tiered options the most when it comes to AVOD, why we need to measure people not houses, and the debut of live object-based audio.
How tiered options broaden AVOD appeal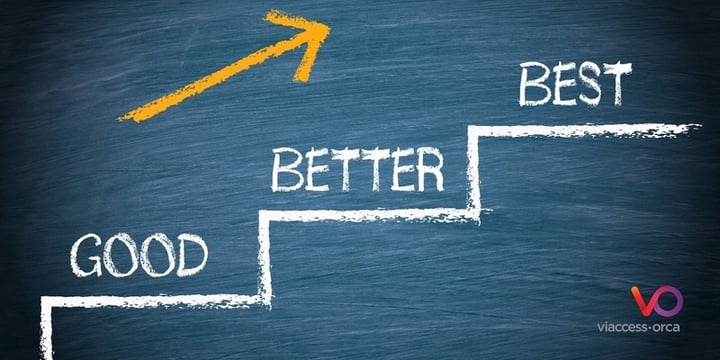 Some new data confirms the industry hunch that tiered platforms which allow viewers to choose anything from a free, ad supported model to a fully paid subscription appeal to the broadest cross-section of viewers.
As Advanced Television reports, there are two key takeaways from the research. First, that when tiered services are an option, no other choice gets greater share; second, that while tiered plans may cannibalize paid subscriptions, they also attract a sizable number of non-subscribers.
Unpacking those in turn, two groups of respondents had to choose from three hypothetical streaming services with identical content. Both had the choice of regular SVOD and AVOD services, while a different third choice was offered to each group: one saw a paid limited-ads (ie less ads than network TV) subscription service, the other a paid service offering both ad-free and ad-supported tiers.
Interestingly, almost twice as many chose the service with tiered options over the service with a limited-ads option only — 36% versus 19%. Indeed, the limited-ads-only service was the least popular of all the services across both groups, while just as many chose the tiered option as the plain vanilla AVOD offering.
"Tiered plans give viewers control of their experience. Whether they watch with ads or not, everyone is getting an experience they chose, and not one chosen for them," comments Jon Giegengack, one of the study authors.
It is also worth pointing out here that once viewers are within an operator's ecosystem, opportunities to upsell the paid options become much greater.
As to the other question, before the ad-supported tier of HBO Max launched, almost 40% of current HBO Max subs said they'd consider switching to the ad-supported tier. While that is rather unwelcome news, it is balanced by the fact that a quarter of those who didn't subscribe to HBO Max said they'd consider signing up with a less expensive ad-supported tier as an option.
So, you lose some viewers, but you potentially gain a whole lot more. It doesn't look like the momentum behind AVOD will be slowing any time yet.
Why we need to be measuring people not households
A thought-provoking article in Fierce Video asks the question whether one of the key industry metrics that has been in force for decades is, in fact, well past its sell by date and should be retired.
That metric is number of households, which is still a key indicator that is used to compile any number of statistics. Back in the day it all made perfect sense. Even as multi-set households became commonplace, there was still only one cable/aerial/satellite dish providing the video signal to the people within those four walls. Thus a cable company with 3500 connections in a town of 6500 homes could justifiably talk about a 54% penetration.
"Everything from programming contract deal terms to the number of F-connectors a cable company needed to inventory was rooted in an understanding of the household as the arbiter of it all," writes analyst Stewart Schley.
He also writes that this makes no sense now as, password sharing notwithstanding, individual members of households — families and roommates — can all maintain their own subscriptions to different services. This changes the market opportunity substantially. In the US, for instance, we should no longer be thinking solely of a potential 120m households, but rather the 200m adults that have credit cards.
Schley uses the US telco industry as an example. In 2000 it was calculated that 100m homes had landlines out of a potential pool of 105m. And while that appears to be a saturated market, the country now boasts 440m wireless phone connections — 110 million more than there are people.
Upshot: the market may be bigger than you think.
Live mixing object-based audio
It's been a while since we wrote about object-based media. To recap, the concept is fairly simple: content is made of different assets — objects — that combine together to make a piece of content. These can be large objects such as the audio or the video for a single scene, or they can be small objects such as an individual frame of video or a single sound effect. And by breaking them down into separate objects, they can be put back together again in different ways as long as certain rules are followed to ensure the resulting content makes sense.
An important milestone in the development of the technology has been reached with Japanese broadcaster NHK announcing recently that it has deployed the first live mixing console for object-based audio.
The console can take up to 192 audio signal inputs, and output up to 64 channels for transmission (including audio metadata), and up to 24 channels for monitoring. Previously the audio metadata would be output as a file, but NHK has managed to create audio metadata streams enabling live production.
This enables the audio output by the console to be put back together in many user-configured ways. It can adapt to the home listening environment — 2 channel, 5.1, or 22.2 — without having to be down-mixed at source, the balance between commentary and background can be adjusted on the fly, and multilingual commentary, audio description, and effects can all be altered to fit.
It's early days yet, but object-based media links very well to the growing need for hyper-personalisation in media services, so expect to see more developments in the area fairly soon.