Industry insights: Analysts reckon there is room for an additional 3 billion streaming subscriptions, how the streaming product market is changing, and Disney doubles down on PVOD.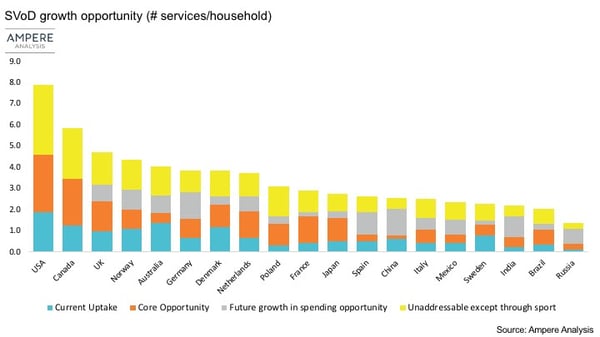 In a fairly stunning analysis of the global streaming market, Ampere Analysis has concluded that there are a further potential 3 billion subscriptions still to be chased, despite the fact that some territories are rapidly moving towards what it refers to as a 'stacking ceiling'.
Essentially, Ampere looked at 20 of the largest TV subscription markets worldwide to establish a theoretical ceiling for SVOD stacking behaviour. It suggests the highest maximum ceiling for SVOD services per household is in the United States, at roughly eight. In Europe, the ceiling is lower, at between two to five services per household.
What's interesting when you look at the figures is how Ampere has characterised the current headroom in the market into core opportunity, future growth in spending, and unaddressable except through sport (which is where the US figure of 8 services comes in). As it notes, market realities such as sports rights being heavily ring-fenced by Pay-TV operators will mean that few territories are likely to see stacking numbers reach these theoretical heights.
"After accounting for factors such as sport and future growth in spending, Ampere also found that markets such as the UK and Germany have an average household capacity of roughly three services at current price points," writes Rapid TV News. "This still translated into a sizeable number of subscriptions: 88 million in the UK and 124 million capacity in Germany. Similarly, in the USA, even four to five services per household would translate to a total of 510 million to 640 million possible subscriptions."
"To make the most of this capacity, OTT players first need to demonstrate that they are a viable replacement for existing paid-for TV services," commented Daniel Gadher, research manager at Ampere Analysis. "This process is ongoing in the US and Canada, but elsewhere in the world, Pay-TV has remained resilient. But as US studio content increasingly moves to the online world, the opportunity for new players to take a share of consumer entertainment spending, even in already busy markets, improves."
How the streaming video product market is changing [

Park Associates

]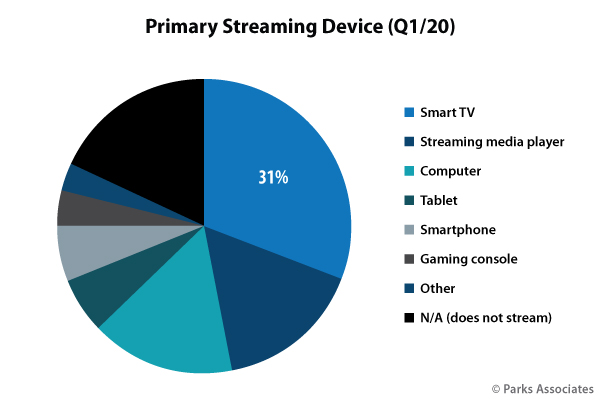 An interesting look at what consumers are using to connect to streaming services from Park Associates.
As the analyst notes, consumer demand for streaming video products is at an all-time high due to several factors such as the spike in Covid-19 viewing, and intention to purchase streaming products is rising in line as you would expect. Smart TVs, streaming media players, gaming consoles, Blu-ray players, and DVRs have all seen a significant increase in purchase intentions in the first quarter of 2020 compared to previous quarters.
The market is dominated by Smart TVs, once considered a premium product and now decidedly mainstream. Over 50% of consumers now own one, with must-have product features including screen size, brand, and 4K video quality. As Parks notes, a dramatic improvement in the usability factors of Smart TV interfaces (which has probably been helped by a move towards app-driven environments) and in the quality of streaming experiences overall has resulted in over one-third of consumers using a smart TV as their primary streaming video device, up from 25% in the first quarter of 2019.
It expects this trend to continue.
Disney doubles down on PVOD with Mulan [

C|Net

]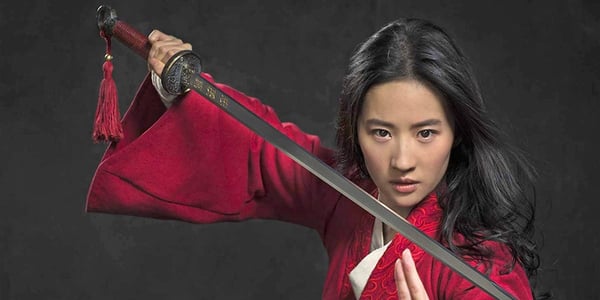 Last time we wrote about PVOD (PVOD: a troublesome direct route to the consumer for cinema?) we noted that it was the cause of a certain amount of friction between the studios and the cinemas and that Disney was firmly in the mix by moving Hamilton from a 15 October 2021 release to 3 July 2020 as a Disney+ exclusive.
The House of Mouse did all that it could to maximise the Hamilton opportunity, removing the one-week free trial option two weeks before it screened it to make sure that anyone watching was in for at least one month. That meant it could be seen for $7 effectively; the price of a one month Disney+ subscription.
Mulan is a different proposition all together. Originally scheduled for release in March this year, but pushed back time and time again as lockdown continued worldwide (and specifically in the key US cinema market), Disney has got tired of waiting and given it a 4 September PVOD debut on Disney+. However, rather than being bundled in it's an additional one-off cost on top of an existing Disney+ subscription at $30.
The sweetener is that that doesn't represent a single time rental but rather repeat access to the movie for the lifetime of the Disney+ subscription. As such it will be interesting to see how its success measures up against the benchmark for PVOD so far, Universal's Trolls World Tour which charged $19.99 for a 48-hour rental and still took an impressive $100m in three weeks in the US alone.
Lots of people will be watching the Mulan performance as a result, not least Disney itself.
"Mulan is a one-off," C|Net reports Disney CEO, Bob Chapek, saying during a call that discussed the company's fiscal third-quarter results. "That said, we find it very interesting to be able to ... learn from it and see what happens, not only in terms of the uptake of the number of subscribers that we get on the platform but the actual number of transactions on the Disney Plus platform that we get."