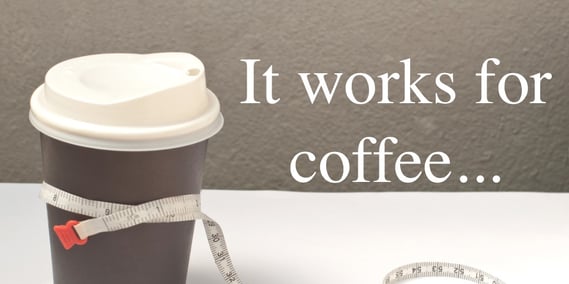 Skinny bundles have really taken off in the US broadcast services industry but it's not just consumer appeal driving their uptake. Their average revenue per channel is impressive too. About two and half years ago, Verizon launched the first of the so-called skinny bundles into the US Pay TV market. Custom TV, as it was called, cost $55 a month and offered 44 channels. In comparison, the average Pay TV provider at the time offered 189 channels at an average price of $92 a month. What's more, research showed that viewers only tended to tune in to 17 of them.
It is safe to say that the picture has changed even more dramatically since then, with the introduction of the super-skinny and sports free bundles driving the price down to about $20 a month .
More insights into skinny services here.
And one of the more interesting aspects emerging from this changing picture is that the skinny bundles are far more profitable than traditional Pay TV.
Broadcasters, of course, have many costs, but an interesting analysis compares carriage fees to the number of channels they offer to customers. Carriage fees vary wildly across the EPG, from zero at one end to several dollars up at the premium end of the spectrum. The result is that in the US Pay TV landscape, where 100s of channels can be carried by single broadcasters, revenues per channel per user are fairly consistent. These revenues fall in a range from $0.15 to $0.30 per month, or an average $0.23.
Contrast that to the revenue of the Virtual Multiple Systems Operator (VMSO), which Ampere Analysis forecasts will be a market with 3.5 million subscribers by the end of the year in the US. Ampere estimates that the operators in this sector are achieving an average income per channel of $0.59 — that's a massive 256% increase.
That increase does come with a price attached. The corollary is that the skinny bundles tend to have a much larger proportion of premium channels in their mix, meaning that the average costs per channel are correspondingly higher too. However, Ampere contends that even when the costs of the higher priced premium channels are factored into the equation — and in the US that usually means the four major networks — that still leaves the VMSOs with an average $0.48 per channel revenue.
Indeed, Hulu Live is the most profitable, at over $0.70 per channel.
Broadcast Services & Pressure Points

The chart below from Ampere shows where the pressure points in this equation lie.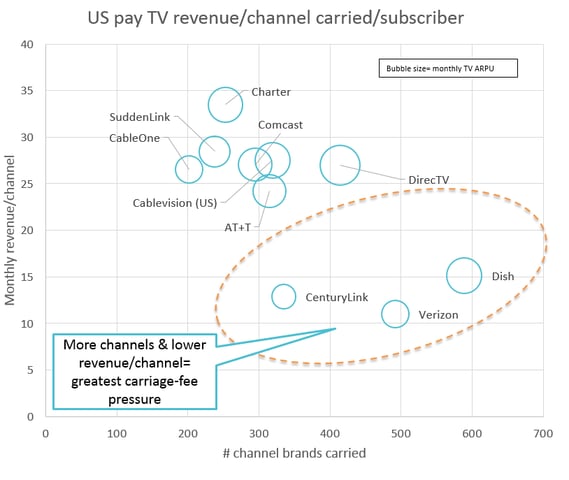 By way of contrast, Charter carries 253 channels at an average revenue of $0.3348. Dish carries a lot more channels, 589, but in doing so its average revenue falls to $0.1547. Charter makes $84.70 per subscriber, Dish $91.12: it makes more money but it has to work a lot harder at it.
As an example, Dish has subscriber acquisition costs of $590, (down from a high approaching $800 in Q2 2016), whereas the average VMSO has SACs a fraction of that amount. That puts the VMSOs in a powerful position which, when combined with their higher relative income, gives them a notable edge when negotiating carriage fees for streaming packages.
Operators like Dish are, of course, big enough to play both ends of the game, which it does with its own collection of skinny OTT bundles via Sling TV. Charter has Spectrum Stream, AT&T DirecTV Now, CenturyLink has CenturyLink Stream and so on. All these efforts inevitably undermine overall ARPU, but they also help arrest churn, which in Q2 this year shelled around 895,000 subscribers from traditional pay-TV services.
While such cannibalisation may seem counter-intuitive, as we have seen the VMSOs are profitable enough to make a compelling argument for operators, and anyone offering broadcast services to offer their own low-fat alternative.
Discover more TV industry trends here.