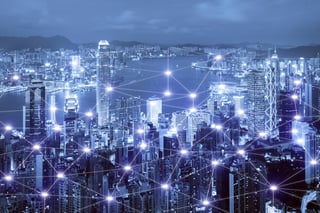 From the first deployments of 5G to the growth of the Internet of Things, Artifical Intelligence, and the latest enterprise developments in VR and AR, what we can expect from this year's Mobile World Congress in Barcelona.
If there is an overall theme at this year's Mobile World Congress it is probably speed. 5G is going to feature more prominently than ever following the success of recent applications out in PyeongChang at the Winter Olympics. Formula One is in town undergoing pre-season testing at the nearby Barcelona circuit and has a dedicated exhibition area for the first time with one of Spain's highest-profile sports stars, McLaren driver Fernando Alonso, providing one of the keynotes. And the 4YFN (4 Years From Now) event at the Fira Montjuic aims to connect startups, investors, corporations and public bodies together to accelerate development and provide a shortcut to the future.
Alongside all this speed though is also the sense that, 31 years after the first MWC, there is a growing sense of maturity about the industry and where it sees its place in society. Organisers the GSMA have made much of their support for the 17 sustainable development goals laid down by the UN to "to end poverty, halt climate change and fight injustice and inequality by 2030." And the hashtag #betterfuture looks like it will feature in a lot of events in Barcelona.
Make an appointment to visit VO on Booth 5C71 to see how we are shaping the future of secure OTT content delivery, analytics, Cloud TV and more.

The industry has come a long way. As Justin Springham, Managing Editor, Mobile World Live TV, writes in one of his introductions to this year's event: "Back at the first event in 1987 the flagship gadget to own was Nokia's Cityman 1320, the Finnish company's entry into the portable phone market which weighed in at a whole kilogram and ran on the now obsolete TACS network."
This year, the phone to own will probably be the Samsung Galaxy S9. But what are the other themes that we can pick out from the likely technology on show?
5G Wireless Technology Comes of Age
There is no doubt that 2018 is going to be a landmark year for the next generation mobile format. The release of the first set of 5G specifications by 3GPP late last year was a highly significant step, and built on the previous Release 14 last summer which laid the groundwork for 5G to be the prime carrier for future television services.
Release 15 is currently scheduled for September and will be the final, frozen specification that will enable the industry to really start pushing ahead on the multiple fronts required to establish the networks in the consumer space.
The current roadmap sees deployment ramping up rapidly from 2020 to 2025, and we will know more about how realistic these figures are after Barcelona. Certainly there is going to be a lot of jockeying from the operators and the manufacturers as they try to position themselves perfectly in the surf in front of the wave of interest.
5G represents enough of a step change to be genuinely transformative. It's not just a case of being able to carry more data, but it's the all-encompassing pervasiveness of the connections — at least as far as the networks penetrate — and the incredibly low latency that is built into the system that moves the goalposts. Much of the success of the other technologies below will depend on 5G deployment, its gigabyte bandwidth and sub 20ms latency. How the industry balances the investments required to make it happen with successfully defining and developing the business models of the vertical markets, from automative to video, that are going to demand its services is going to be a key issue.
Virtual Reality Systems and Augmented Reality Apps
It's two years now since Facebook CEO, Mark Zuckerberg, made his now famous unseen entrance into a room full of journalists immersed in Samsung VR gear who failed to see him walk through the room.
As we've written elsewhere, one of the primary reasons that VR has failed to take off in the time since is largely down to the quality issues inherent in transmitting content down limited pipes to first generation Head Mounted Displays. All this in the process of being solved, however, and there is no sign of the investment in the field withering away just yet. Indeed, driven by the slightly nearer-future promise of AR, there was a record $3bn investment in VR and AR during 2017, with half of that being raised in Q4 alone.
With Magic Leap promising to launch its Magic Leap One AR goggles later in the year and open up its SDK along with other tools and documentation fairly imminently, the focus this year is likely to be on AR. Hopefully more real world use cases of proper AR tools operating on smartphones be on show in Barcelona. To date everything has been a bit gimmicky, but with tools such as Apple's ARKit well established it feels like it's time for this market to move into a more mature and useful phase. Expect to see more enterprise uses of both VR and AR as well.
You can read about our own contribution to this progress in our special eBook co-authored with Harmonic:
The IoT and its Impact on Television
The Internet of Things is another technology that has been around for quite a while now without ever really seeming to deliver fully on its promise. Maybe that's because there is less of a 'big bang' associated with its deployment, rather a slow and gradual buildup of smart products in our homes as the years unfold.
This is being driven in part by AI and the promise of 5G which will highlight how so much of the new technology deployed over the next decade or so overlaps and interlocks.
The buzz this year is likely to be around Narrowband IoT (NB-IoT) and low power wide area technology developed specifically for the IoT, and aimed at devices that have low data throughput over long periods. Typically machine-to-machine devices (M2M), these are going to be the majority of many of the billions of devices envisaged for the IoT, the sensors that do not necessarily need a realtime link. Think water and energy meters.
The idea is that NB-IoT devices are low cost and very low maintenance. 3GPP believes that these devices will drop under $5 per module once there is sufficient volume of production, and can be battery powered for up to 10 years on a single charge.
It's a growing sector. Figures suggest that there are over 30 commercial deployments of NB-IoT and its rival LTE-M technology (which has a similar goal, but runs on the existing LTE network) worldwide. MWC will likely see further rollouts and increasing commercialisation. But the lack of unified standards and the sheer number of competing protocols and systems in the market is acting as an anchor, as is the prospect of much of this being swept away with the advent of 5G.
How much all of this will impact the TV industry is, as yet, unknown. But at the very minimum there are likely to be many more sensors feeding back information from a household's data ecosystem on multiple data points. How does the amount of milk that confirmed tea drinkers have in the fridge affect viewer behaviour in advertising slots featuring hot beverages on cold days? Privacy legislation notwithstanding, if there is a link then we will have the data to model it.
The Artificial Intelligence Future
One of the technologies that is already having a growing impact on television is artificial intelligence. It was one of the underlying themes of IBC2017 back in September — you can read more about that in our post How AI is Evolving and Affecting TV Broadcasters — and it is likely to be one of the main themes in Barcelona.
Certainly digital assistants will be everywhere. Voice is well on the way to becoming a mainstream control paradigm and some very interesting data is starting to emerge about how standalone smart speaker ownership is spreading rapidly and changing behaviour as it does. Projected ownership is likely to hit almost 40% in the US this year. Standalone smart speakers are used more often by owners than embedded digital assistants on phones, and 2 out of 3 consumers who own them actually use their smartphones less.
Smart speakers though are just the tip of the iceberg. There will be plenty of other examples at MWC of how artificial intelligence is already in use and changing the way organisations do business.
"We have seen the early waves of innovation unleashed as the combined impact of low-cost computing power and storage are combined with large data sets and good data science across text, images, audio and video content," writes Mike Sutcliff, group chief executive of Accenture Digital, in The Drum. "The data that allows AI to learn is being sourced and structured. At the same time, a strong open-source culture is driving the democratisation of AI skills. The major technology vendors are all rapidly building productised, ready-to-use AI tools, and making them available at low or no cost. The pace of innovation is stunning in this space."
Conclusion: The Fourth Industrial Revolution is Gathering Steam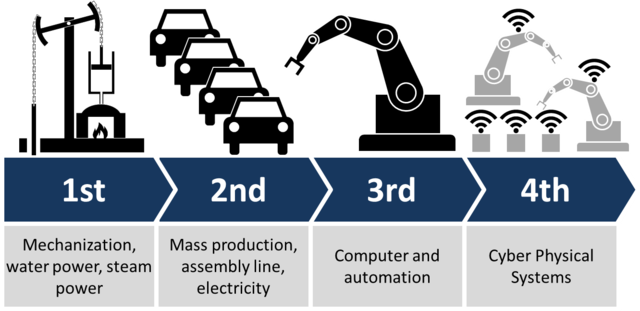 Pic: Christoph Roser at AllAboutLean.com
Steam was, of course, at the heart of the First Industrial Revolution that transformed the world in the 18th and 19th centuries. The Second saw a blizzard of technological innovations and the introduction of electricity in the period before the First World War, while the Third, the Digital one, began in the 1980s and is still ongoing.
The Fourth Industrial Revolution, or Industry 4.0 as it's sometimes called, builds on the Third and brings it all together. It is about the currently emerging new technologies that are fusing the physical and the digital worlds together and the growth of the cyber-physical systems that will evolve as a result.
Virtual reality, augmented reality, and artificial intelligence are deep-level components of this developing future, and 5G is the matrix that will bring them all together. MWC18 is going to be a great place to glimpse the hinterlands of this intertwined and interlocked future, and an even better venue to understand where television will fit into the emerging picture.