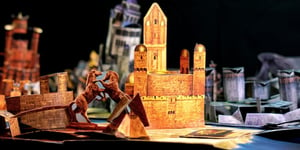 When Episode 1 of Season 7 of Game of Thrones, 'Dragonstone', debuted on 17 July, the official viewing figures were impressive. HBO reported 16.1 million for the premiere and catch-up in the US, while Sky Atlantic recorded 2.8 million in the UK. But they paled into insignificance when the estimations regarding digital piracy came in.
The headline figure that caught newspaper attention was 90 million illegal views. This subdivides into 13.9 million direct downloads, mainly via torrents, and then an extrapolated figure of 76.1 million pirate streamers. The first figure is in line with previous season expectations, the second is contested. But even if it is overstating the case, it highlights the fact that a vast amount of streaming activity is going on, beyond what can now be considered old-fashioned — torrenting.
The other interesting date to have arisen from 'Dragonstone' is a time lapse of five days' worth of torrent activity captured by the alpha60 project. This collected swarm data from 72 torrents that were released soon after the premiere and suggested a much lower number of 1.77 million downloads.
Of course, it's not a wholly comprehensive picture, but alpha60 is an academic project with reliably audited numbers. The pattern of distribution that is revealed is fascinating. Seoul is the city with the highest absolute numbers, while Dallas wins the award for most downloads relative to the population. You can access the full white paper produced by the project here.
Kodi boxes and digital piracy
Meanwhile, in the UK a new report suggests that the steady decline in TV piracy seen in the country over recent years is stalling. This is a worrying development if it maps onto other territories. In 2017, the report suggested that one in four internet users consumed pirated material (TV, films, games, eBooks, etc.) over the preceding three months, the same as the previous year. Admittedly this is down from the historic high of 30% in 2013, but the arrest in decline is triggering a few early warning systems.
Indeed, the government organisation behind the report issued a Call for Views document on illegal IPTV streaming devices earlier this year, fingering illicit Kodi extensions in particular for allowing viewers to swiftly and easily access illegal content.
So-called Kodi Boxes (Android TV devices running the Kodi, formerly XBMC, open source media software) have become something of a bête noire in the press. Essentially the open source nature means that the boxes are very extensible. It is easy to sell them 'fully loaded', shipping not just with the mainstream Kodi software included, but all manner of plug-ins that tap into illegal streaming boxes.
Kodi itself is not happy with this. In a recent combative statement it said "If you post in our forums or social channels about a pirate add-on or streaming service not working please expect ZERO sympathy or support. We don't care. We care less than not caring. We don't care biggly. And to counter a popular comment; if the Kodi userbase drops a huge percentage because pirate services flee or die, we're fine with that."
Learn about a proven anti-piracy protection solution here.
But, while not its fault, there is some very interesting data in the IPO report. Table 5.1d details the use of all services for consuming or sharing content in the past three months, and when there is a significant difference between the legal and the illegal users accessing services things get interesting. For example, 5% of the users that only access legal content accessed content via a Kodi Box, but 13% of viewers that also watched illegal content did.
While the report is careful to say that all this use is not necessarily to infringe content, it is easy to see a correlation. And when you chart the percentage point differences between legal and illegal users some very interesting names crop up.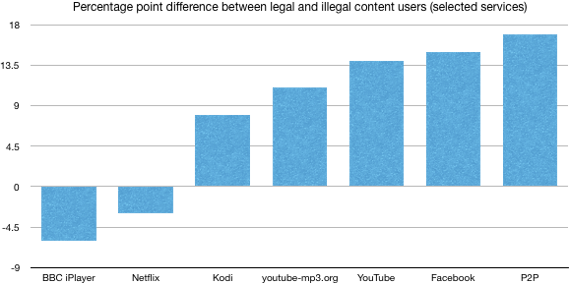 It's perhaps a crude interpretation, but reading this chart from left to right indicates the services that are more open to misuse. Watchers of pirated content are less likely to use the BBC iPlayer, and more likely to use P2P services Those who infringed used on average 6.9 services (up from 4.6 in 2016), compared to 4.8 for those who consumed entirely legal content (also increasing since 2016 when they recorded an average of 4.1).
Still more to come
If the figures for Game of Thrones seem large now, wait until the climactic Episode Seven of this series. The season finales have traditionally been the ones that set up the biggest swarms and there is no reason to believe that won't be the case again this year.
In the meantime, HBO has been shutting the stable door after the Westeros horse has bolted, with takedown notices and warning letters to individual IP addresses (though ISPs are not under any legal obligation to forward them on). And in the UK the maximum prison sentence for illegally streaming copyrighted media has risen from two years to 10 following the passing of the Digital Economy Act.
Finally, it is worth pointing out that, despite all the illegal activity, those official viewing figures for the opening episode were 50% up on the 10.6 million that watched S06E01. The linear numbers are also up on the Season 6 Finale, which was at the time the show's most watched episode. GoT is big enough, it seems, to weather the digital pirates. Other shows, and other broadcasters, may not be so lucky.
Learn what Professor Rahul Telang's research says about digital piracy.