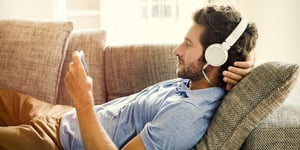 Cisco's latest Mobile Visual Networking Index estimates that there will be a 9x increase in mobile video traffic between 2016 and 2021. What are the factors driving this?
All of the numbers relating to the growth of mobile video tend to be large ones. Cisco's latest Mobile Visual Networking Index, for instance, estimates that mobile data traffic grew 63% in 2016 to reach 7.2 exabytes per month by the end of the year. One exabyte is equivalent to one billion gigabytes. Furthermore, it says that 60% of that traffic was video.
The numbers are so big that they are quite difficult to visualize. And they're getting bigger. Mobile video content has much higher bit rates than other mobile content types such as audio. As a result it will generate the majority of traffic growth. Cisco estimates that it is growing at a CAGR of 54% between 2016 and 2021 against an overall average mobile traffic background CAGR of 47%.
All of which means that of the 49 exabytes per month crossing the mobile network by 2021, 38 exabytes of that will be video. And if that's hard to visualize, consider that, according to figures Cisco generated in 2016, by 2020 the mobile internet will be carrying 710,000 video minutes every second.
Three Factors Driving Mobile Video Growth
There are a multitude of factors behind the growth in mobile video, but Cisco's stat above points to one of the key ones: the technology is in the hands of the consumer to make it happen.
1. Enabling technology
There are two sides to this. First, networks have grown much faster and will continue to do so. The transition from 3G to 4G is currently underway, and the inclusion of 5G over the next couple of years is making the delivery of video over network devices commonplace. The Statista chart below shows the average global mobile network connection speeds from 2016 to 2021 in Mbps.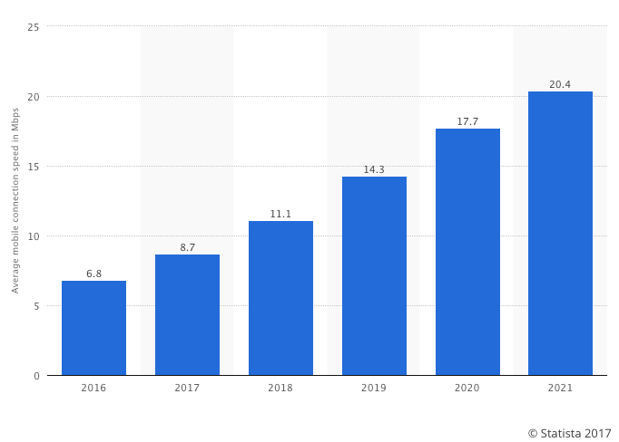 Secondly, the devices have become more capable. Smartphones are carried by a greater percentage of the population (77% of Americans now own a smartphone, up from 35% in 2011) and their screens have increased in size and resolution. iPhone history alone charts progress from the 3.5-inch, 3:2 aspect ratio, 480x320 pixel, 163ppi screen of 2007's first generation unit; to the 5.5-inch, 16:9, Full HD, 401ppi screen that has been used since the 6 Plus.
And now even the aspect ratio might be on the cusp of a change. LG and Samsung have both released phones this year in a new 18:9 configuration and programs such as Netflix' breakout smash 'Stranger Things' being shot in this format.
2. Optimized Content
Netflix is an important one to mention as the new breed of OTT natives have proved adept at porting their content over to the new mobile platforms. As ever, the company is opaque when it comes to figures, but at a MWC keynote last year revealed that 27% of signups were via mobile. This was the most popular viewing platform in India, South Korea, and Japan.
Meanwhile, the company is also investigating mobile-specific cuts of its content. "It's not inconceivable that you could take a master [copy] and make a different cut for mobile," said Neil Hunt, Netflix's chief product officer speaking with The Verge.
How has the increase in mobile data traffic affected video piracy? Find out here.
Zenith's third annual edition of its Media Consumption Forecasts states that mobile internet use will account for 26% of all global media consumption in 2019, up from 19% in 2016. In its survey of 71 countries it concludes that the average person spent 456 minutes consuming media in 2016, up from 411 minutes in 2010.
"The spread of mobile technology has given a boost to overall media consumption by allowing users to access more media, in more places, and at more times than ever before."
- Zenith
3. Social Media
Approaching 2 billion active monthly users, what happens with Facebook counts. its aggressive move into video alone is generating a spike in mobile video demand. Facebook hasn't released a daily video views publicly since November 2015, but back then it said they were reaching up to 8 billion views — and 100 million hours of video — a day. Meanwhile, according to Tubular, the Top 10 Facebook publishers alone accounted for 17.5 billion video views in May this year alone.
Discover why Social Media and Live Streaming are a Win-Win combination.
Widen it out to other social networks and the numbers remain high. Snapchat, for example, generates 10 billion video views per day. And given the prevalence of mobile in social media use — over 50% of Facebook users access the platform from a mobile device — that is a lot of extra mobile video content being carried over the networks.
The Continued Growth of Mobile Video
Alongside many other insights, Mary Meeker's recently-published annual Internet Trends Report 2017 contains the following nugget of information: "US adults now spend over 5.6 hours per day on the internet, including over 3 hours per day on mobile, compared to under 1 hour per day in 2011.
Cisco data also predicts that there will be 1.5 mobile-connected devices per person by 2021 connecting to the internet at an average global connection speed of 20Mbps. Mobile video is already a major success story, but we may only just have started.