Industry insights: There are definite winners and losers when it comes to content genres, US investment increases in Europe, and there are big differences in generational viewing patterns.
US audiences streamed 15 million years' of content in 2021
[Nielsen]
Nielsen has continued with its analysis of streaming patterns in the US market during 2021, and come to the conclusion that there are distinct winners when it comes to content choices across a wide range of platforms.
First off though, it has to be pointed out that US audiences are watching a lot of OTT content. In December 2021 an all-time high of 183 billion minutes of content was consumed across OTT platforms, significantly higher than two other recent highs; the 178 billion minutes watched during the week of Thanksgiving just a month earlier, and the 160 billion minutes watched during the first roll out of lockdown orders in March 2020. I wonder how many hours it is ☺
Overall, US audiences streamed 15 million years' worth of content in 2021.
The top performing content came from just three categories too; drama, reality, and children's programming. Netflix held nine out of the Top 10 positions, with Hulu's The Handmaid's Tale creeping in to snag tenth slot.
What is interesting though is that the list is not dominated by originals nor US-centric content. Squid Game and the Great British Baking Show (Netflix's renaming of the Great British Bake-Off) were both in the top three, with Squid Game's performance all the more impressive due to coming off the back of only 9 episodes (Lucifer, in top spot, had 93 to draw on).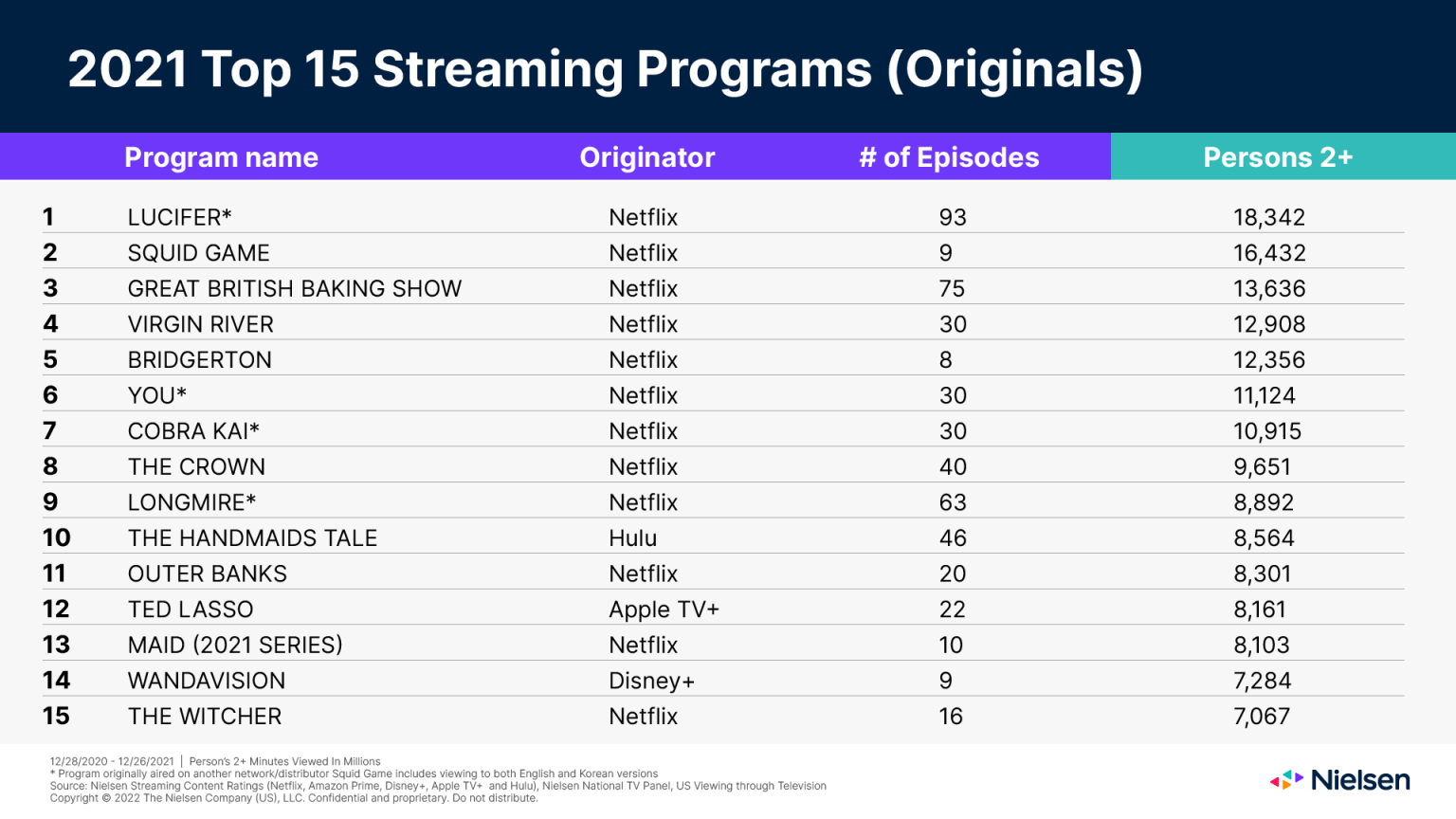 Elsewhere the performance of back catalogue and acquisitions is another important trend for operators to note. Nielsen cited Seinfeld as an example, stating that 41% of its viewers are aged 34 and younger—too young to have even been alive or watched it when the show first aired on broadcast TV.
US investment increases in Europe
[European Audiovisual Observatory]
A brand-new report, Top players in the European audiovisual industry – ownership and concentration - 2021 Edition, has just been published by the European Audiovisual Observatory (pictured), part of the Council of Europe in Strasbourg. Containing a detailed analysis of the European AV industry up to the end of 2020, it reaches a range of conclusions which shed an interesting light on the way the European industry is evolving.
With the top four OTT platforms controlling over 70% of subscriptions, SVOD stands out as the most concentrated audiovisual market segment in Europe, followed by Pay-TV with 72% of subscriptions cumulated by the top 20 pay-TV operators.
While only accounting for 9% of TV channels and 3% of on-demand services, public service broadcasters such as RAI and the BBC still punched hugely above their weight and accounted for one third of viewing consumption across all platforms in Europe.
Revenues are growing just ahead of inflation overall, but the picture is lumpy with PSBs shrinking and the main area of revenue growth lying with the pure SVOD players.
The top 100 developed against a

"

very dynamic backdrop" of merger and acquisition acitivy, not to mention divestments, all pushed up by the streaming wars and the pandemic crisis.
It is perhaps the increase in US investment in the region which is the most eye-catching finding, however. Netflix Europe is now the third highest revenue owner in the sector, only beaten by Sky and Germany's ARD, and just ahead of the RTL Group and the BBC.
This reflects an increase of US interests in the region, which now represent 31% of the Top 100 companies by revenue (up 4% from 2016 - 2021). Again this has been driven in the main by SVOD, and close to 80% of SVOD subscriptions are now to US-backed companies, contrasted to 16% of Pay-TV ones. However, in total these only account for 11% of viewing time.
The report continues: "Nevertheless, US groups have managed to roll-out a large range of thematic channels and catalogues all over Europe, which is reflected in a comparatively higher share by number of TV channels (19%) and on-demand services (25%) operated in Europe. Discovery, Sky, ViacomCBS and Disney are the top four networks in Europe by number of TV channels, while Discovery and Disney also rank among the top four groups by number of on-demand services."
Linear TV: The Generation Game
A dramatic difference in media consumption patterns between different demographics has been highlighted in the UK, where the publicly-funded BBC is once more embroiled in a political row about its future and funding model.
Only one in 20 of those aged 18-30 said that they watched any BBC television channels live every day, compared with close to half of the over-65s, according to a YouGov survey for the Sunday Times. The survey found that more than a third of under-30s said they "never" watched any BBC programming live, compared with only 8% of the oldest age group.
The survey found that the BBC's iPlayer catch-up service also skews to an older audience, though less dramatically. Only a quarter of the under-30s use the service once a week or more compared with almost a third of those aged over 65.
The differences are dramatic and will no doubt feed into the debates about the funding model for the Corporation which has already had its license fee frozen for two years. What is as yet unknown though is whether this consumption pattern will evolve as demographics age. There is already some evidence that populations start to recreate the consumption patterns of the cohort above them as they age in turn, so while this may be a snapshot, it may effectively just be a single frame in a much longer movie.
Main pic: European Audiovisual Observatory