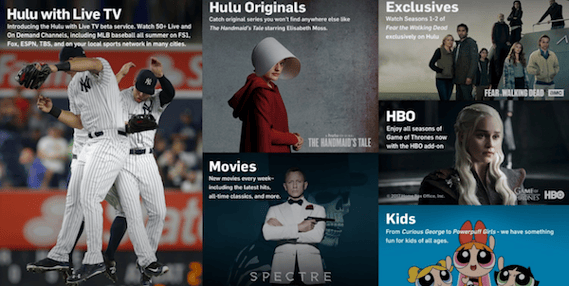 Some new data has emerged from analyst TDG in the US which could have valuable implications for anyone seeking to make their own video streaming services stickier than their competitors. The data concerns Hulu and how a survey of US broadband users reveals its popularity amongst its user base, especially when mapped against the same question asked of Netflix and Amazon Prime SVOD subscribers.The temptation is, as always, to assume that Netflix is in the lead in all metrics: it does after all have by far the largest installed user base and a global reach, which is mirrored by Amazon but not by Hulu, which is only available in the USA and Japan.
Hulu is proportionally growing faster than anyone though. A Hub Research survey reckoned its penetration rate amongst respondents had reached 22% in 2017, almost double the 13% figure of 2016, and the figures for popularity are genuinely astonishing.
When dual service users, those with SVOD and Pay TV, were asked which service they would chose if they could only have one, 67% of Hulu subscribers said Hulu as opposed to 52% of Netflix users preferring Netflix and 49% of Amazon users Amazon.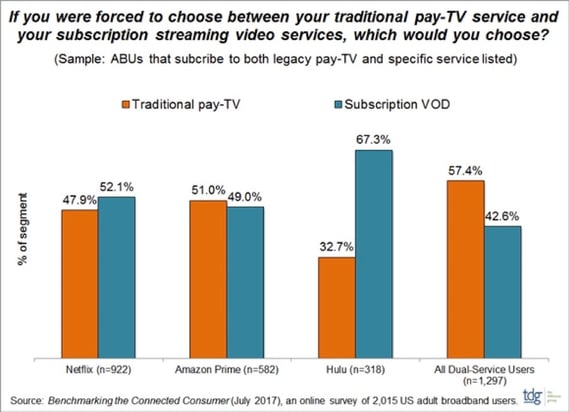 There are impressive numbers. As Rapid TV puts it: "Hulu on-demand users were 37% more likely than Amazon Prime users and 29% more likely than Netflix users to pull the plug on legacy pay-TV in favour of streaming."
What makes a video streaming service popular?
Quite why Hulu is so popular amongst its users is a matter for further research, but there is probably a complex interplay of several factors here.
1. Great content
It is noticeable that the uptick in Hulu's viewership coincides with its extremely well-received adaptation of Margaret Atwood's The Handmaid's Tale. One show does not necessarily make a channel or a service, HBO after all has much more content on its slate than simply Game of Thrones, but it certainly doesn't do any harm. 13 Emmy nominations, including its first above the line ones and a forthcoming Series 2 scheduled for 2018, will help build on the momentum started by the well-received J.J. Abrams' Bad Robot adaptation of Stephen King's novel 11/22/63.
2. Live content
Hulu launched its live video streaming back in May, cementing its reputation as a service that relied on television content first with movies playing a back-up role. The Live TV service offers live feeds from around 50 channels for $40 a month, very much a skinny bundle in the US, and has recently added the likes of HBO and Cinemax as paid add-ons at $14.99 and $9.99 month respectively. It is also widening its platform reach, now also appearing on Amazon Fire TV devices. All this feeds in to the SVOD or Pay TV decision highlighted in the TDG research above: with Hulu that choice is easier because it is, with some exceptions, of course, both.
Learn more about skinny bundles here.
3. User experience
It's safe to say that the Hulu user interface that it launched with its introduction of the live channels divided opinions. Changes in interfaces are never too popular and, while tech blogs commenced on its usability and 'prettiness', user forums were a bit more heated and divided. The lesson is that evolution is constant. Within a month there were a slew of upgrades aimed at making navigation easier and giving viewers more granular control of viewing progress with new episode alerts and so on. In particular, the much maligned autoplay option became user selectable. There is even now an expiration date attached to shows and movies in the Expiring collection, allowing viewers to catch them before they disappear off the servers forever.
4. Business underpinning
Behind this, of course, any operator nowadays needs to be leveraging the power of analytics to ensure that their service is tailored to their customers and their catalogue is operating at peak efficiency. Have a look at Three Key Areas Where TV Analytics Will Grow Your Business to read more about this facet of Hulu's success.
It also obviously helps to have a decent organization with deep pockets behind you, especially in the contest to acquire content. As a joint venture between The Walt Disney Company, 21st Century Fox, Comcast and Time Warner, Hulu has access to the sort of funding that helps fund all of the above. This has enabled it to pull off deals such as buying the US SVOD rights to Seinfeld for $875,000 an episode, or a total of a staggering $160 million.
How much content such as this helps with Hulu's stickiness is, as yet, unknown. As we have already mentioned there is a degree of uncertainty over exactly why Hulu is so popular with its users. And, as TDG says, that has implications for its live strategy. If it's the availability of a large on-demand catalogue that motivates users, converting them to live use will be problematic. However, if it's a quality of experience that keeps them brand loyal, then that is a much easier upsell within the Hulu branding.
And with churn figures in the US OTT market currently around 19%, anyone interested in video streaming services will be watching closely to see how sticky Hulu can remain in the future.