All in all, 56,390 people attended IBC2019 for five days of exhibition, conference, and networking. But what are the key takeaways we can learn from the show?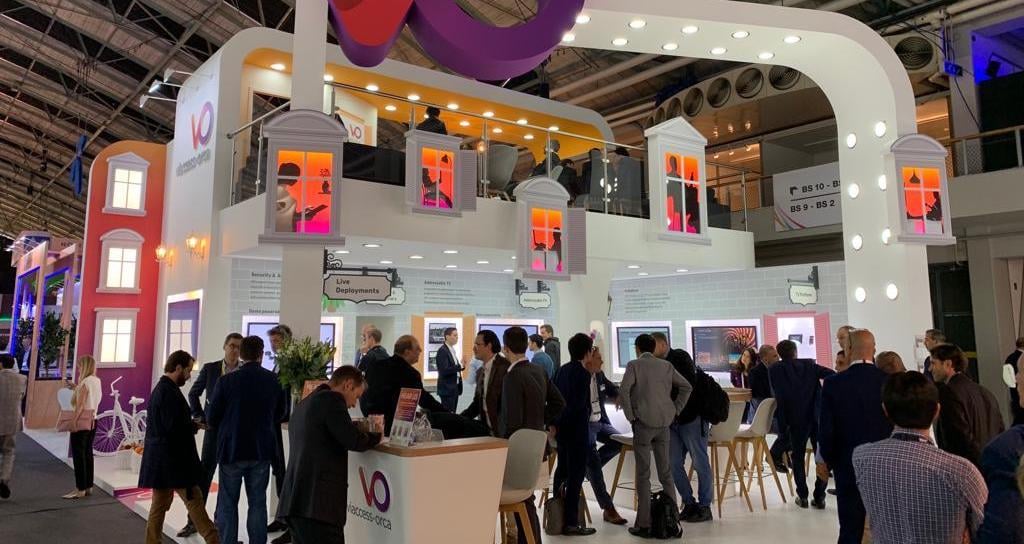 First of all, we have to say that we had a great IBC2019 at VO. From learning that the dynamic watermarking technology we have developed with our colleagues at b<>com had won a CSI Award in the content protection category, to getting a Highly Commended award from IBC itself for our stand in the Exhibition Design Awards, it was a fabulous show.
One of the things that made it so great was the sheer amount of people we talked to and demoed in front of, both on our stand and elsewhere. We saw a big crowd listening to VP Product Marketing, Security and Partnership, Pierre-Alexandre Bidard at his talk on 'How to fight piracy in an Android TV world' over in the Google Theatre. And we brought further innovation to one of the major show themes of targeted advertising, both with our EVP Innovation, Alain Nochimowski's excellent talk in the IABM Future Trends Theatre on 'Ads from the Future: How AI and Analytics Can Guide You to Delivering More Relevant Targeted Advertising', and in our on-stand demos of the solution we have developed with colleagues from Smart and Viznet.
But beyond those successes, what were the key takeaways? What, if anything, have we learned that we didn't know before? Let's step through some of the key moments.
1. The Rise of Android TV
According to Android TV senior director, Shalini Govil-Pai, who gave IBC delegates a glimpse of the state-of-the-art of the platform during and IBC Keynote, Android TV is now deployed in 6 out of 10 smart TVs and is one use by over 140 Pay-TV operator partners, including LG U+, Bouygues Telecom and Telecom Italia.
It's an impressive list and one that looks set to grow further over coming year, as Google looks to overturn its historic weaknesses on the device side of the business with initiatives such as the Android TV operator dongle, a turnkey 4K streaming device that operators can brand and customize.
This is why there was a good crowd listening to Pierre-Alexandre Bidard's talk (below); Android TV is only going to increase in importance from here on in and making sure that content is secured in the platform is going to be of critical importance to everyone that uses it.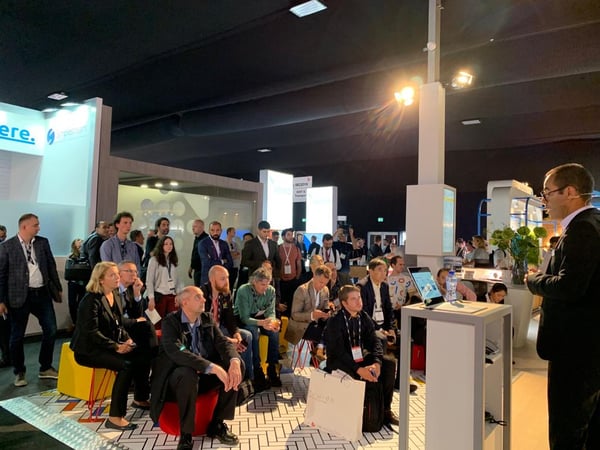 It was interesting to see the prominence Ms Govil-Pai gave to voice control as well, envisaging a future where voice technology gives viewers ever more natural ways to interact with content which, incidentally, she sees being a mix of linear broadcast and OTT for some time to come.
2. The Importance of Knowing Your Audience
To coin a phrase, understanding is the new black. It's something we have long advocated as essential for operators looking to establish USPs against their competitors and it's something that more and more people at all levels of the industry are starting to see as well.
Claire Hungate, former chief exec of Brave Bison Group and Warner Bros, TV Production UK, was guest chair of the IBC Content Screening Group at this year's show, and thus one of the people who set the theme of the conference as 'Consumers First…A New Era in Media'. She argues that the TV industry has fallen behind.
"As an industry it was our failure to keep track of the audience that means we are so woefully behind the digital disruption that our 'frenemies' at Google and Facebook have wreaked since Gen Z entered the world," she said in a keynote She also went on to describe the audience as a "sadly ignored phenomenon, which now looms large in your world if you are a broadcaster , platform, technology provider, or content producer."
Understanding that audience via the use of analytics tools is a key part of this. "It's about watching audience reaction in realtime and responding to that audience reaction," she said. "That reaction becomes knowledge which informs insight, which drives content strategy."
3. Next Gen Formats (And Protecting Them)
With NHK's long-held plans of broadcasting the Tokyo 2020 Games in 8K edging closer and closer, you would have been forgiven for thinking there would have been more of a buzz about the format in Amsterdam. There were 8K products on the stands of course, and the UK's major telco BT was pushing the envelope with a live 8K broadcast of a Rugby Sevens match on its stand, but beyond that it was all a little bit muted. Maybe IBC2020 will be its watershed.
Perhaps all this is because the 4K rollout is still very much in the ongoing phase. The Ultra HD Forum gave its annual update to show delegates; one that can be summed up in the phrase 'still work to do', with problem areas identified as latency, transmission bitrates, and live HDR production in particular (dual HDR / SDR workflows that work with Somy cameras, fall apart for Grass Valley ones, for example).
Perhaps another of BT's demos, a live football match in full colour gamut 4K HDR with Dolby Atmos closer resembles the current state of the (achievable) art. Either way, one of the main conversations we were having with customers tended to be on the importance of protecting this content. As Gaëtan Le Guelvouit from our industry partner b<>com put it when explaining the dynamic watermarking technology we have developed together: "In order to discourage the audience to illegally consume such streams, we must find and stop illegal streamers within a very short time window, typically within 15 minutes."
4. 5G Starting to Make its Presence Felt
Apple unveiled its latest iPhones, the 11 and 11 Pro, just before IBC started and as had long been suspected there were no 5G options. Apple takes the view that the current hype about the format is just that, hype. But while from a consumer point of view the networks certainly aren't there yet, on the production side of the television business there is definitely interesting stuff occurring.
Orange, for example, took part in a 8K 5G trial with France Télévisions at this year's Roland-Garros tennis.
"We wanted to push the envelope on bandwidth by live streaming 8K and see how the 5G network would cope," Jean-Pierre Caesura, 5G innovation chief at the company told the IBC Preview. "We could use 5G for contribution of 8K split into four 4K channels upstream; we can zoom in and re-edit 8K content, use fixed 8K cameras and AI tracking to follow the action and capture high quality VR."
5. Elsewhere at IBC2019…
A quick round-up of some other items.
Interest around the AV1 codec is starting to build to quite significant levels. Here's current Alliance for Open media spokesperson Matt Frost speaking in the IBC Daily: "the roll out of AV1 is very real. Netflix, Facebook, and many other companies have plans for AV1 deployment, and at CES in January we expect to see the first TVs and many set-top boxes showing AV1."
Sustainability is very much back on the agenda. With an increasing focus on climate change in the mainstream media, partly as the result of nature docs like The Blue Planet, so broadcasters look like being increasingly called to account on environmental issues. Sky went carbon neutral a while ago — an impressive feat for a company with 31,000 staff — and others look likely to follow.
As an indication of how much the industry has changed, debate about TLX, the replacement for one of the longest serving standards, ST12 timecode, is currently underway. Timecode has been the standard for an amazing 50 years and has lasted across more industry change than it is possible to summarise in a couple of short sentences. It's hard to imagine a standard lasting anywhere near as long again.
And finally, amidst all the innovation and invention in display, we have to share what is possibly the one single thing that we saw during IBC2019 that made everyone go 'I need this in my life'. We held a lunchtime cocktail party on our stand and one of the highlights was the sushi girl below; a woman who wanders around dispensing sushi wherever she goes. A great idea and, like most of the things we've talked about here, one we're sure we'll see more of at IBC2020.
Definitely - and literally - a key takeaway from the show!