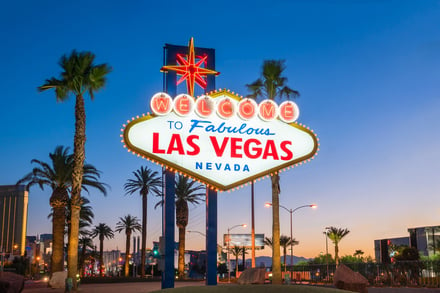 NAB 2018 is well underway in Las Vegas. The industry counterweight to January's CES, what are the early impressions about the future of entertainment technology?
NAB has the reputation as being the biggest of the big trade shows. Certainly, in terms of sheer weight of numbers when it comes to visitors, it doesn't disappoint. NAB itself reports that 102,000 are expected to descend on Las Vegas this year. And, while the majority of them will come from the huge US market, around 26,000 come from overseas.
And what is VO up to this year in the Nevada desert? This is a global business after all and we at VO are delighted to be there. But what are the some of the themes and trends that will dominate the massive conventions centers that house the 1700 exhibiting companies? There are almost too many to isolate, and the Show itself may be trying to have its cake and eat it with an approach that seems to round up every tech trend going.
There are 16 different attractions and pavilions, not counting the six national ones scattered across the showfloor, all designed to " to provide cross-aisle synergies" and covering everything from AI to Podcasting, and highlighting progress in technological fields from 5G to virtual reality. And that's before you get to the plethora of conference sessions examining individual topics. But if they have an underlying theme this year it is probably story-telling and a renewed emphasis on the content that the industry creates with their new tools.
"Effectively using technology is critical to creating quality content," said Chris Brown, Executive Vice President of Conventions and Business Operations for NAB. "NAB Show offers inspiration, training and the very latest tools and technologies to help storytellers step up their game and advance their tradecraft."
VO @ NAB 2018
So, what will visitors see at the VO booth #SU4517 when they come to visit it at The French Pavilion? How are we helping advance story-telling for NAB's 102,000 attendees?
First of all, we're protecting the content. VO's multi-platform secure video player includes multi-DRM for premium VOD and live content, whether streamed or downloaded, to enable a compelling viewing experience. The VO Player offers integration with Microsoft® PlayReady®, VO's proprietary DRM, Google Widevine®, Apple Fairplay®, Verimatrix ViewRight Web, Marlin, and more. The solution is approved by all major Hollywood studios and enables service providers to deliver branded services to all types of connected mobile devices with a very short time-to-market. With VO Player, service providers can easily focus on their service differentiation in terms of content and quality of experience, leaving security issues in the hands of VO, the experts.
Our cloud-based TV solutions will enable you to deploy a state of the art SDP and move to the OPEX model, which reduces operational costs. In addition, it allows you to leverage advanced analytics, to improve your TV services strategy, consumption and revenues.
And, to move storytelling into truly virtual worlds, we have the most comprehensive suite of technologies going to allow service providers to deploy and manage immersive video experiences on multiple devices, including Virtual Reality (VR) devices. Leveraging the robust VO Player playback infrastructure, Virtual Arena customers can deliver both live and on-demand streamed, DRM- protected, 360-degree video content at the highest resolution levels (4K and above). A new app and multi-camera view were recently added to the Virtual Arena solution's rich toolset. Combined with advanced capabilities, such as data collection via multiple sensors, extraction of insights, and targeted advertising, it enables service providers to drive viewer engagement and create data-driven monetization opportunities from immersive video experiences, while preserving privacy.
Entertainment Technology Trends and More at NAB
Of course, one of the reasons that tradeshows tend to have these pavilions and special areas is that they can flex them to match what's going on in the wider industry: spinning them up to tap into expanding areas, then scaling them back as interest either dies or moves on into the mainstream. And, as a result they serve as a good litmus test for assessing what is happening in the industry.
The new ones in particular highlight the trends coming down the pipe, and the biggest this year of the five new mini conferences NAB is presenting is the establishment of the Streaming Summit. This single day event is being held on Wednesday 11th and is particularly interesting because it touches on so many other fields. A quick read through its program throws up mention of AI, Machine Learning, social media video, live sports, audience measurement, egaming, and a whole lot more.
"This is where the content industry is headed," Rick Ducey, managing director of the research firm BIA/Kelsey was quoted in TV Technology. "Content needs to find its audience and revenue bases across multiple platforms and formats. Anything short of this is almost a failure of fiduciary responsibility for companies in the content business."
Those are strong words, but, if anything, the rise of OTT is probably the key event of the past decade as far as the content industry is concerned. Rewind 10 years ago and read some of the reports from NAB 2008, and apart from a lot of talk about stereo 3D, much of the industry doesn't seem radically different from now. But there is very little mention of OTT, very little talk of mobile video, and the spectre of cord-cutting is still in the future.
That is very much a part of the present. While cord-cutting has yet to really rear its head in Europe, only last week a survey was published in the US that suggested 11% of TV households, or 14.1 million, were now OTT-only; a number that has tripled since 2013. And while there is plenty of evidence that suggests more people add OTT to their existing services, nevertheless it is a concern to the industry.
Another interesting destination for this year, and a pertinent one for US broadcasters looking to compete with OTT providers is going to be The Road to ATSC 3.0 pavilion in the Central Lobby. Mainly that's because the destination has now been reached, and this is the first NAB to be held since ATSC 3.0 was formally adopted.
We wrote about ATSC a year ago and it is a fascinating game changer for the US market. It opens up the potential for over-the-air delivery of Ultra HD content, High Dynamic Range video, immersive audio, and personalized and addressable content. The show will see the first real world implementations from the vendor community of all this and everyone will have a better grasp of the full implications and opportunities by the end.
If story-telling is one of the underlying themes of NAB 2018, ATSC is going to enable a lot more stories to be told better than they ever have been before.
Entertainment Technology: The View from Vegas in 2018
While there are some unknowns to be had, such as the impact of ATSC 3.0 or the near future of the driverless shuttle that will operate between the Central and South Halls, NAB 2018 is being driven by industry trends that are either so well-established already that their adoption can be considered a given, or are the work of far more powerful forces than just the broadcast industry. The slow but inexorable growth of UHD, the forthcoming impact of 5G, the rise of IP… NAB 2018 arrives at a great time of change on the one hand but change that is being driven by known technologies on the other. There are few curveballs in the air. Well, few that we know about anyway…
One of the big ceremonies at the show this year is going to see TV and film actress Kristen Bell receive the NAB Television Chairman's Award during the new 'NAB: We Are Broadcasters Celebration'. Bell is currently starring in the excellent The Good Place on Netflix, which was still delivering the majority of its content to its subscribers via DVDs sent through the post 10 years ago. NAB will be hoping that it can be a good place itself for assessing the impacts of OTT, and much more, as the next decade unfurls.