2018 was a year of great change for the OTT business and it already looks like 2019 will bring the same turbulent mix of challenges and opportunities. These are the meta trends.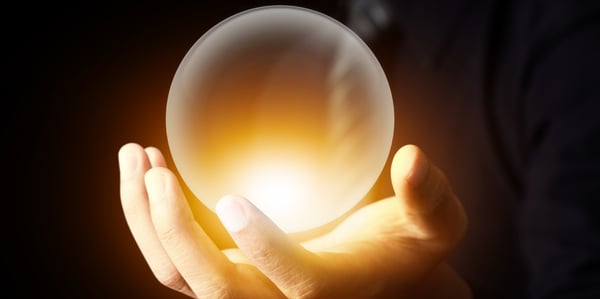 The start of a new year is always a good time to assess where the industry is and where it might be going next. In an era of accelerating technological change, where it's not uncommon for people to assume that we may see more change over the next decade than we have in the previous century, there's always a certain danger about this. The television industry is changing rapidly, its viewers' demands are changing rapidly, and the platforms with which they engage with it are evolving at equally dizzying speed.
Nevertheless, within this storm of change, this is what we at VO think will be the main trends to emerge or further develop in our key business areas during 2019.
1. Security
We have seen a dramatic shift in content consumption. The previous model of one-way broadcast protocols and 'controlled' devices, such as the set-top box, has been superseded by one of IP-enabled device operating in open environments. As a result, the front line of the fight against content piracy has also shifted.
The new threats facing operators in the IP age include content re-streaming, hacking of the video delivery chain, and credential sharing (this last is even seen as a 'normative' crime amongst many people and considered socially acceptable behavior). We expect these threats to grow as the year continues, especially given high profile events such as the release of the last season of Game of Thrones, coupled with the growth of premium content as we move to a 4K HDR baseline.
Content protection is thus moving onto a realtime footing. Realtime mitigation and powerful countermeasures are part of the new battle front against the pirates, while the ability to detect security incidents though state-of-the-art AI techniques holds out the promise of severely damaging pirate capabilities. Taken together these measures can offer more powerful and more responsive content protection than ever before, as the industry redefines the rules of engagement against pirate activity.
R&D on AI and the increasing use of it and Machine Learning techniques in this field will have a growing impact on the sophistication of content security. As noted by Alain Nochimowski, VO's EVP Innovation, a powerful content protection service requires the ability to detect security incidents through state-of-the-art AI techniques, coupled with the implementation of real-time mitigation and countermeasures. Spending on anti-piracy measures across the industry increased to $1bn during 2018. We expect that level to be maintained through 2019 as a minimum.
2. Increased Use of Analytics
The last few years have witnessed the progressive adoption by TV service providers of data analytics tools to streamline their content distribution chain. To date this has been primarily inbound and mainly deployed as a part of monetization strategies to increase process efficiencies. For example, it has been used to predict the appetite of viewer segments for certain content and to implement personalization services, as well as being deployed to guide targeted content promotions or the upselling of service packages.
What we are now starting to see is increased interest among service providers to expand the benefits of TV viewership data monetization 'outward'; for example by fuelling programmatic and addressable TV chains with smarter viewer segmentation. Nochimowski also notes that this is particularly true in markets subject to strong privacy regulations (such as the GDPR in the EU) where traditional third party data-based segmentation approaches may need to be complemented by AI-extracted segments from TV viewership data.
As we have said before, the GDPR represents a wonderful opportunity for the industry to show the consumer how transparently it can operate. As compliance makes way for enforcement during the course of 2019, it will become more important than ever for companies to develop data-driven models that are built on trust and an open contract between consumer and company.
3. The Growth in Android TV
The increasing impact of the Android TV platform was one of the more impressive success stories of 2018, where its flexibility and speed of deployment has led it to become becoming a significant player in the set-top box market, especially amongst mid-sized operators. In 2017, 16% of Android devices were STBs, and that figure was projected to be close to 30% in 2021. We would not be surprised if it is revised upwards further, especially given the strong performance of Android TV STBs in the APAC market.
That being said, the adoption of Android TV comes with a number of yet unanswered questions: what is the exact chain of support? Where does responsibility for its continued functioning and development lie? How are any future security liabilities to be handled? As noted by Chem Assag, EVP, Marketing and Sales, we believe that premium service providers expect clear answers on these and other questions, and Google does not have a history of being forthcoming on the subject. As such we expect the top end to remain bespoke for the near future at least, and that some service providers will continue using Linux-based STBs until there are alternate solutions.
4. Consolidation of Services

One of the surprise announcements to come out of CES in Las Vegas was that Apple's iTunes will appear on Samsung Smart TVs from Spring onwards. Apple has always tried very much to build a walled garden for its ecosystem; you want its services, you need to own its products. But with hardware revenues slowing down as the smartphone market matures, Apple is increasingly looking to pivot towards selling those same services. And having them on as many devices as possible makes sound business sense; Apple Music also appeared on Amazon Echo smart speakers at the end of last year.
Elsewhere, Roku also unveiled its Roku Channel service at the start of the year to provide subscriptions for premium networks such as Showtime and Starz, thus taking a leaf out of the already successful Amazon Channels playbook.
It's the sort of deal that makes sense for operators too. As we have noted, with the UK's Sky adding both Netflix and Spotify perhaps the highest-profile example to date. As television as a whole shifts away from being channel-based to app-based, this will become a steadily more popular approach.
5. Siloing of Content in OTT Businesses
Conversely, with major new OTT players launching on the market in 2019 — Disney+ and the new WarnerMedia service at the top of the list — we are also seeing a renewed siloing of media brands. Disney+, for example, will see the Disney, Pixar, Marvel, National Geographic, and Star Wars brands all unite on the same service. Warner Media encompasses HBO, Turner, Warner Bros. films and more.
These brands will likely either disappear entirely from the established SVOD players such as Amazon Prime Video and Netflix, or, at the very least, new series will enjoy their first runs on their 'home' streaming service.
The result will be more stacking on behalf of the consumer, though the precise nature of how this will work out, especially in relation to churn, is price-sensitive and depends on the market entry points taken by the new services.
In combination with point 4 above, we may see some interesting business models start to evolve out of the OTT space, such as a la carte pay-TV where viewers only pay for the content they watch.
6. Miscellaneous Observations
We have mentioned AI several times already and will no doubt see it having a steadily increasing effect on all areas of the industry. What will be interesting to see is if it turns into an arms race between companies; powerful AI is expensive to run and the benefits it confers can be seen as genuine differentiators, though the growth of the AIaaS (AI as a Service) market will mitigate against this.
For the consumer, one of the most visible manifestations of AI lies in voice recognition, and this is going to make further incursions into homes. Parks Associates data says that 45% of US broadband households see voice control of TV as appealing. "As consumers see voice solutions operate their smart lights and thermostats, their interests extend to their entertainment services, creating opportunities for players that can bring a quality voice-based solution to this ecosystem."
Currently only around 12% of US consumers use voice to control entertainment devices, a situation which Parks describes as 'lagging'.
We are also seeing a new trend that could be referred to as 'OTT first'. This sees operators establishing OTT businesses in new countries and territories, which then act as a bridgehead for the rest of their services to follow on afterwards. With M&A activity also showing signs of slowing down — operators simply aren't seeing the value in it anymore — as well as seeing services expand into underrepresented territories, 'OTT first' could also serve to bring more players into increasingly crowded markets. This will likely rampup competition, increase price sensitivity, and require an acute awareness of business efficiencies brought about by use of the cloud and analytics.
What about your own predictions for 2019? Email us and let us know which way you think the future is headed.