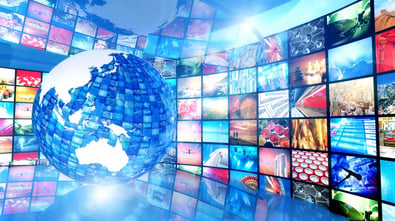 The growth of Over the Top TV has been one of the most significant changes in the industry in recent years, but where is it heading next and how does the picture vary worldwide?
The worldwide picture of OTT is undeniably one of growth. Juniper Research estimates that global OTT revenues will rise at a CAGR of 13.2% over the next handful of years from a 2017 figure of $64bn to $120bn by 2022. Additionally, a quarter of all global households will subscribe to SVOD services by 2022. But where are the hotspots? What is going on in some of the key geographic markets? We sifted through the blizzard of recent data and surveys regarding Over the Top TV to find out some more localised answers and to identify significant trends in different territories.
From the impact of European legislation on its pay TV rivals to the growth in stacking services in the USA, the distorting effect of China, and the unique profile of MENA, it's a complex picture. Yes, Amazon and Netflix seem to crop up as significant players in almost every story, but the rise of OTT is not necessarily the rise of homogeneity too. One size does not yet fit all.
Europe Reaches Across Borders
Data from Digital TV Research suggests that, despite a large number of OTT subscriptions already, there is still room for growth in both Western and Eastern Europe. Western Europe SVOD revenues will increase from $2.8bn in 2016 to $6.5bn in 2022 and subscriber numbers grow from 33.96 million to 65.07 million. Eastern Europe will see even higher growth as Netflix and Amazon penetrate the market, revenues quadrupling from $552 million to $2.23bn. Subscriber numbers will also mushroom impressively from 4 million to 16.5 million.
Possibly the most interesting trend worth noting in Europe though is the response of pay TV operators to the growth of OTT; Kagan noting that support for key TV Everywhere features such as live TV and VOD amongst operators is approaching saturation. In fact, among 68 pay TV operators it surveyed across 16 markets, 99% (96% in 2016) supported live TV channels and 94% (88% in 2016) offered access to VOD content. Also, operators supporting out-of-home access to content hit 96% (up from 94%).

"Mobile, smartphones specifically, continues to dominate TVE strategy," Kagan notes, "with increasing curation as well as functionality such as remote control, which has become prevalent, and voice (Telefónica SA and Virgin Media Ireland), which we see as playing a critical role in making TVE a more seamless experience in particular from a search perspective."

While Europe argues the pros and cons of geoblocking, it is also interesting to note that fully a quarter of European OTT platforms target cross-border audiences. Research shows that out of 673 OTT platforms, 23% are VOD services targeted outside their country of origin. As the heat map below shows, London is the epicentre of this new trend, with 82 of its 226 OTT platforms targeted outside the UK, but there are other emerging regional hubs too, such as Amsterdam.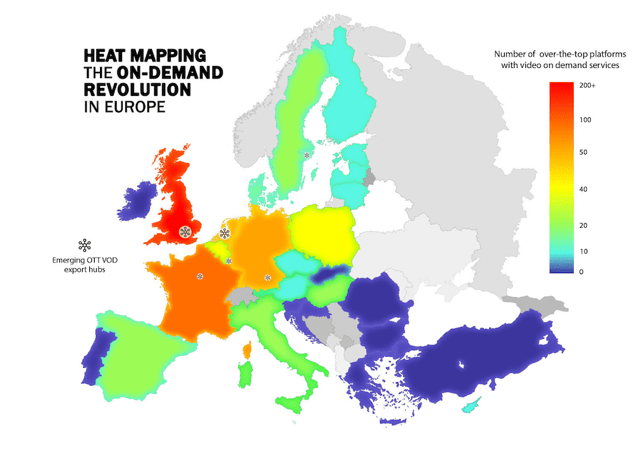 Source: Broadband TV News
There are some interesting wrinkles in the data. With 20 OTT platforms, 13 of which are aimed at other countries, Luxembourg is a disproportionately large VOD exporter mainly due to its position as the HQ of pan-European broadcaster RTL. And, while Ireland only boasts a single OTT platform targeting other European countries, the fact that it is Apple's iTunes VOD service, makes it one of Europe's largest exporters in terms of users reached.
France has the second most OTT platforms with 115. Only 10 serve other EU countries – mainly Francophone areas of Benelux and the Alps; but it also has 11 French/Arabic VOD services targeting former colonies in North Africa.
[Update: The data keeps coming too. Additional research from Kagan published after this article was originally posted reveals the Nordics to be a particular SVOD hotspot. SVOD estimated paid subs in the Nordics have grown 23% on average for Netflix, 24% for HBO Nordic and 19% for Viaplay from 2016 to 2017. Interestingly, SVOD penetration rates measured as a percentage of broadband homes are through the roof, averaging 82% across the four countries and peaking at 89% in Finland].
OTT Stacking in the USA
The stacking of different OTT services is becoming increasingly prevalent in the US. Data from Parks Associates shows that more than 50% of households with an OTT subscription subscribe to multiple OTT video services. Netflix is, somewhat inevitably, the most common one. Of these multi-OTT households, 81% use Netflix plus some other service combination, typically Amazon or Hulu.
Parks' Brett Sappington characterises the "OTT video pie" as getting both bigger and deeper. "Not only are more households subscribing to OTT video services than ever before, but also the average number of subscriptions per household is increasing as well," he says. This also holds true for the free OTT video service operations often offered by national broadcasters. While the assumption was always that these would fade as more pressure on viewing time came from the paid services, the opposite seems to be true. The more OTT video subscriptions a consumer has, the more likely they are to use a free (or in some cases freemium) service.
It seems though this is being borne out of necessity rather than choice. As consumers move increasingly towards OTT providers and away from pay TV, there is a growing irony developing. According to Hub Research, only around 40% of US viewers who subscribe to a single OTT service say their entertainment needs are well served. That figure rises to 47% with two services, 51% with three, and hits 62% with four or more.
The irony, of course, it that those subscribing to four or more services are paying roughly the same as a basic cable subscription.
It's also worth pointing out that consumers are not happy about this situation. 69% would prefer a single service.
Perhaps this is why, as a sting in the tale, Parks Associates also reports that, with the notable exception of Netflix and Amazon Prime, OTT services in the US are currently experiencing churn rates exceeding 50% of their subscriber base.
APAC OTT Driven by China
The demographics of Asia alone mean that OTT in the region has long been held to have the serious potential for growth. This looks like it is being borne out too, with a variety of different surveys fingering the region for growth above and beyond what may be considered a global average.
Digital TV Research's Asia Pacific OTT TV and Video Forecasts suggests that APAC OTT revenues will reach $24.41bn by 2022, a shade under 3x the $8.27bn figure recorded in 2016.
Unsurprisingly, much of that is accounted for by China. China will command half of the OTT revenues of the 22 countries in the region covered by the report, a growth rate in itself as in 2016 it accounted for just over a third of the total. Coupled with Japan, the two economic superpowers of the region together will account for two-thirds of the region's total revenues by 2022.
Ovum data suggests that China's state-owned CRTN is by far the biggest player in the region, with a 2016 subscriber base of 245.6m forecast to grow to 272.4m by 2021. What is interesting is how quickly China's iQiyi and the rest of the region's use of Netflix are growing. iQiyi is forecast to more than double its subscriber base to 45m between 2016 and 2021, with Netflix accounting for 19m by the same period.
All in all, OTT will grow from 10.9% of total revenues to 16.7%, and those total revenues in turn of combined pay TV and OTT businesses in the region will climb from $52.9bn to $77.4bn.
OTT in MENA: Youth & Localisation
A Videonomics report issued at CABSAT earlier this year contained some interesting insights into one of the markets most people tap for explosive, mobile-first growth over the next few years.
It noted an increasingly fragmented OTT landscape populated with a mix of global and regional services backed by a combination of regional linear TV companies, telcos, and pure OTT players.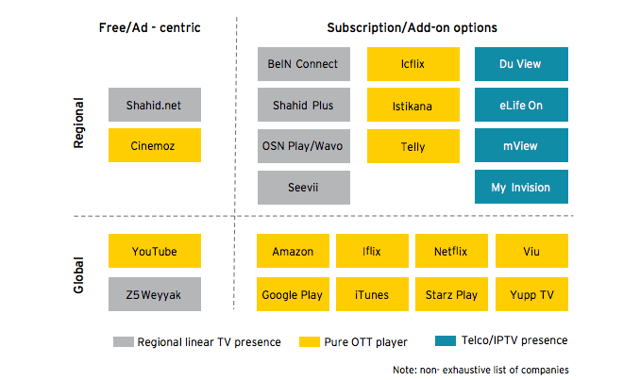 Source: Videonomics
Inevitably this fragmentation is leading to an increasing drive to efficiencies and a race to scale. Scale is important as it can help amortise the costs of content acquisition or production across audiences in multiple geographies, lead to more flexibility in distribution with companies leveraging different release windows etc, and increase the effectiveness of TV business analytics.
Videonomics sees this race continuing between companies in the medium-term, with consolidation expected over time.
There are, however, a couple of factors that may prevent the MENA region becoming homogenised with the rest of the world.
First, as the report notes, growth in media markets tends to be driven by youth. "As the 10–24 year age group comprises more than a fifth of each MENA market below, except for the UAE, growth will be robust," it says. "MENA's projected video revenue growth of ~6% for linear TV and ~26% for online video from 2017–21 places it ahead of every major media market, except India and Indonesia."
Second is the appetite for localised content across the region. Arabic internet usage is three times the use of English and growing. And while that does not necessarily map exactly onto video demand, there is an increasing effort from OTT players to produce Arabic-native content where budget allows and dubbed content where it is more restrictive.
"Dubbing English, Turkish, Hindi or even other Arabic dialects has become a common strategy," says the report. "At costs of US$2,000–US$4,000 per hour, this can be a cost-effective play for OTT players to reach local audiences, as well as the global Arabic diaspora."
Over the Top TV: Elsewhere
Latin America is growing too, Digital TV estimating that revenues from OTT TV episodes and movies for 19 Latin American countries will reach $4.60 billion in 2022; up from the $1.87 billion recorded in 2016. SVOD will remain the region's largest OTT revenue source; contributing $2.86 billion by 2022 (62% of the total). The company also forecasts 32.54 million SVOD subscribers by 2022; nearly double the 17.08 million recorded at end-2016.
Of all the global markets, however, as already mentioned it is probably India which is poised to show the most growth. Estimates are that the market is currently valued at $280m with nearly 100 million subscribers, and it is poised to grow at 35% YoY.
What's more, it showcases the value to operators of localisation, with Amazon and Netflix in distant 3rd and 5th places in the subscriber stakes, with 11m and 5m subscribers respectively. Amazon has chased the market more assiduously than its global rival, with a lower monthly pricing then in many other territories of ~$1-2 and a program of localised content. Netflix has retained its global focus and pricing structure, making it comparatively expensive for the Indian market.
Perhaps more sobering for people looking at the Indian market though is the amount of people actually paying for content. As ET Telecom reports, only 2-3% of Hotstar's 75m subscribers pay for its premium content the rest sticking with the free content. And it is estimated that only 6% of Netflix subscribers actually regularly pay, the rest taking advantage of 'free first month' trials through a succession of multiple credit and debit cards.
India is, of course, an outlier here. But it does show at least one of the challenges that OTT has in front of it: monetization. And as the spending on content ramps up, making sure that everyone watching the service is paying for the service, Netflix or otherwise, is going to become an increasingly pressing issue.
Elsewhere, as the European experience shows, pay TV operators are not going quietly into the night and are adding features designed to wow audiences, or at least eliminate some of the pain points customers report, themselves. In a competitive landscape it will be up to the OTT providers to keep up with technological innovation there too, especially as the costs of maintaining access to exclusive content via multiple services reaches parity with the lower end of the pay TV spectrum. And the degree of churn experienced in the US market shows that customer loyalty is a very precious, and increasingly rare, thing.
As Lauren Foye, the researcher behind the Juniper report we started this article with, noted about the continued growth of OTT: "Success will hinge on whether these providers can continue to produce hits such as 'Stranger Things'. As consumers become more fluid in their uptake and loyalty to video services, OTTs could just as easily see users switch off."