Industry insights: Netflix is on course to reach its sustainable streaming emission targets and is tweaking its ratings system, while viewers seem unlikely to spend as much on streaming as on cable and Pay-TV.
Netflix aims for net zero
[Netflix]
One year after it first launched its sustainability initiative and its first public climate commitment, dubbed Net Zero + Nature, Netflix has published a detailed update on exactly where it is in the journey towards net zero.
As expected, due to the uptick in production in 2021 the company's overall carbon footprint actually increased from 1.05 million metric tons of carbon dioxide equivalent (MTCO2e) in 2020 to 1.54 million MTCO2e in 2021 for Scopes 1, 2 and 3 (direct, indirect, and value chain emissions).
However offset against that, Netflix has made substantial progress in reducing its Scope 1 & 2 footprint. The company reduced or avoided more than 14,000 metric tons of emissions in 2021, reducing this part of its carbon impact by over 10%. This means it's on target to cut 45% of its Scope 1 and 2 emissions by 2030 via initiatives such as working with utilities, landlords, and streaming partners to switch to renewable electricity; swapping in batteries, renewable diesel and electric vehicles on its productions; and buying sustainable aviation fuel.
It expects to reach its targets primarily by decarbonizing film and TV production. In 2021, it cut a combined 27,380 gallons of fuel from productions by adding more electric vehicles on set and replacing some diesel generators with mobile electric batteries or green hydrogen power units, such as the one used on Bridgerton Season 2, pictured below.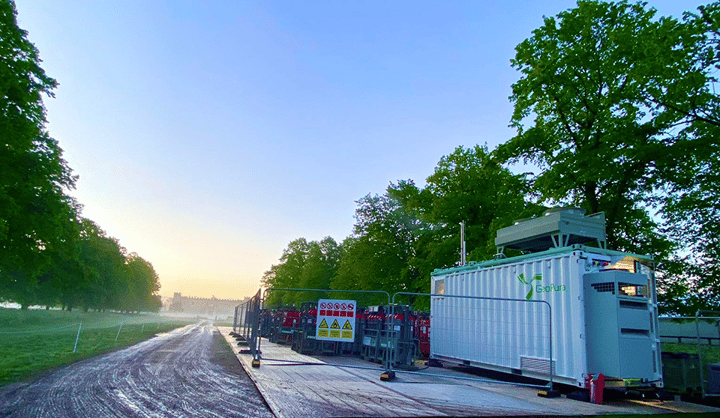 This GeoPura hydrogen power unit not only replaces multiple diesel generators in supplying power to a production, but also provides drinking water and has the added bonus of being quiet, making on-set life that bit easier. More of them will be used in 2022 as #greenstreaming becomes ever more central in the public consciousness..
Elsewhere the company notes it is also investing in high-quality carbon credit/offset projects that protect biodiversity and generate jobs and educational opportunities for vulnerable communities, and notes that its content on sustainability is becoming increasingly popular with its subscribers. Don't Look Up is now the company's second most watched film of all time.
A financial limit to stacking?
A new report from Nielsen in the US states that viewers' monthly streaming budgets remain substantially below the rates that they would have paid/still will pay for legacy cable and Pay-TV services.
The figures break down as follows, with the $20-$29.99 midrange being decidedly the most popular: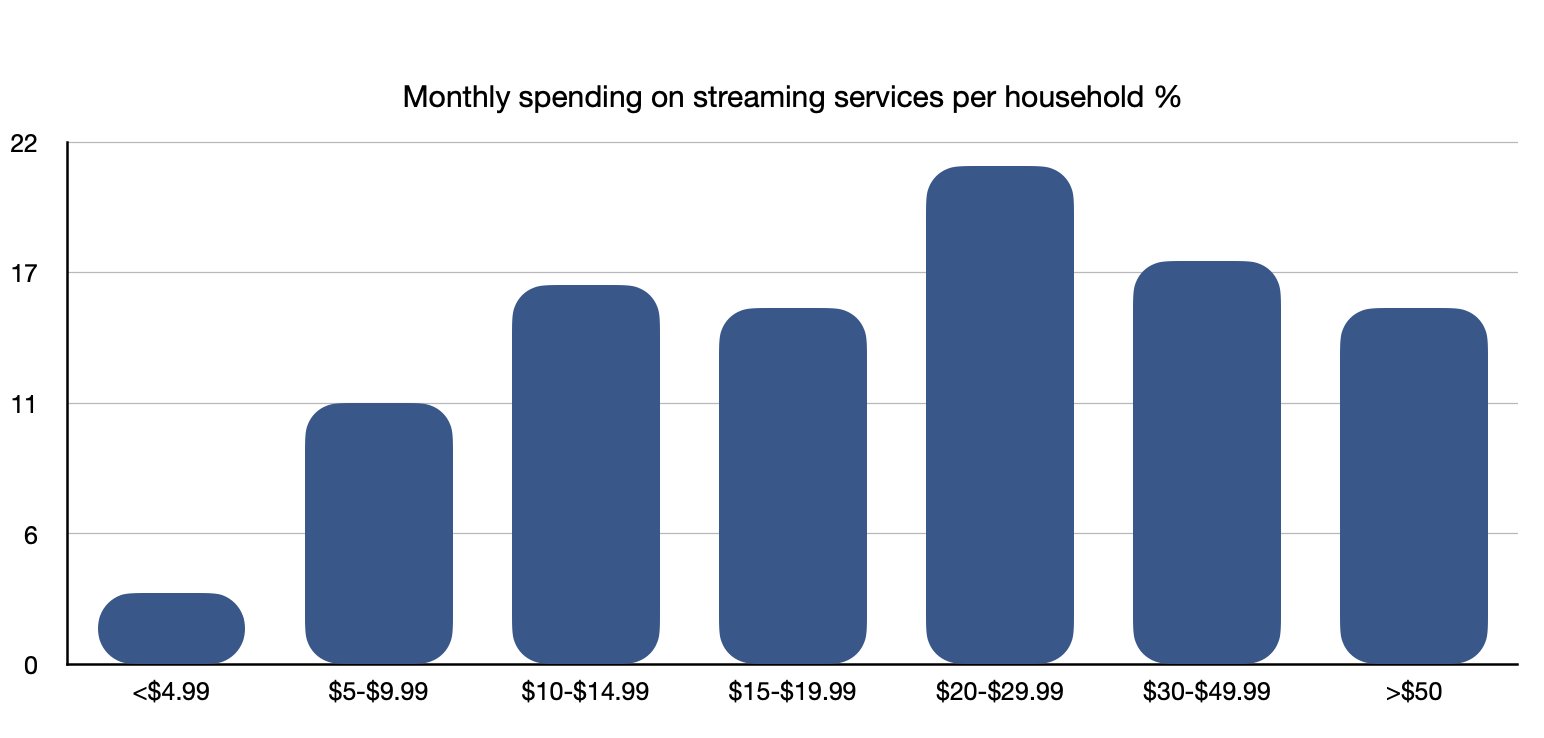 As a guide, Netflix's basic subscription is $9.99, and that's for a single device in SD. Its standard sub now elevates consumers into the $15-$19.99 bracket, where you would expect to see viewers stacking two services at most. The key takeaway is that close to two-thirds of survey participants spent at the most $30 on streaming video services, equating to between two to three services.
"By way of comparison," writes Fierce Video, "the most recent report from the Federal Communications Commission on cable-industry pricing — it dates to 2018, but the FCC is now working on a new survey — found an average price for expanded-basic cable TV of $71.37. That number did not include equipment-rental costs, which remain common in cable and unheard-of in streaming."
From this data it seems that when viewers cut the cord they do not replace like for like when it comes to expenditure and actively look to save money. This suggests that one of the consequences of the recent rises in service costs on behalf of the major SVOD players could well be a reduction in the number of services viewers are prepared to stack, as well as a potential rise in churn as viewers swap between services based on content releases while staying within household budgets.
Two thumbs up from Netflix
[Variety]
Five years after ditching its five-star content rating system, Netflix is making a small tweak to the way viewers rate its content by adding in a new 'two thumbs up' ratings option for when viewers really, really like something.
A single thumbs-up still lets Netflix know what subscribers like, but the idea is that two thumbs up will be a stronger signal to feed into the content-recommendation algorithm. And, according to Variety, it's just a happy coincidence that the name references the "two thumbs up" seal of approval from famed US movie reviewing duo Gene Siskel and Roger Ebert (which is, incidentally, trademarked anyway).
Netflix conducted global tests of "two thumbs up" in the second half of 2021 (during which it jettisoned its initial idea of using a heart symbol to denote viewers loving content), followed by several rounds of interviews and surveys. It says it has seen a substantial increase in usage as a result, with many members heading back to titles they had previously watched and rated highly to give them a double thumbs-up.
Overall, Christine Doig-Cardet, director of product innovation at Netflix, says the perception from members in the test groups has been that recommendations are getting better. Which, given the fewer inputs the system is relying on from the viewers, means some smart work is going on in the algorithms behind the scenes.