What is the health of the Global SVOD market? From the importance of growth in digital originals to the importance of matching content to consumer, these are the 4 key trends.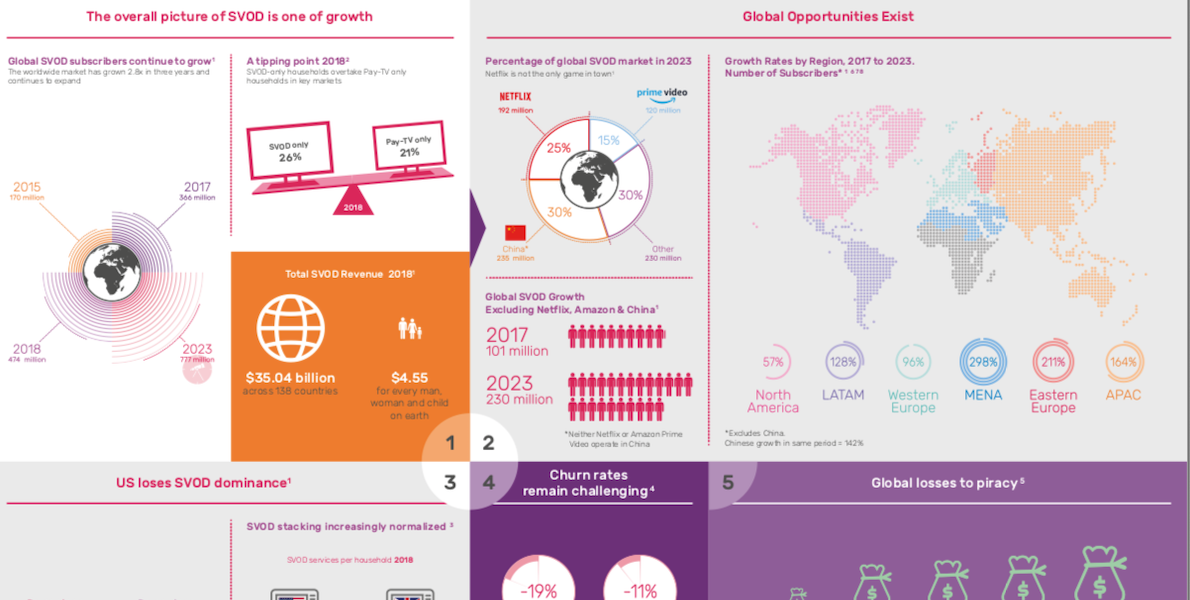 There have been some fascinating insights into the state of health of the Global SVOD market recently, and none more so than The Global Television Demand Report 2018 produced by Parrot Analytics.
There is a lot of data in the report, but we're going to leave the facts and figures alone for a moment. If you want to look at the latest numbers on the growth of SVOD worldwide you can look at the latest infographic we've produced. What we will do here is have a look at the key trends that the data reveals about SVOD and TV viewing habits, and where it might be heading over the next few years. Plus we'll pull in some insights from other sources as well to provide a good overall snapshot of where we are.
4 Key Trends for SVOD
1. Growth: a Given but not a Guarantee
Growth is on show everywhere you look in the SVOD universe. In terms of number of platforms, in terms of audience numbers, in terms of investment growth, in terms of the numbers of digital originals and the amount of content being produced…2018 was the story of all those numbers being on the rise.
As our infographic shows, it's not an even picture across the world, and it is slowing down in some of the more established territories. Growth, as always, is finite, and over the course of the next few years there is likely to be a further slowdown followed by a stabilisation as SVOD matures first in one market and then another. The impact that will have on an industry that has been fuelled by rapid growth and investor speculation is going to be extremely interesting.
It should also be remembered that SVOD services and OTT delivery are not actually a license to print money. In an excellent blog post titled Whistling Past the OTT Video Graveyard, Brett Sappington of Parks Associates details some of the perils and pitfalls that await operators with poorly thought out or poorly executed business plans.
"Companies must accurately assess their content, target market, market potential, trends and internal expectations in order to have a shot at success," he writes. "Even with these in order, services face a long, sometimes scary road past OTT video's ever growing graveyard."
2. Netflix Dominates: But Only for Now
Netflix has been extraordinarily successful. Having first established itself in its homeland USA, its overnight global expansion was first enabled by the cloud and then accommodated by it as it has scaled to meet demand. Despite a global pricing structure that makes it an expensive proposition in some markets, it has a dominant market share in many, and is consolidating its position on the international stage.
However, its position is not without threat. As well as erstwhile global competitor Amazon Prime Video and US-specific competition from the likes of Hulu and Roku, Disney and WarnerMedia are both launching SVOD services this year, and own a significant amount of media properties and franchises between them. These include such high profile names as Marvel and Star Wars for Disney, HBO and Warner Bros. movies for WarnerMedia. The Disney+ SVOD service has already confirmed a US launch at an aggressive, sub-Netflix $6.99 monthly pricepoint, while Warner is announcing its launch details in the autumn.
Then, of course, there's Apple. Whenever a company whose valuation hovers around the trillion dollar mark enters a market, it's going to cause disruption. Apple TV+ will also launch in the autumn and, while details are still sketchy, it is bound to have an impact.
Consumer stacking of SVOD services is increasingly popular — the average US household now subscribes to 2.8 services — but, even so, there is only so much of a household's monthly budget that can be spent on watching television.
3. Digital Originals in the Ascendant
The growth in content over the past few years has been nothing short of phenomenal. Parrot says that 300+ digital originals were released on SVOD platforms last year; an enormous amount of programming that presents challenges on all levels. From funding the productions — which, incidentally, are typically shot in 4K nowadays and concurrently expensive to produce — to surfacing the right content for the audience at the right time, the volume is difficult to cope with.
It has necessitated a change in business plan too, especially for Netflix which now produces (or co-produces) the majority of its new titles in-house and in the face of increasing competition is aiming to become self-sufficient. This makes perfect sense, especially as US studios have started to pull their own titles from the service ahead of their own SVOD launches, but there are increasing question marks about the ability of a single organisation to keep on top of such a punishing release schedule and retain a consistent quality of end product.
4. Different Markets Have Different Demands
Okay, we lied about no facts and figures; some are definitely worth mentioning and have definite implications for operators looking to launch their own services.
First, 'travelability', and an indication of where in the world content produced in one country can find a ready market in another. Unsurprisingly, this largely breaks down along linguistic lines, with Anglophone content showing a large amount of global travelability, German content being mostly confined to the DACH regions, and Italian and Brazilian content travels poorly. There are some interesting outliers though such as the country with the most travelable content being Canada, which also sees more of a demand for its content in the USA than it does in its home territory. (A possible explanation for this is the amount of flyway US productions actually produced in the Vancouver area as a result of tax breaks.)
The facts and figures come with a demand analysis broken down by genre. This gives an intriguing insight into what viewers want in each country. US viewers want sitcoms more than anything, accounting for 8.6%of all expressed demand in the market, but that is slightly less than the global average of 8.8%. The big peaks in the US compared to the global picture are for sci-fi drama and anime. Spain and France, meanwhile adore crime drama but are indifferent to sitcom; Brazil likes teen drama, Germany dislikes superhero programmes, Mexico likes telenovelas, and so on.
The most popular digital originals looking across the global market are Chilling Adventures of Sabrina and La Casa de Papel, which are each number one in three markets, followed by Star Trek: Discovery and Stranger Things, both number one in two.
The Global SVOD Market: Conclusions
2019 feels like it may be a watershed year for the SVOD market. So long dominated by Netflix, despite the best efforts of its main global competitor Amazon Prime Video, there are at least three heavyweight contenders launching towards the rear end of the year. As a publicly listed company, Netflix's worth has been tied very closely to subscriber growth and if that falters, so does the company. Its content budget this year is expected to reach $15 billion and it has long term debt to finance of $12.3 billion. These are both large and sensitive figures.
Perhaps the main takeaway though is that the growth that the Global SVOD market has seen in recent years does not have to be confined to the global players. There is plenty of room for regional variation and the importance of native language content, which is something we've talked about before in the context of targeting diaspora populations, cannot be underestimated. Local content can play in the global village now much easier than it ever did before.