The latest set of figures show SVOD on the rise even in the saturated US market, HBO Max looks set to have an AVOD tier, and Ampere analyses the impact of Covid-19.
SVOD subs still increasing [

Rapid TV News

]
Following the last brace of figures looking at regional upticks in global SVOD services, Digital TV Research has released its figures covering Western Europe and the US.
In line with its previous findings, SVOD subs are on the rise across the board. Western Europe will have 191 million SVOD subscriptions by 2025; more than double from 90 million at end-2019. About 35 million subscribers will be added in 2020 alone, with the Covid lockdown having a major effect.
There is some interesting detail in those numbers.: Simon Murray, Principal Analyst at Digital TV Research, said: "Disney+ will have a huge impact. However, we have downgraded Disney+ since our last forecasts in April. After strong early take-up and based on its June results, subscriber growth will decelerate rapidly. We have increased our forecasts for the 'other' category due to the wave of launches due from the likes of Hulu, Paramount+ and Peacock."
Meanwhile, even though the US is the most mature market in the world, the number of US SVOD subscriptions will climb from 203 million in 2019 to 317 million by 2025. Even Netflix, which is as close to saturation point as anyone, will manage to add over 10m new subs over the timeframe, though it is forecast to lag behind Disney+ (27 million extra), Hulu (22 million extra), and Peacock, HBO, and CBS All Access/Paramount+ in terms of growth.
As Murray puts it: "The depth of choice in the US will not be replicated in any other country," which presumably will also ensure it leads the world in the amount of service stacking the market will tolerate.
AT&T plans lower-priced version of HBO Max with advertising [

Bloomberg

]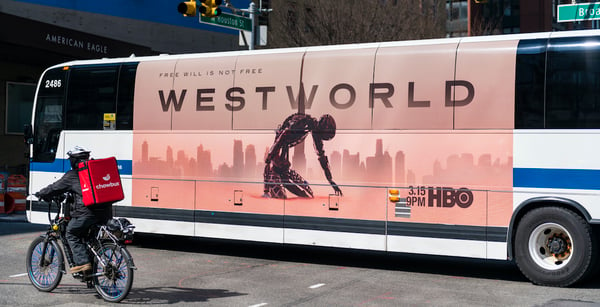 Meanwhile, proof that SVOD is not the only game in town is offered by the fact that AT&T is planning to offer HBO Max at a new, lower cost tier with advertising support next year.
HBO Max launched a few months ago and was easily the priciest of the new US services, coming in at $14.99 a month. AT&T declined to say at exactly what level an AVOD supported service will come in at, though it's possibly worth looking at the model adopted by NBCUniversal's Peacock, which has a $5 monthly difference between its AVOD and ad-free premium tiers.
$9.99 with what AT&T Chief Executive Officer, John Stankey, has promised will be a 'light ad load'? It's an interesting proposition.
"Virtually any fast-growing company that's out there today, many of them have free services that are supported by data and advertising," Stankey is quoted as saying in Bloomberg. "Having an advertising option is going to be important to making sure the broadest cross section of content is available to people moving forward."
Covid-19
'

s economic impact on the media sector [

Ampere Analysis

]

Subtitled 'The good, the bad and the ugly', Ampere's analysis of Covid-19's impact on the media sector makes for interesting reading as it sifts through the flow of company reports from the Q2 period when the pandemic was at its (first wave) height.

All in all, it expects that the year-on-year revenue decline in the entire global audiovisual extra will be -6%. In context, in the immediate aftermath of the 2008 global financial crisis, the world's TV, film and video market actually grew by 1%.

Strip out the beleaguered cinema sector, though, and it improves slightly to -2%. And Ampere finds cause for optimism.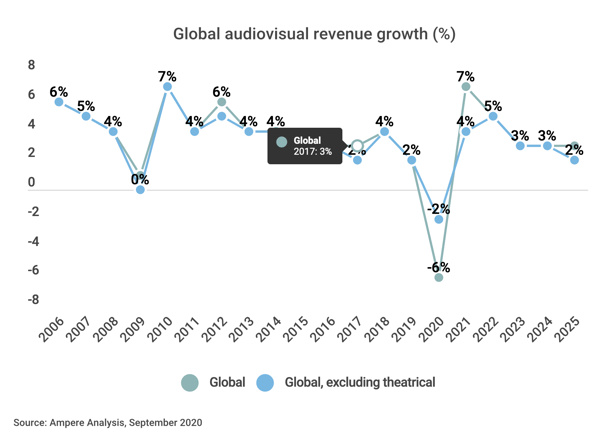 "Nonetheless, amid the gloomy outlook, there are opportunities for those firms that can adapt to the new market norm most rapidly," writes Richard Broughton. "Q3 guidance from media owners reveals that ad spend is returning quickly, particularly in the online and addressable space. Commissioner announcements indicate that in certain markets production and commissioning activity is restarting with a vengeance—the current content backlog and lack of fresh new series will particularly favour those firms that can accelerate filming and post-production of their big Scripted shows.
"Telco H1 results show that broadband growth in many markets has been boosted above pre-COVID levels, and early details from the latest wave of our quantitative consumer polling illustrates that greater numbers of consumers have been introduced to new modes of viewing and paying for content, expanding the addressable online video opportunity still further."
All in all Ampere expects the sector's revenues to have recovered to 2019 levels by the end of 2021, but adds the corollary that that is dependent on major media markets not returning to national lockdown. And for a steer on that we are just going to have to wait and see.