Ahead of IBC2023, we asked our Global Demo Success Manager, Guillaume Debeneix, to share some of the processes that go into making a trade show demo that ticks all the boxes.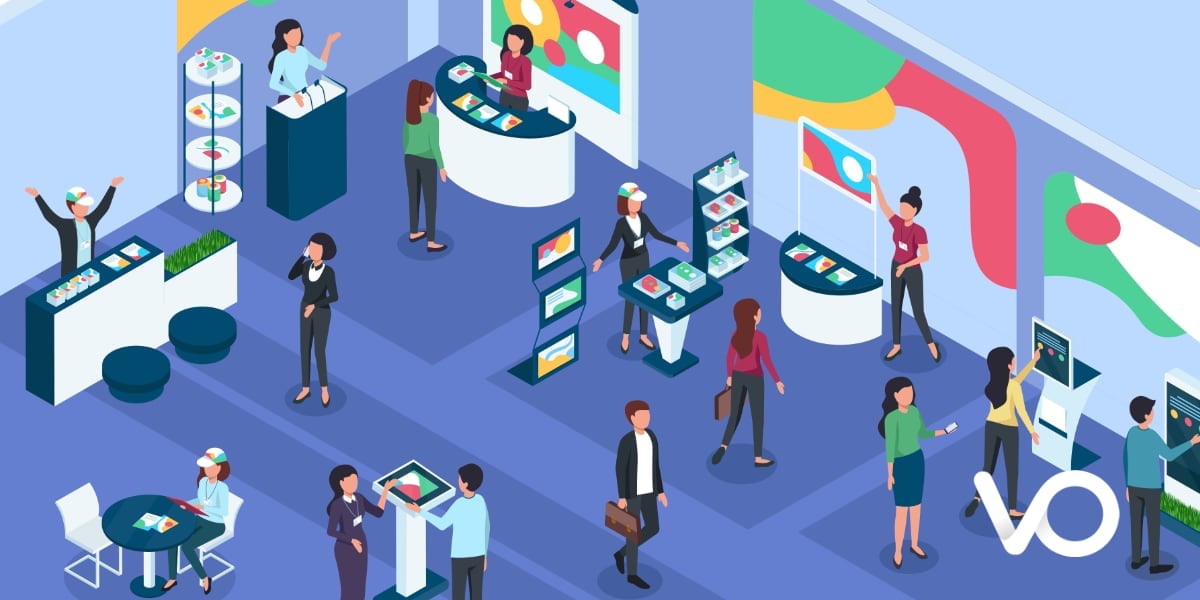 A trade show demo has to do many things. It obviously has to convey the latest information about our products and services and reflect our most up to date technology and features; but it also needs to entertain; to fit into the overall look and feel of our booth; and finally, it needs to be adaptable to different audiences.
What's more it has to achieve all this in a very short timeframe and within a noisy, often pressured environment. The best demos unravel their narrative in around 10 minutes, with options for shorter demos as quick as two minutes often necessary for those facing extreme time-pressures.
So, how do we do this? How do we produce demos that grab the attention of our audience and convey the information we need to get across in an entertaining and informative manner — and in a matter of minutes? Unsurprisingly, it takes a lot of work — if not a village, then at least a large team — and, for IBC in September, we start right after NAB in April.
Demo success
My job title at VO is Global Demo Success Manager, and part of achieving that success is having a 360° view of what we want to achieve. That means close liaison with the different departments in the company; defining the message we want to convey and the story we want to tell with marketing; talking to R&D to see what new products and innovations might be available to show on our booth; and working with our exhibition team to make sure that we can be consistent with our presentations and our looks across the show.
It's not just internal either. At VO we are part of a wider industry ecosystem and we also need to liaise with our close partners, both in featuring their products in our demos and in providing them with content that they can use in theirs.
What makes a good demo?
Over the years we have refined the process of demo production, talked to our customers, talked to our presenters, and came up with a list of ingredients that we 'bake' together to make compelling demos that work on show floors around the world.
These are the key ingredients:
If you have more time, use more time, but the ideal length of a demo on a busy show floor is around 10 minutes. Ideally you should construct the demo in a modular manner so that the presenter can take shortcuts or detours and be able to a) present a two-minute pitch or b) spend 20 minutes on a deep dive into specific features that a customer or prospect is interested in.
Entertainment is an important part of any demo to keep people's attention in an environment where many other things are occurring around them. We always try to work in a 'reveal' to a demo wherever we can; giving the audience an element of surprise that engages their interest and ensures they are attentive to the end.
Graphs and statistics are important to make your case, of course, but nothing captures the viewer's imagination as much as a demonstration of what the technology is actually capable of. For example, in the Targeted Advertising demo, we ran at IBC2022, the 'ah-ha' moment for most people who saw it was when we showed different adverts being targeted to different segmented audiences. That illustrated exactly what the technology can do and the impact it will have.
The industry has evolved enormously in recent years. Where once demos needed broadcast-specific hardware, now much can be driven from laptops behind the scenes. We like to use a mix of different presentation formats, combining video segments with live interactivity where possible and where booth connectivity allows.
It is important that demos are taken into consideration as part of the overall design and look of the booth. It's not just about where we will hide the cables and laptops either; it's about the flow of how people move round the stand, where they can sit or stand to watch; making sure that groups of people watching a demo do not impede the other functions of the booth; ensuring that the demos fit into the overall messaging of the booth, and more.
What will you see at IBC2023?
All that said, what will we be showing you on Stand 1.A51 (most trade shows use the term 'booth', IBC sticks with 'stand') at IBC2023?
Well, we want to save a few surprises for the show, but reflecting the evolution of our approach and the way that we provide end-to-end solutions, we have a full wall of demos planned for this year. While previously we tended to focus on specific products in different pods, Anti-Piracy here, VO Player there and so on, this year we are bringing it all together in a solution-oriented approach that reflects our unified, end-to-end services.
Our main focus is on how we're powering the human side of technology, utilising AI as a tool to augment human skills and expertise rather than replace them. We will show how we can help our customers streamline their operations and remove complexity; how they can simplify user journeys and maximise monetization; we will carry some live demonstrations of our deployments in action at customers around the globe; and we will highlight how we prioritize environmental consciousness at every level of our operations and actively invest in energy-efficient technology to minimize the carbon footprint of video solutions.
And we will do all this in demonstrations of 10 minutes or under!
They say a picture paints a thousand words. If so, a 10-minute demonstration probably adds several thousand! They are intensive to produce and we spend months optimizing them, but demos are fabulous vehicles to showcase our technology in action and show our customers how we can help their businesses further evolve in the future as new technology continues to disrupt the industry.
Make an appointment here to see them in action on Stand 1.A51 at IBC2023!