We are rapidly approaching the second anniversary of the streaming wars. From critical success to audience figures, who is winning?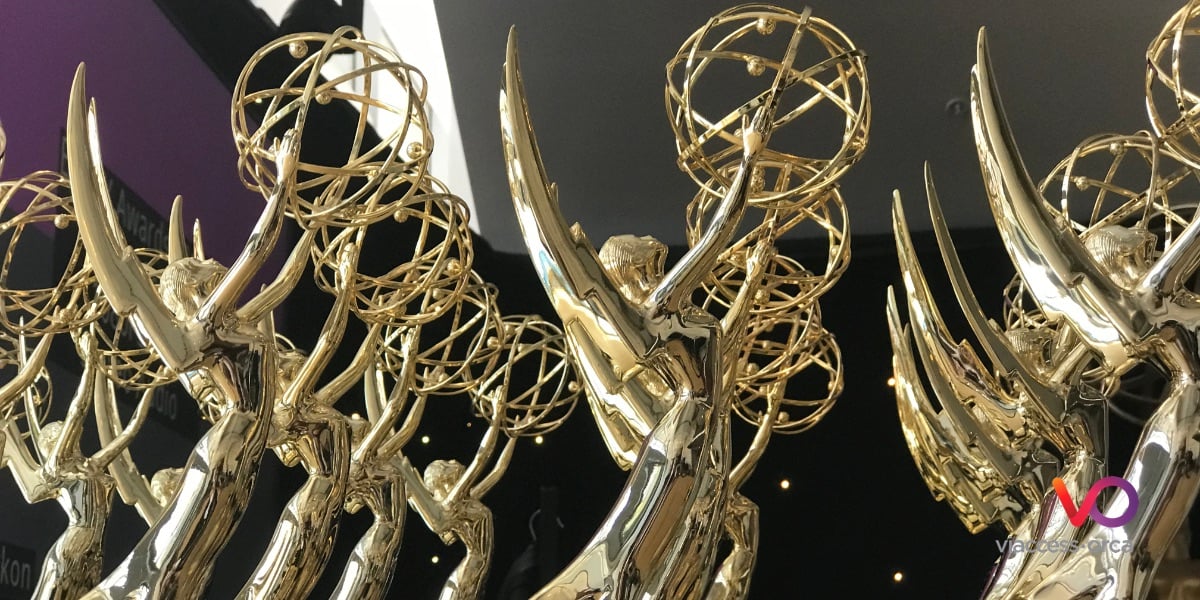 Next month, on November 12, it will be two years since Disney+ launched its services and what has become to be known as the streaming wars began in earnest. The company is planning on celebrating the anniversary in style, with a 'Disney+ Day' featuring new releases across its portfolio of brands, including the streaming premiere of Marvel Studios' most recent blockbuster Shang-Chi and The Legend of The Ten Rings.
Disney+ is certainly on a roll, but Disney CEO Bob Chapek has already warned of headwinds on SVOD growth in the fourth quarter of this year. So, as the media landscape starts to return to something resembling its pre-Covid shape, what can we say about the main antagonists in the streaming wars. How have the last two years been for them? What do the next two possibly hold? And what does it all mean for anyone else in the streaming space?
And the award goes to…
If critical acceptance is any metric of success, then Netflix has definitely arrived. The company has spent years courting the movie business in the Oscars, and has created more than one argument over what precisely constitutes a cinema release while it has done so.
There can be no disagreement regarding the TV-centric Emmy Awards, however, and eight years after it achieved its first nominations (for House of Cards) it swept the board at the 2021 ceremony, winning 44 trophies all in all when you factor in the Creative Arts awards. The significance of that can be measured by the fact that 44 wins ties with the all-time record held by CBS — and that has stood for 47 years.
But, while the most successful of the streamers at the ceremony, Netflix was no outlier. It won two of the big three awards of the night, Drama with The Crown and Limited or Anthology Series with The Queen's Gambit. But add in Apple TV+'s Comedy award for Ted Lasso and, for the first time, the night's three biggest trophies went to streaming services, highlighting the degree of change in the industry.
Here is the Top 5.
Netflix - 44 awards
HBO/HBO Max - 19 awards
Disney+ - 14 awards
Apple TV+ - 10 awards
NBC - 7 awards
NBC was the highest placed of the traditional broadcasters. CBS, which carried the ceremony this year, didn't win anything.
Hulu was previously the only streaming platform with a best drama win, winning for The Handmaid's Tale in 2017. Amazon Prime Video has taken home best comedy honours twice, for The Marvelous Mrs. Maisel and Fleabag.
How many are watching?
For an industry that has been obsessed with viewing figures and audience measurement since the early days of Nielsen, the big streaming players' lack of audience data is a constant frustration. We know how many subscribers some of them have — Disney+ has just over 116m, Netflix has just over 208m — but we rarely get to find out how many people are watching any one thing.
That makes any glimpse we can get behind the curtain fascinating. When Disney revealed that its PVOD release of Black Widow took $60m online, for instance, we were able to extrapolate quite quickly that meant 2 million subscribing households watched it at $30 a time. Whether that was above or below expectations is unknown, it certainly caused legal action (now settled) with its lead, Scarlett Johansson, who argued that she was missing out on a cut of the box office as a result.
Elsewhere, Apple TV+'s subscribers may be less than the industry believes. The company has never revealed any numbers and the picture is muddied by the free offers that accompany every Apple device sold, including countless millions of iPhones. But industry analysis has pegged the number in the US at around 40m. That could be double the actual figure, however. In communications with the International Alliance of Theatrical Stage Employees, Apple claimed it has less than 20 million subscribers in the US and Canada as of July. This low figure allows it to pay behind-the-scenes production crew lower rates than streamers with more subscriptions.
Again, this looks like it might end up with the legal teams. "Workers on certain 'new media' streaming projects get paid less, even on productions with budgets that rival or exceed those of traditionally released blockbusters," an IATSE press release said, paving the way for potential strike action.
Hoping that the release of its own data doesn't cause as much trouble, Netflix's co-CEO, Ted Sarandos, shared two slides at a recent conference examining the streamer's most popular shows.
"We're trying to be more transparent with talent, with the market," Sarandos said according to Variety, acknowledging that the company's data is "a big black box, mostly."
The first slide shows the most popular Netflix shows based on the number of accounts that have selected a given title in the first 28 days of release (and were streamed for at least two minutes).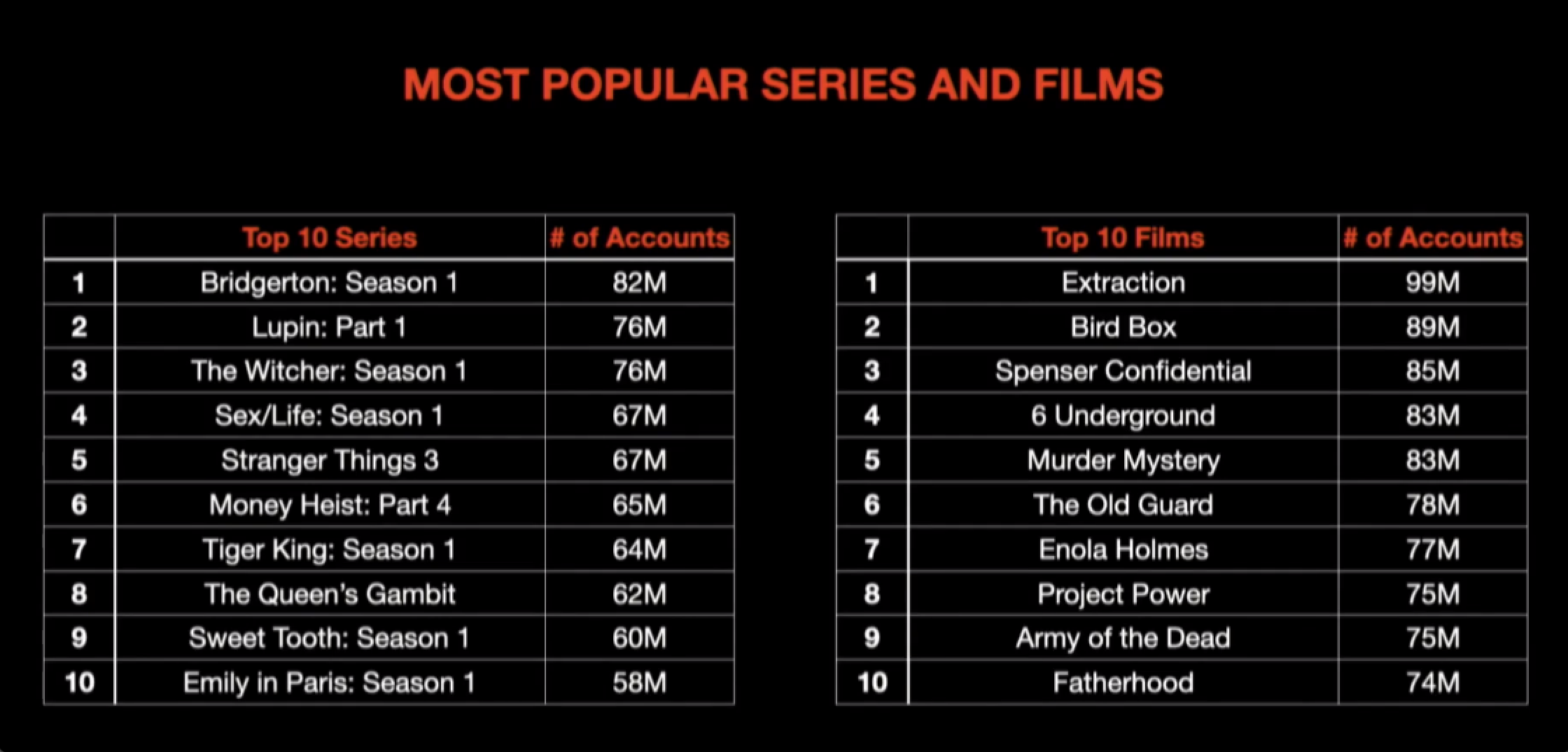 The second slide shows total time spent viewing by hours within the same initial 28-day window.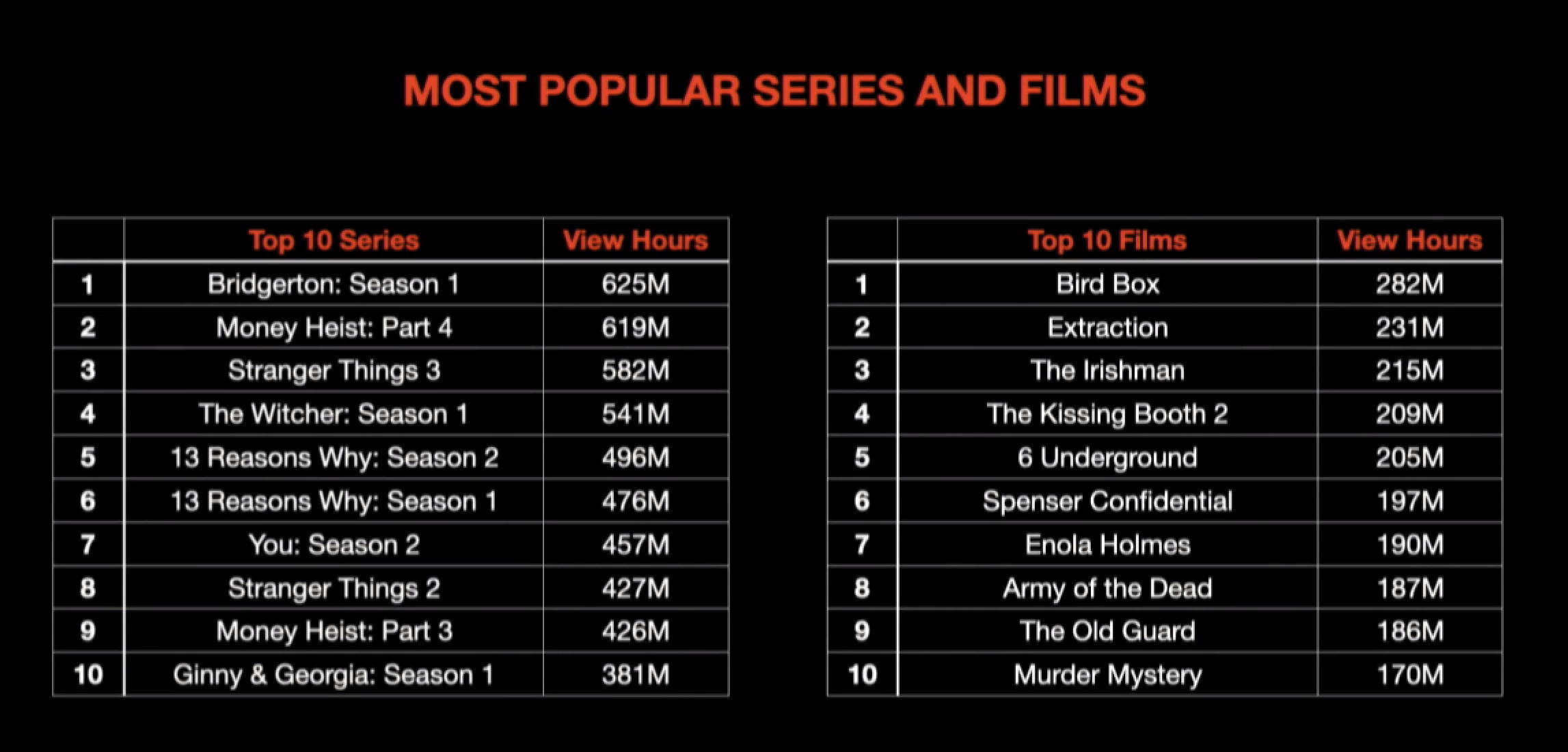 Unsurprisingly, as we can see the movies might have higher figures but in terms of time spent, TV wins out every time. Interestingly these may already be out of date. Netflix's breakout South Korean hit Squid Game debuted on September 17 and Sarandos said has "a very good chance" of becoming the biggest show ever on the service.
"We did not see that coming, in terms of its global popularity," he commented, showing that even the kings of data can be surprised sometimes.
Growth yet to come
It's worth staying briefly with Sarandos and his presentation. Asked whether Netflix was thinking about a pivot into live sport he said the company wasn't interested and that the next $10 billion in the budget would be best spent on TV shows and movies. Amazon, meanwhile, has been more forthright in the area, and has a number of rights deals for differing sports in differing territories. There are definite nerves amongst the traditional Pay-TV bidders for sports rights when it comes to future renegotiations of contracts.
Meanwhile, the PVOD boom seems to be calming down as audiences return to the cinemas once more and the studios want to put films in front of them to maximise their profits. Disney has stated the rest of its 2021 slate will debut exclusively in cinemas, and not appear online for 45 days after release.
So, what is to come? In the short term, it looks like the lockdown boost that drove such precipitous growth over the past 18 months is definitely at an end. Remember the headwinds that Disney CEO Bob Chapek talked about? He still sees growth but nothing compared to the forecasts, talking about "low single-digit millions" growth coming up in Q4 as opposed to the 13 million or so that analysts had predicted for the same period.
As Chapek also said, quarter to quarter growth is not a linear thing and choppiness can only reasonably be expected. It will be interesting to see if Wall Street agrees with him.
In the longer term, however, growth is the keyword. Digital TV Research estimates that global SVOD subscriptions will increase by 491 million between 2021 and 2026 to reach 1.64 billion. This will be more widely distributed than before too. While China and the US will together account for 49% of the global total by 2026, that number is down from 56% in 2021.

The analyst estimates that Disney+ will be the biggest winner, overtaking Netflix in 2025. Disney+ by adding 140 million subscribers between 2021 and 2026 to bring its total to 284 million. Netflix, meanwhile, will add 53 million subscribers to reach 271 million subscribers by 2026; showing that there is still room for growth even for the most established platform. Amazon Prime Video is set to have 243.4 million customers.
So, who is winning?
Frankly, at the moment it is still too early to say. In the two years since the launch of Disney+ the Big Two, Netflix and Amazon, have gone on to become a Big Three. Disney's strategy of acquiring popular media bands such as Marvel and Star Wars over recent years has paid off big time with the streaming audience, and it has backed that up with an excellent program slate that has had few, if any, missteps.
According to the aforementioned Digital TV Research data, these three platforms will control 48.9% of the world's SVOD subscriptions by 2026.
This is a lot but it is by no means market dominance. With service stacking an increasing consumer necessity due to the proliferation of services with exclusive content deals, even in the countries where Netflix is the market leader there is still room for other streamers to operate and be successful.
For the future, we expect to see the Top Three remain the Top Three and yearly content budgets continue to rise, though if growth stalls there may be pushback from investors on this. We expect to see more aggregation as consumers maintain a core list of the big services and rotate more localised and/or niche ones in and out of their portfolios depending on content releases/time of year/lifestyle events etc.
Providers that enable this to be a seamless experience are onto a winning strategy. And, following the news that Netflix has bought its first games studio, we expect to see games becoming an increasing large bet as streamers look to diversify and offer their subscribers more entertainment choices. After all, there was a time when Amazon once just sold books…