Industry insights: Amazon overtakes Netflix in its home market while nearly two thirds of all US streaming commissions are built on pre-existing material, and OTT revenues are set for continual growth.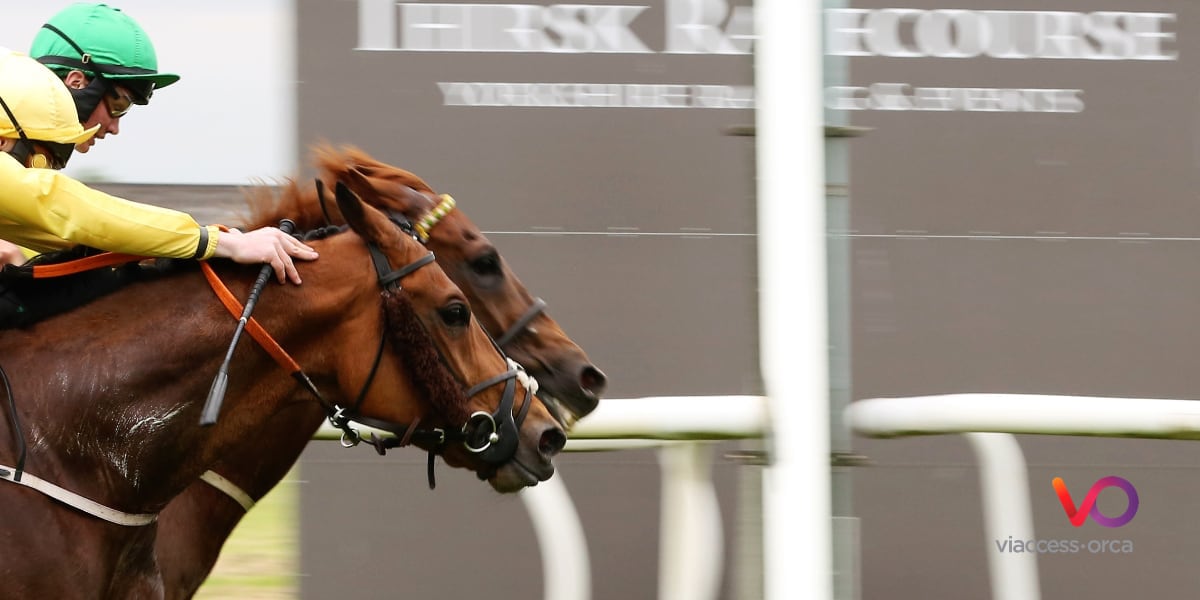 Amazon overtakes Netflix in the US
For the first time in four years there is a new streaming service at the top of the pile in the US.
New data released by market research firm Parks Associates now indicates that Amazon Prime Video has overtaken Netflix in both companies' home markets.
Netflix figures in the US have been under pressure this year, and while the streamer has grown overall on the world stage, its domestic market figures have been weak and dropped by just over 1 million as 2022 has wound on. The reasons for this depend on who you talk to. Parks points the finger at rising prices and increased competition; Netflix itself blames other trends such as password sharing and a loss of top-tier content to other services as content owners set up their own streaming channels.
Amazon, meanwhile, has been ramping up its content offerings, with high profile titles ('Rings of Power' may not have been that good, but it was certainly high profile) and an increasingly aggressive move into sports such as NFL.
Here's the full top 10 for the past four years. It's also worth noting that 83% of broadband households have at least one OTT service, with an astonishing 23% adopting nine or more OTT subscriptions.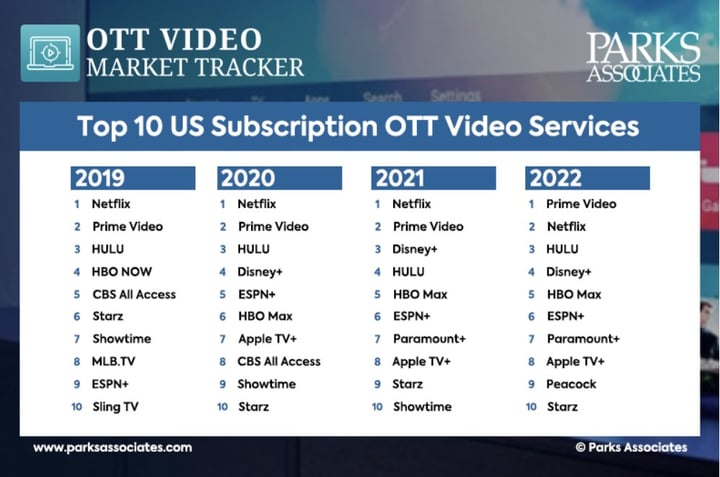 "Streaming services are introducing new content, services, and partnerships that are changing how consumers interact with video," said Jennifer Kent, the vice president of research at Parks Associates, said. "Netflix's ad-supported plan gives the company a way to win back subscribers who left over high subscription prices. It also gives Netflix a path to creating unique accounts for those who have been content to share passwords with friends and family in the past. It's an exciting time to track these services, with lots of disruption and change."
SVOD originals rely on existing Intellectual Property
If you're wondering if you've seen it all before, some really interesting research from Ampere Analysis showcases how the majority of new shows on streaming services are based on pre-existing IP (Intellectual Property), adaptations, franchises and the like.
Netflix's smash hit Wednesday is a good example, simply being the latest screen adaptation of characters from The Addams Family, whose IP stretches back to cartoons published in The New Yorker from 1938 on. Better Call Saul, House of Dragons…the list goes on and is a long one.
Such titles accounted for 64% of the leading platforms' slates of scripted originals in the first half of 2022.
Apple TV+ taps most heavily into pre-existing IP – accounting for 53% of total new originals in the first half of the year as part of its high-budget / low volume strategy. Elsewhere, IP-based commissioning was unsurprisingly found to be the highest for studio-backed platforms such as Paramount+ and Disney+ with large catalogues of content ripe for repurposing.
Wednesday notwithstanding, Netflix has a comparatively low 32% share of IP-based titles (Amazon has a similar number) and is drawing primarily on book adaptations as the base for new adaptations. Interestingly though it is now in a position to start recycling some of its own content and using existing hit titles and franchises to develop new originals, such as the forthcoming Stranger Things spin-off. As a result, 32% is trending upwards as they year has progressed.
Discovery+ had the lowest rate of IP-based titles (19%) due in the main to its large unscripted originals slate.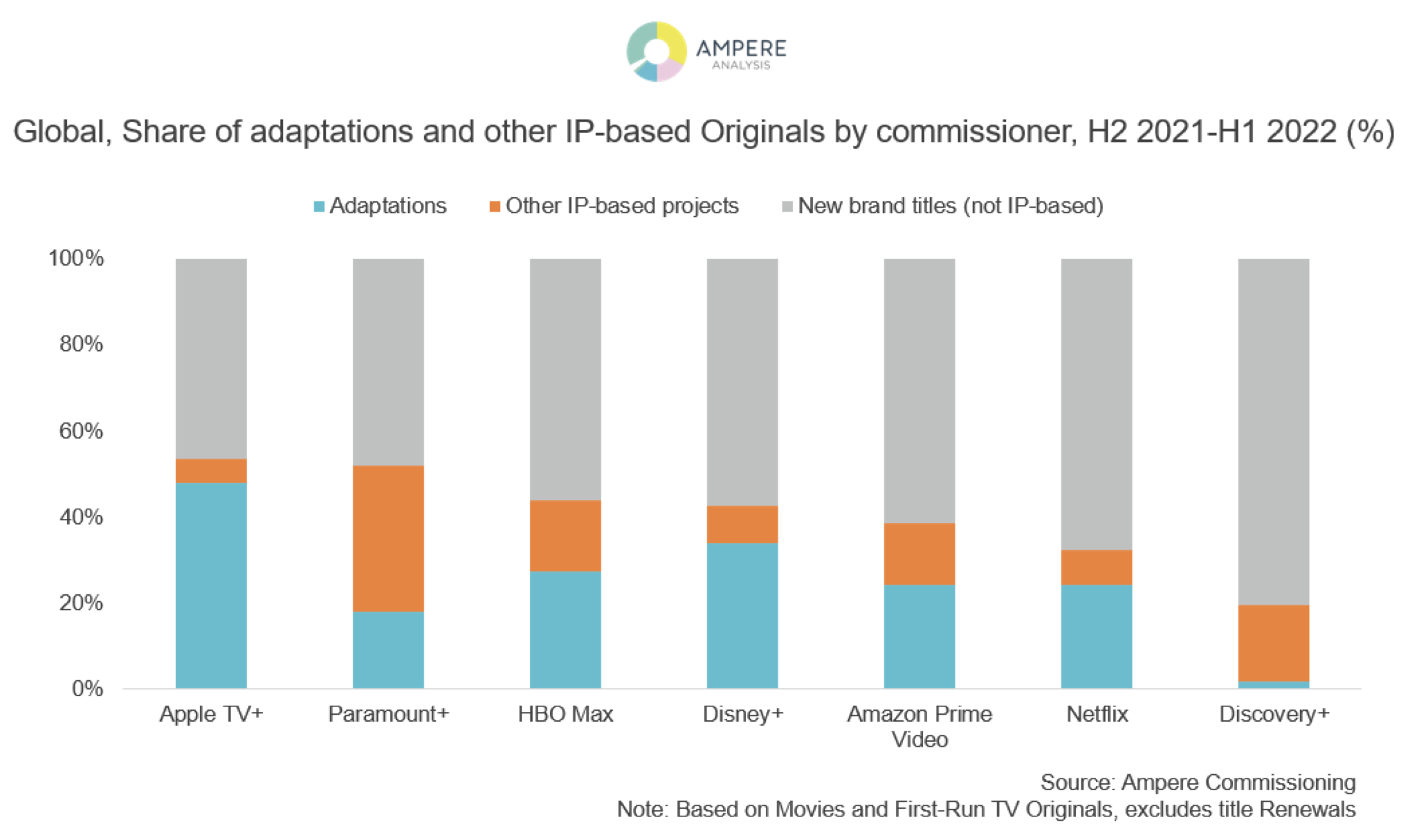 Of course, the cinema world has run along these lines for while now, with über franchises such as the MCU the inevitable result. But the smaller screen gives us more of a chance to compare markets. When you look at the overall numbers — scripted and unscripted together — that's when you see a real difference between the US and international commissioning profiles. The share of IP-based commissions stood at 42% of new movies and first-run originals in the US during the first half of 2022, compared to just 28% for international commissions.
"An increasingly competitive streaming landscape has been pushing originals centre stage in SVOD content strategies, and the leading players have been ramping up their investment in commissions," said Cyrine Amor, Analyst at Ampere Analysis." As a result, investment in original content has grown from a quarter of their total content spend in 2019 to over half this year. With such significant budgets available but also at stake, leading global streamers are increasingly turning to pre-existing IP and recognisable franchises and brands to attract and retain subscribers, and reduce the risk associated with commissioning originals. Drawing on pre-existing IP capitalises on established and successful content and is more likely to attract subscriber attention and positive reception than new brand content."
Global OTT revenues to rise to $243 billion
The latest data from Digital TV Research predicts revenue from global OTT TV episodic and movies will reach $243 billion in 2028. This is an impressive rise of $86 billion on 2022 revenues, which are measured at $157 billion.
Despite some significant economic headwinds at the moment, 2023's figure will rise approximately $17 billion to $174 billion.
The main driver in all of this will be AVOD.
"AVOD revenues from TV series and movies will grow faster than SVOD," states Simon Murray, principal analyst at Digital TV Research. "AVOD revenues will reach $91 billion by 2028, up by $52 billion from $38 billion in 2022. SVOD revenues will climb by $29 billion between 2022 and 2028 to $132 billion."
The total revenue will also be more widely geographically spread than now as well. 18 countries currently have OTT revenues of over $1 billion, but this will expand to 25 by 2028. The US is unsurprisingly expected to remain the dominant territory, with its share of global revenues hitting 42% of the global total by 2028.