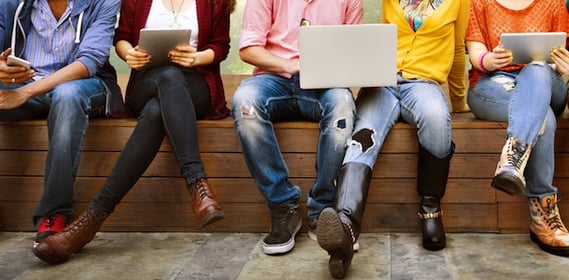 With TV Everywhere now firmly established in the marketplace, a new Nielsen survey has valuable insight into mobile video traffic and what people watch OOH - out of the home.The whole premise of TV Everywhere was always more than just being able to transfer content between screens and users in the home. Whether via download or streaming, mobile video has always been a key component of the proposition, and the new Nielsen data opens a fascinating window into exactly how viewers are consuming content out of the home.
The survey looked into total day out-of-home (OOH) viewing from the start of 2017 until May, and found, amongst other things, that it contributed a significant lift to overall viewing figures. With OOH viewing spread fairly evenly across adult viewership, it added an 8% boost to viewing figures amongst the 18-34 age group, and 6% when that was expanded to 18-49.
Sport the driver of mobile video traffic
Unsurprisingly, sport is the main beneficiary of going mobile. The average adult in the survey spent 30 hours watching sport, and OOH viewing added 2:37 hours to that, roughly 9%. This was followed by news, adding 2:02 hours, or 3% in terms of lift. And 48% of the OOH viewing in this category came from the 25-54 demographic.
Learn what is propelling the growth in mobile video here.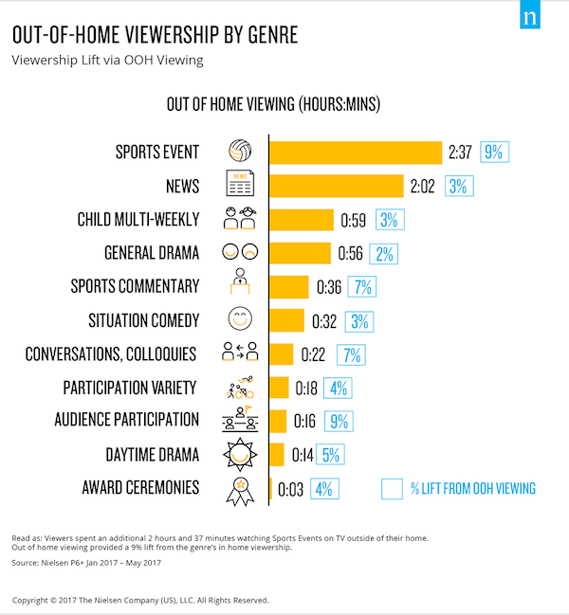 Topical events can alter this quite dramatically. As Nielsen puts it: "A recent example was the James Comey testimony to Congress. While Comey's appearance drew about 19.5 million total average viewers, Nielsen found that ratings for adults 18-49 increased by 11% for broadcast and 17% for cable airings of the hearing when factoring in those that watched away from their homes."
Also showing a strong OOH lift was the audience participation category — typically daytime game shows, which shows a definite opportunity for increased audience interaction using mobile technology — and the child multi-weekly programming genre. The last one seems a bit of an anomaly at first glance, given that the youth market (defined by Nielsen as 6 - 17) only accounts for 10% of the OOH audience. The suggestion is that carers are using their own devices to watch with them and/or keep children entertained, thus potentially widening the reach for advertisers.
And it is also interesting to note that the prestigious drama category has the worst OOH uplift of all the programming genres. Again, there are several theories about why this might be the case, with the idea that prestige drama qualifies as 'event viewing' deserving of a big screen being popular.
An accelerating trend?
While the concept of TV Everywhere has been a reality within the industry for years, amongst consumers it is still fairly new, dependent as it is on a mix of public WiFi and mobile broadband. But there are signs that it could be growing rapidly.
The OOH data comes from this year, and stands in slight contrast to the audience measurement specialist's fourth quarter 2016 Comparable Metrics Report, which suggests that 92% of viewing still occurs on the TV screen.
Discover more insights regarding audience measurement here.
Indeed, the figures from that report suggest that mobile video only accounts for 2.5% of total viewing minutes, either on smartphones (1.8%) or tablets (0.7%). Of course, some of the seeming discrepancy here can be accounted for by the fact that the Comparable Metrics Report is not solely looking at linear TV but at all screen viewing including streaming.
Nevertheless, it looks like the figures for OOH viewing and mobile video are starting to ramp up as the year unfolds. Certainly, it will be interesting to see what the figures are when Nielsen next returns to them. The current average lift in viewing times across the genres Nielsen tracks is 5% when OOH is factored in and that is a significant number in any operator's playbook.