Thanks to the team at KitPlus, we have three videos shot on our booth at NABShow 2023 to share with you, covering AI and data, monetisation and targeted advertising, and our continuing anti-piracy efforts.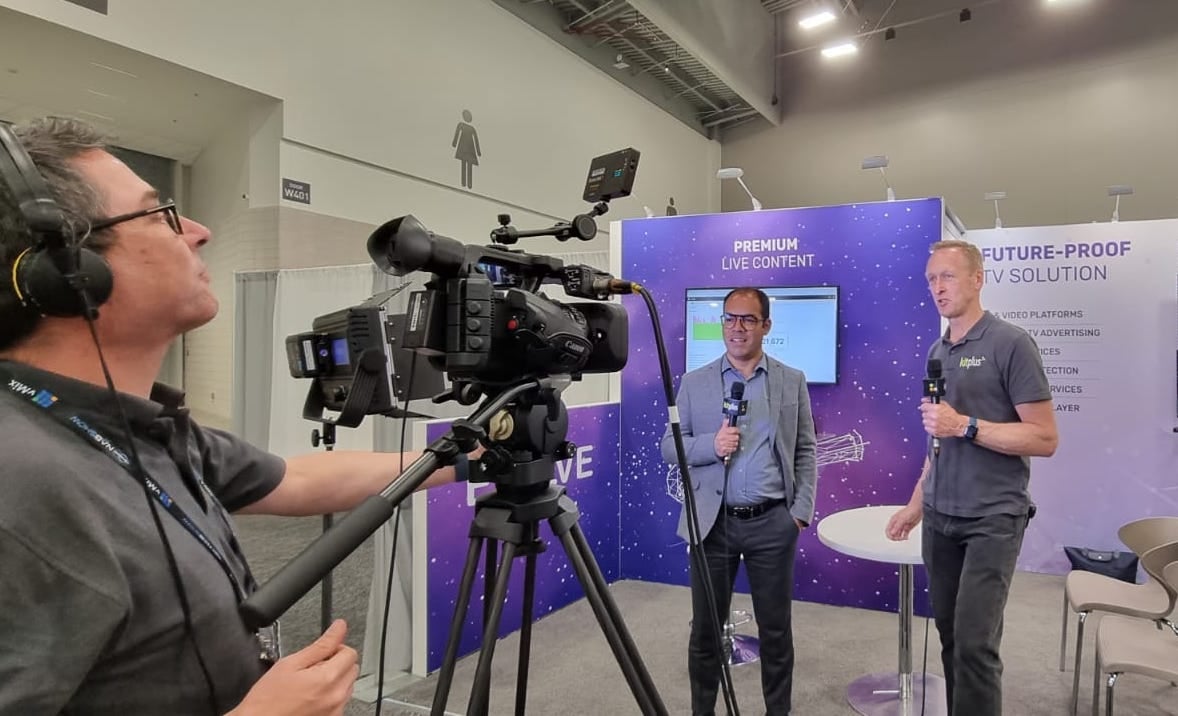 On the opening day of this year's NAB Show we were happy to host the KitPlus video crew on Booth W1272, where our experts covered some of the key topics that we are talking to our customers about at the show. Have a look at them below; and there are at least two announcements in the videos that we have yet to talk about publicly anywhere else!
In our first video, Romary Dupuis talks about the increasing importance of data at all levels of the business.
'We use data in three main areas," he says. "The first area is creative experience and creative services; how to make sure our customers are providing the best TV service. The second is monetisation, using the data, for example, for targeted advertisement and user segmentation, and also for content personalisation. And the third area is security which is very important for our customers….and here we try to detect on the web illegal streaming of content and try and react as quickly as possible."
He also talks about how we are increasingly using AI to analyse all this data, for example
being proactive in identifying possible incidents that may disrupt a customer's services before they happen. This solution is already in place at a Tier 1 customer of ours and likely to be productised very soon.
Watch the full interview below.
Next up, Dror Mangel is interviewed about monetisation and targeted advertising in particular, and how it can help with the rapid expansion of FAST channels that we are seeing around the world.
"It's not just about putting the FAST channels out there," he says. '"It is about putting them out there in a smart way so that we know that these are the FAST channels that are addressing specific viewer needs."
As he explains we do this by enriching metadata across all platforms with our partner Spideo, and using AI and human insight in concert to find out the content that users like to watch.
Find out more in the video below. And Aldo have a look at Introducing your personalized guide to Targeted TV Advertising to find out more about the services we offer, plus gain access to our targeted ads Revenue Projection Simulator which is proving to be a real hit on Booth W1272 at the show.
Lastly, Pierre-Alexander Bidard talks cyber security and anti-piracy.
"We talked a lot last year about CDN Leeching, which was something we had started to detect and is really becoming a growing threat," he explains. "So over the last months we have spend a crazy amount of energy developing a new technology to at first be able to measure what the consequences are for the operators and how many people are leeching the content, and we have also developed tools for stopping this leeching of content."
As he explains, the threat of CDN Leeching cannot be underestimated as it allows the pirates to launch illegal services of the same quality as the legitimate service provider, mostly because they use that service provider's infrastructure. And as the threat spreads, so tools to defeat it are going to become a big deal for many broadcasters and operators as the year progresses.
Watch the video to find out more.
Of course, if you are reading this while NAB is still underway and you are in Vegas, please feel free to pop by Booth W1272 and talk to any of our team there about these subjects and more. Please feel free to book a demo here. And, of course, we also have plenty of information about all these topics and more on viaccess-orca.com.