Industry insight: The preference of subtitles or dubbing varies considerably between different countries, while SVOD forecasts continue to impress.
Subtitles or dubbing? Which to choose? [

Advanced Television

]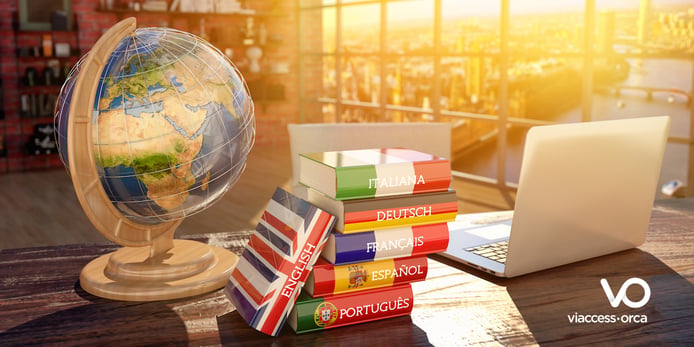 While the headlines attending the latest piece of research from Ampere Analysis tended to focus on the Anglophone world's disinclination to watch content in anything other than English, there was some very interesting deeper level analysis regarding what market prefers what form of language localisation on their content.
As Advanced Television put it: Dubbed vs. subbed – Preferences vary, and they tend to collapse into one of four different camps.
Anglophone markets. English speaking markets have the lowest proportion of consumers that enjoy watching subtitled or dubbed content. The UK, South Africa, Canada, Australia and US all significantly favour watching content in their local language. Markets with strong local content traditions, such as France and Japan, also show similar characteristics.
Markets with little preference. This includes India, Mexico and China, which have a higher proportion of consumers who enjoy subtitled and dubbed content alongside local content.
Markets with a stronger preference towards dubbing. Germany, Italy, Spain, and Brazil display a marked preference for watching dubbed international content. Germany is the most extreme of these, with just 17% of consumers enjoying subtitled content compared to the 44% who enjoy watching dubbed content.
Markets with a stronger preference towards subtitles. Scandinavia and Netherlands have a very low proportion of consumers who enjoy dubbed content, much preferring subtitled or original language content.
The different approaches taken by the leading global SVOD players are interesting too; Netflix tends towards subtitles in all markets, while Amazon Prime leans more towards dubbing.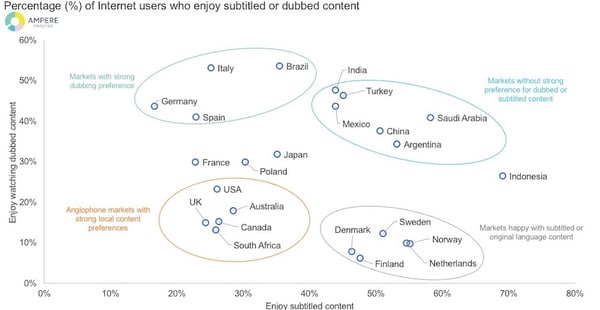 "In several cases, the most under-served markets for localisation are some of the biggest in terms of revenue – notably France, Spain and Germany, each of which showed preferences for dubbed content over subtitled," commented Lottie Towler, Senior Analyst at Ampere. "Targeting these key markets with more dubbed content would make international catalogues more accessible to consumers."
Based on September 2020 results, Digital TV Research expects five global platforms to have 678 million paying SVOD subscribers between them by 2025. Disney+ will add 112 million subscribers between 2020 and 2025 to take its total to 194 million. Netflix will increase by 73 million subscribers, taking it into the 270 million subscriber region. That's not too far off half a billion subscribers between them.
Incomes will understandably increase as a result. Netflix revenues will climb from $20 billion in 2019 to a jaw-dropping $37 billion by 2025. Disney+ will only have reached $13 billion in revenue by the same timeframe, a third of the revenue with over two thirds of the subs as a function of it pursuing appreciably lower ARPUs in developing markets to grow subscriber base. Netflix has, quite famously, always kept its global pricing at roughly the same level, which seem to have been a successful strategy for the company so far.
Not all is lost for the House of Mouse, however. While many of Disney's businesses saw huge declines in revenue and operating income during the last quarter — think empty Disneylands etc — Disney+ grew by close to 25% over the past three months.
"The real bright spot has been our direct-to-consumer business, which is key to the future of our company, and on this anniversary of the launch of Disney+ we're pleased to report that, as of the end of the fourth quarter, the service had more than 73 million paid subscribers – far surpassing our expectations in just its first year," commented CEO Bob Chapek in a statement.
Original content powers streaming services [

Rapid TV News

]
One of the industry trends that seems to have accelerated during the course of 2020 is that of online services taking the place of linear TV as the source of new content for viewers.
In fact, according to a new survey from Hub Research, 68% of viewers now watch their new favourite shows via OTT services, with just 26% sticking to the traditional linear source.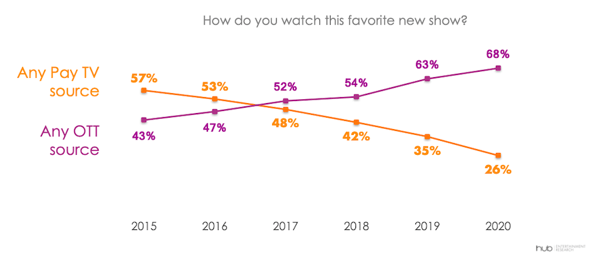 Netflix dominated as you would expect (this was a US survey), with 38% of respondents watching their recently discovered favourite programme on the platform.
"The research also identified what was described as a "dramatic" difference in how viewers discover shows they watch online compared with those they watch with Pay-TV," continues Rapid TV News. "Discovery of shows on Pay-TV is driven by advertising, while favourites watched online spread organically from person to person. When asked how they first found out about their favourite online show, the largest percentage (33%) said they heard through word-of-mouth. For favourites watched through a Pay-TV platform, the top discovery source (30%) was advertising."
Other trends picked out by the survey include the availability of original shows as a driver to subscribe, and a growth in signing up for a service just for a single show. A third said they had done this (for Netflix, Hulu, and Disney+ in that order), with an impressive 74% deciding to keep their subscription on after the show had ended.