With the growth of the Android TV Platform continuing on its upward trend, we asked some industry thought-leaders their opinion on the technology and where it might be heading.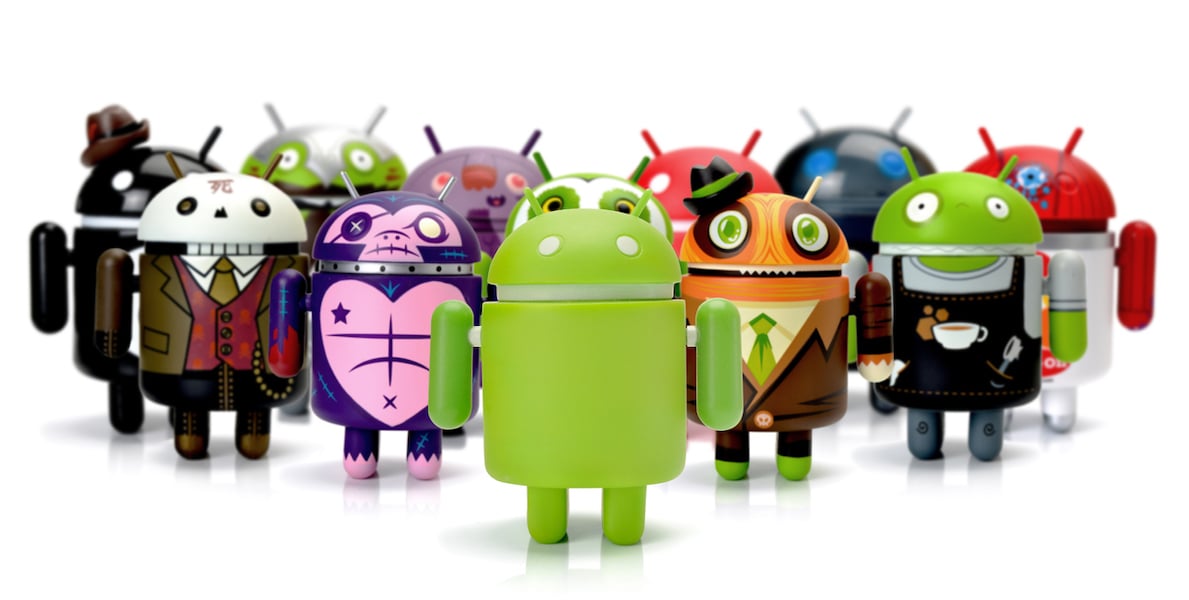 One of the big success stories of recent years in the Pay TV industry has been the growth of Android TV. From a very slow start in 2014 when it was rolled out to replace the underperforming Google TV, it has accelerated rapidly. In conversations we had with operators on our booth at MWC Barcelona earlier this year, they even described it as 'mandatory'.
There are some hard figures behind such soundbites too. According to data at a Connected TV World Summit presentation in London from Google back in March, currently 140 operators worldwide are using Android TV. This is up from a mere eight in 2016 and accelerating.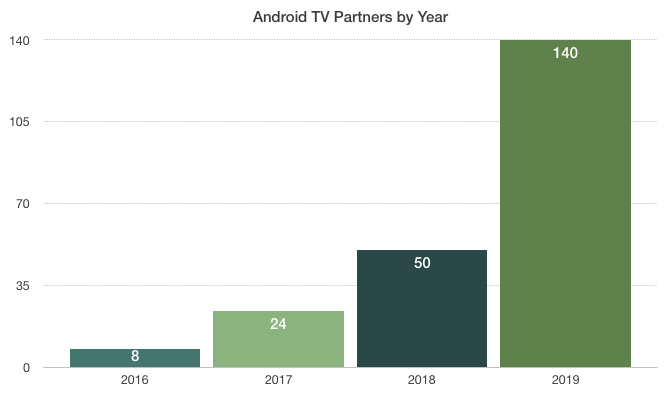 And it's not just the set-top box either. A recent Strategy Analytics survey estimates that of the 157 million sales of Smart TVs last year, around 10% were running on the Android TV platform, or close to 16 million units. It's still a long way behind the Samsung developed Tizen platform which has 20% of the market (32 million). But, if you factor in the custom version of the Android OS used by Chinese manufacturers for the domestic market (AOSP - which does not feature access to Google's Play Store), all told Android has a fairly dominant position in the sector.
The latest publicly available projections are that there will be 40.1 million Android TV's shipped in 2021 — 27 million smart TVs and 11.9 million set-top boxes. That data though comes from the end of 2017 and is probably in need of being revised upwards.
Android TV Platform: Why the Interest?
We've covered the various reasons behind the surge in interest in Android TV before, but they are worth reiterating here. The key development was the establishment of the Android TV Operator Tier, which allows a degree of customization to the interface. Companies can create their own boot up screens and customize the launcher to create their own user experience on top of what already exists. It provides voice search, recommendations and PVR, and allows access to other popular OTT apps such as Netflix and others that can be found in the Google Play store. This makes it a very cost-effective way of getting to market, though, as Harmonic's Thierry Fautier points out below, there are other costs involved too.
Android TV is also very much aligned in Google's other interests. As a slide shared by one of the Connected TV talk attendees on Twitter stated, Google gets three main things out of an uptick in Android TV:
Consistent distribution for other Google services

Reduced fragmentation (Google pushes updates as a requirement)

Increased stickiness of the Android ecosystem though cross-device use cases
Interestingly, the company was also at pains to highlight what it is not in the business for, including — and you have to admit this is perhaps unusual for the company — collecting user data. That's not to say that it won't be used as a bridgehead to further extend Google's push into the home though; Google Assistant is very much a part of Android TV and, already used as voice search in some implementations, could well be a vector to distribute even more Google services such as Google Home.
Android TV Platform in 2019 & Beyond
At VO, we have already been involved quite heavily in Android TV deployments. We secure Wibox's Android TV-based 4K offer in France, and have partnered with Technicolor to integrate our DRM solution and secure VO Player into its STBs and RedSo to develop an end-to-end OTT solution for Pay-TV operators and service providers.
There is plenty more to come too, which we will be able to talk about as the year unfolds.
In the meantime though we thought we'd ask some prominent team members here and some of our colleagues in other companies what they thought about Android TV and how it will develop as the year goes on. Their thoughts are below and we hope you will find them illuminating.
Thierry Fautier, Vice President, Video Strategy, Harmonic
"Android TV is definitely getting traction not only on the OTT and IPTV space, but also now on other segments of Pay TV: DTH & Cable testified by the recent announcement by ComHem (Swedish Cable MSO) to deploy an Android STB. Google has recently announced that Android has now reached more than 100 operators and the number of connected subscribers has more than doubled compared to 2017. Android TV (TV & STB) has now more than 20M subscribers, and for STB, half of the access is done via an ISP STB.
"Android TV has two versions: AOSP (Android Open Source Platform), a low level Linux version that does not include any access to Google services (Store, Widevine DRM) and is under the entire responsibility of the operator for upgrades. This is a very labor-intensive option that only few operators like Swisscom have adopted. The other option is the Android TV Operator Tier where the full control is given to Android; the operator has only limited control besides the branding of the UI. Nearly all Android TV operators have selected this option as it gives them a low cost of development/maintenance and access to all the important services: Google store, which includes YouTube and Netflix, as well as the update of Android TV by Google.
"Is that sufficient to launch a Pay TV service? Absolutely not, Android TV only offers the middleware sitting on the box, but the entire back end (Service Delivery Platform, Head End) has to be developed and no standard offering exists today from Google. Let see if 2019 can bring some improvements on that front."
Brian Jentz, Sr. Director Product Management, Technicolor
"Android TV has not disappointed so far to any of those in the industry that have embraced it. From a CPE vendor point of view, it is becoming very clear that for NSPs the question is no more if, but when they are going to deploy it. Indeed Android TV combines very well with their traditional Pay-TV solutions, bringing important opportunities to offer additional innovative services and features in a more time- and cost-effective way for the real benefit of the end-user."
Nadine Patry, Director Security Products & Solutions Marketing, Viaccess-Orca
"Android TV dramatically accelerates the deployment of set top boxes for tier-2, tier-3 operators since it comes with a large App Store, a large integrated hardware ecosystem, and a unified user interface in place with Google Assistant inside. From the security point of view, an open platform is vulnerable to content piracy. The surface attack will be bigger and pirates will address the park widely over the several countries where it is deployed. That is one of the reasons why customers are choosing to reinforce their security service with solutions such as our VO DRM for IPTV solution and our Security Services Suite."
Chem Assayag, Executive Vice President of Sales and Marketing, Viaccess-Orca
"In many respects Android TV is becoming the main industry standard for STBs, and we are seeing interest and a growing number of deployments at all levels, especially with Tier 2 and Tier 3 operators. Tier 1 is being a bit slower to respond, but there are a growing number of small test cases under development with some of the larger operators. Asia is currently seeing the widest adoption so far.
"There are some issues that need to be addressed, however. Most operators are discussing features with the manufacturers of the STBs and with companies like us, rather than directing their concerns and their ambitions to Google. Google taking a more centralised role in responding to operators needs would probably be a benefit to everyone as we push towards future integrations with the likes of Netflix and the growing number of powerful SVOD players, with features such as SSO being a big advantage for viewers."