Industry Insight: Once requiring the ability to hack together a DIY solution, new software is helping the watch party go mainstream.
Watch parties flourish during pandemic
[Rapid TV News, The Diffusion Group]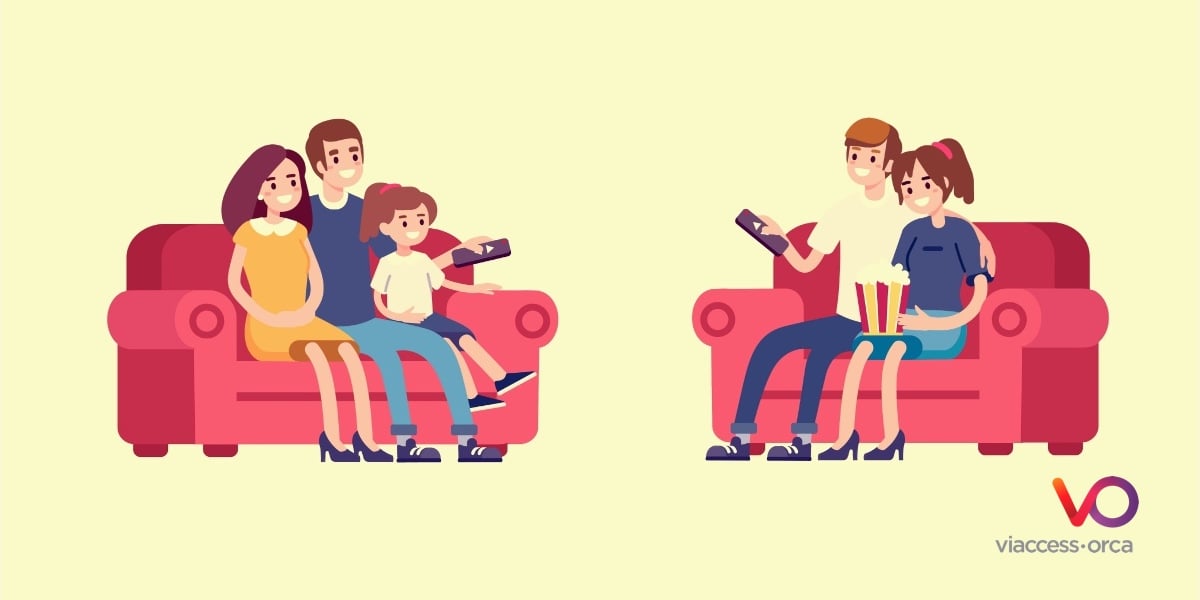 While the growth in streaming since lockdown is well documented, some of the nuances of viewer behaviour within that growth are only just coming to light, and one of them is the growth in the Watch Party.
As Rapid TV News details, the growth in the phenomenon has been a slow one. Prior to 2018 and the launch of early co-watching services such as Teleparty (formerly Netflix Watch Party) and Scener, the only way to set up a watch party was either via DIY hacks that took a fair amount of technical knowledge or via illegal streams. Indeed, even up to lockdown last year they were still considered a niche product aimed at technophiles. However, the launch of Instagram's co-watching features in March 2020 opened the floodgates and it was soon followed by a wave of major streamers including Hulu, Disney+, Amazon Prime Video, and Sling TV. This influx of new tools has, says The Diffusion Group (TDG) in The Rise of Social TV Viewing and Watch Parties, accelerated both the awareness of and experimentation with, co-watching.
Some key findings:
One-in-seven US adult SVOD users co-watched an online TV show or film with friends or family during the pandemic
Three-fifths of adult SVOD viewers have now heard of co-watching
54% of those who had never co-watched an online movie or TV show are now open to doing so.
18-24s were by far the age cohort most likely to have engaged in co-watching
Last year 25 million US adults watched synched, on-demand video with others outside their homes via internet-connected screens
The vast majority of would-be co-watchers would prefer to do so on the home TV, as opposed to computers or mobile devices, where most co-watching currently takes place.
Teleparty is the most popular way of implementing a Watch Party (over half of the respondents)
TDG believes that the greatest potential for watch parties lies in co-watching live sports, though only a handful of apps currently support it. The last two bullet points above are important too. Teleparty, for example, only currently works in the Chrome and Opera browsers and, for watch parties to really start to expand their audiences, more solutions on more platforms are going to be needed.
Global OTT revenues to top $210 billion
Global revenues from OTT TV episodes and movies will reach an impressive $210 billion over the next five years; up from $106 billion in 2020, according to the Global OTT TV and Video Forecasts report from analyst firm Digital TV Research. Roughly $23 billion will be added in 2021 alone, which is impressive considering this is meant to be the pandemic bounce-back year, and forecasts have tended to be pegged back following 2020's boom.
"The US will remain the dominant territory by some distance," advises Simon Murray, Principal Analyst at Digital TV Research, on the Advanced Television site. "Its share of global revenues will still be 42% by 2026. This market is far from mature. US revenues will climb by $42 billion between 2020 and 2026 to reach $88 billion."
The forecast sees SVOD revenues climbing but losing market share, while AVOD expands massively. AVOD revenues will increase by $39 billion between 2020 and 2026 to $66 billion, representing 32% of total OTT revenues (up from 26% in 2020).
Murray's remark about growth still being possible in the US also applies to the rest of the world. The top five countries (out of 138) will account for two-thirds of global revenues by 2026. This proportion is actually down from last year's 71% in 2020, indicating that growth in the rest of the world is accelerating harder.
There are other positive figures in recent surveys too that help to fill out the picture. A flourishing online SVOD sector in the APAC region has helped consumer spending on video in the Asia Pacific to grow 9% year-on-year in 2020 leading aggregate revenues to reach $58.3 billion. "While SVOD growth will decelerate in 2021, we see a bright future for the SVOD sector and the stacking of various services across sports, entertainment, and deeply integrated local services," commented MPA executive director, Vivek Couto.
And Western Europe SVOD subs are set to reach 234 million by 2026, up from 137 million at the end of 2020.
News round-up
HDR has long been considered a key potential weapon in the battle to retain consumer eyeballs, with many people concluding that it provides more of a 'wow' factor than a mere jump alone to 4K can manage. Its attempts to gain traction in the marketplace have been given a boost by Apple, whose latest 12.9-inch iPad Pro offers a new HDR-supported Liquid Retina XDR display, while a new version of Apple TV 4K supports various flavors of HDR including Dolby Vision. Some Hollywood insiders are already impressed enough to be talking about using the iPad as a reference screen for remote approvals of grading etc.
Arguably the biggest winner at this year's Oscars was Netflix, which won a total of seven trophies out of 36 nominations. Variety ran the numbers and it's interesting to see the mixture of the old and the new that is reshaping the industry. The second biggest winner was Disney with five awards, the third was Warner Bros. with three, and the fourth was Amazon Studios with two. Rounding up the streaming services, Apple had two nominations and Hulu had one, but they came away empty-handed.
What a difference a year makes. In 2020, Netflix won just two Academy Awards after 24 nominations, this year as well as the seven awards it had at least one nominee in 22 of the 23 Oscars categories.
Lastly, we talked recently about copyright concerns following a landmark Supreme Court judgment referencing computer code in the US in a dispute between Oracle and Google. A long-standing row between the photographer Lynn Goldsmith and the Andy Warhol Foundation regarding a silkscreen print of one of Goldsmith's famous print photos is now citing it as a key reference in its argument regarding transformative use. There is more on that and the potential implications if copyright holders do not get the Google judgment limited to software alone here: Does Andy Warhol Get Same Copyright Treatment as Google Code?