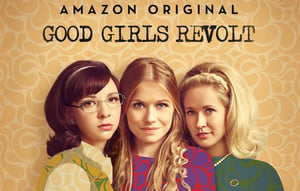 While AV1 is causing excitement, there are barriers to its deployment. Amazon Prime Video's cost per first stream figures surprise, with differences in how European and US markets consume video, and investments in AR/VR kick into high gear.
Evaluating HEVC and AV1
The AV1 video codec may pose fierce competition to HEVC, especially in the wake of Apple's announcement that it had joined the Alliance for Open Media in January this year. We've been lucky enough to work with Harmonic on a range of projects, and the company's Thierry Fautier has written an excellent summation of the current state of play at Streaming Media.
As he points out, as far as an encoder implementation goes, adding a new codec is not a problem, as the encoding is done in software. However, based on current scalability numbers (100x vs HEVC), it will definitely add cost.
"Another issue that arises in the codec race is market segmentation," he writes. "Depending on the service and devices, the service provider will need to encode either in HEVC (for the next couple of years) or AV1 (starting in 2020). This will require a transition period of about 36 months (2x the refresh period of mobile devices) as well as a simulcast of HEVC and AV1, meaning dual encoding and CDN storage."
Amazon's Prime Numbers Revealed
Reuters has obtained some very interesting internal documents that actually put some numbers to Amazon's video efforts and its ongoing attempts to grow Prime. While very happy to talk about content budgets, Amazon and Netflix are both a lot more secretive when it comes to viewer numbers: we may know how much these shows (roughly) cost, but not what that translates into in terms of dollars per viewer.
The documents, which Amazon has so far not commented on, reveal that the company's US video audience is around the 26 million mark, roughly half of the number of Netflix subscribers in the country. , They also compare metrics for 19 Amazon Originals. These figures include cost, viewership, and the number of people that they induced to sign up for the Prime service.
The key figure here is 'cost per first stream'. The documents divide a show's production and marketing expenses by how many people stream it first after signing up. It's a fairly blunt tool in terms of mathematical complexity perhaps and won't give 100% bulletproof figures, especially when it comes to looking at the figures for a Season 2 (viewers might sign up on the basis of a S 2 campaign but watch S1 first). But they're certainly interesting.
Given the average $99 yearly cost of an Amazon Prime membership, any number below that is a good thing. The Grand Tour tops the list at a mere $49 cost per first stream. This is followed by The Man in the High Castle S1 ($63m), but after that the costs spiral upwards quickly. Bosch S1 returns a figure of $158, The Man in the High Castle S2 $829, and Good Girls Revolt (pictured above) a massive $1560.
Perhaps unsurprisingly, Good Girls Revolt was cancelled after one season.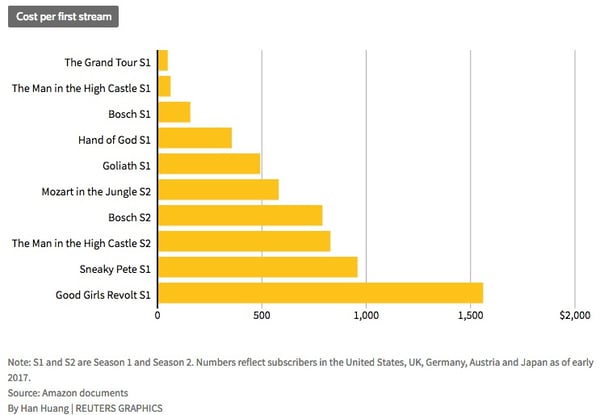 Differences between European and US Video Consumption

To begin with, Internet users in the US are more likely to watch online videos on a daily basis. The platforms vary, splitting 66%/60% for smart TVs; 61%/52% for smartphones; and 43%/39% for tablets; with only desktops reversing the trend at 61%/65%.While it is often assumed that European markets and the US consume online video in different manners, new research from Ampere Analysis confirms several significant changes in behaviour depending on which side of the Atlantic viewers are watching.
"Binge-watching was revealed in the survey to be much more common in the US," wrote Rapid TV News. "The proportion of Internet users who strongly agree they frequently watch several episodes of the same TV show back-to-back was 22% in the US and 15% in Europe. Overall, 63% in the US agree they frequently binge, compared with 51% in Europe.
Money Flows Into AR/VR Start-Ups

As has become customary in early stage tech markets, most of that money is spread between only a handful of companies. As Digi-Capital notes, over that period Magic Leap raised nearly $1 billion, Improbable raised $502 million, Niantic raised $200 million, and Unity did another big round as well.It seems that the momentum behind AR and VR is accelerating once more, with Digi-Capital reporting that start-ups in the field raised a record $3.6bn from VCs and corporate in the 12 months to the end of Q1 2018.
There is a transitional shift underway as well. "The trend at the start of the year has been for investors to favor AR across many of the 28 AR/VR investment sectors. In contrast, VR startups have found the fundraising environment more challenging."
A quick summation of the AR/VR funding environment in early 2018 shows interest in Mobile AR starting to ramp up, though it will be 2019 before revenues follow suit; a cooling of interest in VR; and the fact that "The scale market for consumer and enterprise smartglasses has not started yet, and could take Apple entering for an inflection point."
Follow the money, the company advises. "While nobody knows exactly what that future will look like, sometimes we recognize it when it walks through the door."
photo credit: Amazon Studios