Industry insights: 5G adoption increases revenue for mobile operators, the DPP sets its mood music for the year, and AV1 adoption accelerates.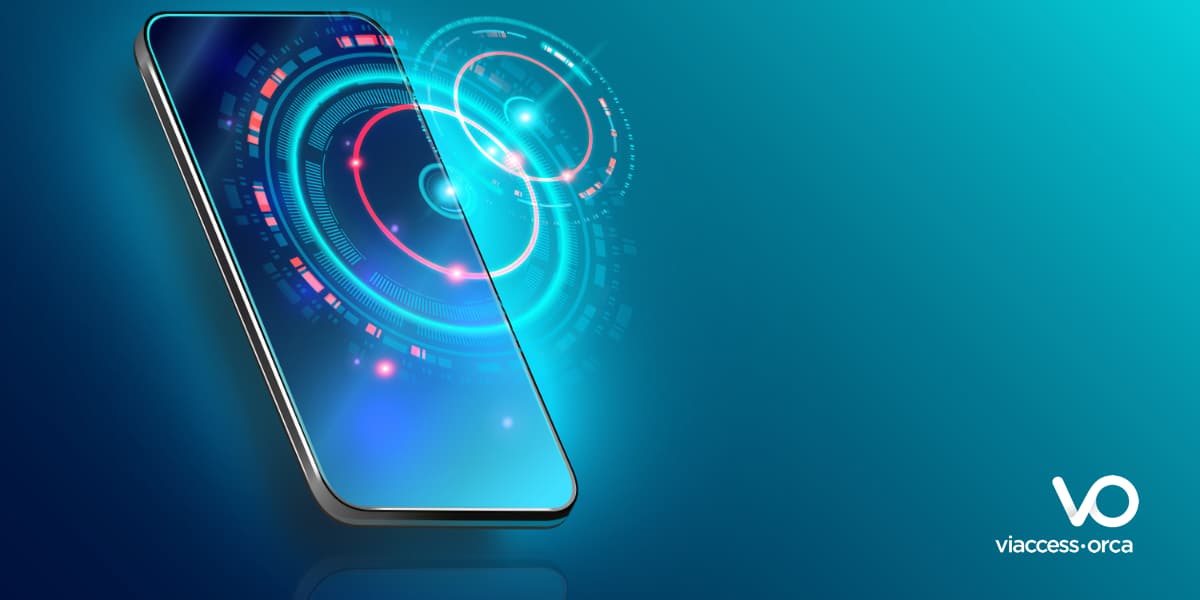 5G uptake drives revenue growth
Interesting data from the Ericsson Mobility Report provides encouraging evidence for communication service providers (CSPs) worldwide, by identifying a direct correlation between 5G uptake and revenue growth.
Video and OTT streaming is, of course, a huge part of that. Ericsson reckons that nearly 40% of service providers have some type of service-based connectivity targeting traffic-intense video or music streaming services. And the more bandwidth consumers have, the more video they tend to consume. The global monthly average usage per smartphone is anticipated to be 19GB in 2023 and is forecast to reach 46GB by the end of 2028. Video traffic meanwhile is currently estimated to account for around 70% of all mobile data traffic, a share that is forecast to increase to 80% in 2028.
Some key findings from the report according to Advanced TV are:
Tiered pricing models are key for service providers, both for effectively addressing the individual needs of each customer and for continuing to drive long-term revenue growth.
The top 20 5G markets have seen a significant network performance boost following the introduction of 5G services.
After a period of slow or no growth, wireless service revenue curves are again pointing upwards in these leading markets. This correlates with 5G subscription penetration growth.
As you would expect, Enhanced Mobile Broadband (eMBB) is the main early use case for 5G and it delivers by far the quickest opportunity for revenue growth, essentially being an extension of service providers' existing business models and services, such as video. It's a huge opportunity too. While there are more than one billion 5G subscriptions currently active across some 230 live commercial networks globally, even in the top 20 5G markets, about 80% of consumers have yet to move to 5G subscriptions.
That is a lot of potential customers. And, while the investment in upgrading from 4G to 5G is not trivial, upgrading existing 4G sites to 5G results in a 10x increase in capacity alongside a 30% reduction in energy consumption, "offering the possibility of growing revenue and lowering costs, while addressing sustainability."
The rise of FAST in the DPP's predictions for 2023
[The DPP]
Industry trade body the DPP produces a set of predictions for the media industry every year and they are always worth reading. Partly because of the calibre of execs interviewed to establish them; partly because they really dig down into all the different aspects of the business, from tech to monetisation models to general business thinking; and partly because it has been doing this for a while now and its rolling analysis of the trends is fascinating.
There is a lot of detail in the 31-page report (which you can download here), but on the whole, it splits into two main data sets. The first covers eight predictions for the year, and the second (and arguably more interesting) looks at what it calls the 'mood music' of the industry, the five main themes that will be in the minds of company boards and executive teams as they consider the key decisions they take.
Here's a graphic showing the eight predictions in bite-size form and also in likely order of impact.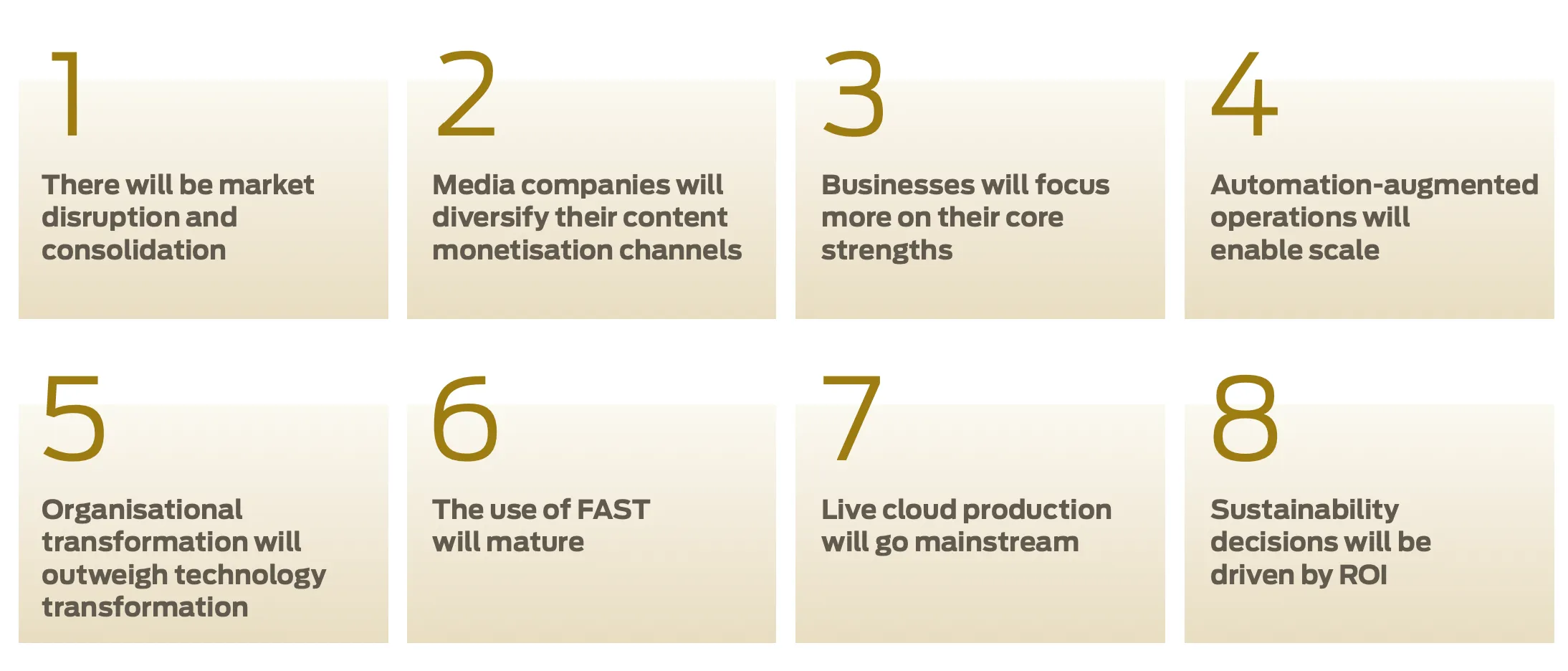 The prediction for market disruption and consolidation has been present for three years now, but its leap to the top of the table from being only fifth last year shows how much perceived turbulence there currently is in the industry. FAST, meanwhile, is closely linked to the move towards greater diversification of business models, with it being seen as an increasingly important part of an overall offering that includes AVOD and SVOD, branches into other media such as games, and ultimately results in increased content aggregation.
As to AI, while there was a large groundswell of interest in Generative AI, there is also caution about the seed of adoption. "Existing regulatory frameworks, and concerns about accuracy, provenance, plagiarism and privacy, would provide a brake," says the report, which instead sees "more mundane forms of automation" having a greater impact, at least in the coming year.
Somewhat disappointing is the weakening in support of sustainability, which has moved from being a prime driver of business decisions to being assessed on its ability to deliver economic benefits to an organisation. "The link is to cost control," commented one panel member. "We will be reducing travel, conference attendance, all of these things to ensure that we have a sustainable business. We're just protecting profit. That's just a reality. Everything will come back to the same thing: economics."
Meanwhile, this is the mood music for the year according to the organisation. As you can see, it is closely interlinked to the predictions above, translating them into actions and strategic decisions that the DPP reckons most organisations will be considering through the course of the year. If you could boil it all down to one word it would probably be 'costs'.

AV1 'gaining ground' in the codec wars
[IBC365]
IBC recently ran a webinar looking at the increasing adoption of AV1 throughout the industry, and thoughtful summarises the whole session here.
AV1 is, of course, a video compression codec designed by the Alliance for Open Media (AOMedia) as a royalty free and open-source successor to VP9, and is positioned pretty much a direct competitor to H.264/5. AOMedia's founding members include Amazon, Cisco, Intel, Microsoft, Mozilla, and Netflix, while it has been joined by many other members in recent years including Google and Apple.
Indeed, as it is in use by both Netflix and YouTube, its influence is already rather substantial.
Krishna Rapaka, Video Researcher at Twitch/Amazon reckons that its influence is growing too: "The OTT workspace has been growing at a much faster rate for AV1, and it's taking a lot of share from H265 HEVC. The numbers that I heard [anecdotally] are that there's a 30% to 40% growth in AV1 adoption year over year, which is quite fast."
Much of this, however, is still software driven. What the likes of Twitch and other streamers need, is more hardware solutions on the market. "The traffic which we face is immense," Rapaka says. "So we have at any particular time 100-200k of channels and more than a couple of million concurrent users and, to scale to this extent, what we need is hardware solutions."
Software decoders can only take AV1 so far due to it being computationally more intensive than H.265 HEVC. But that is all slowly changing with recently announced support from the likes of Intel, AMD and Nvidia, while more and more TV manufacturers are also adding the technology and it's approaching ubiquity on Android platforms (and Qualcomm has announced hardware support for its next generation Snapdragon SoC).
And as more of them come to the market, so the future for AV1, and its importance to those setting up streaming services, is looking more important all the time.