While most of the news in 2020 has been downbeat to say the least, the boom in OTT services is as impressive as it is global.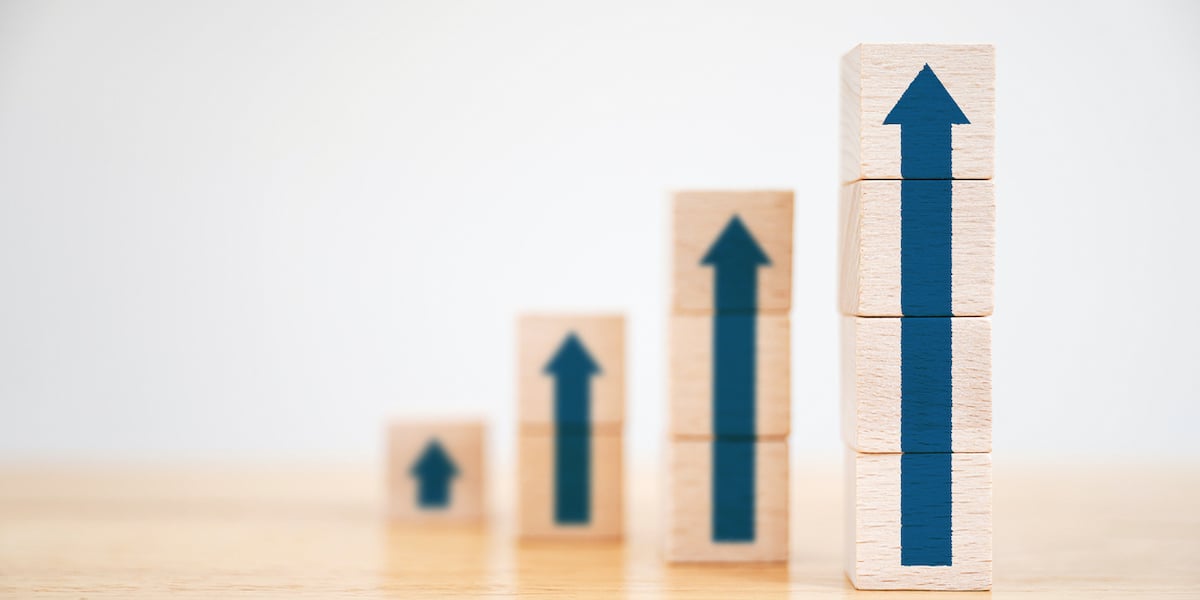 2020 has been a year like no other as the world has been reshaped in often unexpected ways by the global impact of the coronavirus pandemic. Covid-19 has been a significant challenge to many sectors and its ongoing impact may well have ramifications for years to come.
While positives have been few, one sector that has done particularly well out of the various lockdown orders has been OTT, as socially distanced and isolated audiences have sought entertainment in streaming content. And one thing that is noticeable is that there seems to be a long lasting effect here; this is not just a Covid-related surge that will fade and rapidly disappear, but one that looks like it will lead to a five-year (or so) period of sustained OTT growth.
So, with many projections having dropped gradually over the past few months, we thought we would aggregate a selection of them here and get a sense of the overall picture. Despite everything, it's a good one (and just in case you need a refresher on all things OTT, see our post that asks What is OTT? and also provides the answers).
Global rises for SVOD
This section is based largely on a sequence of reports released throughout September by Digital TV Research. As different analysts have different methodologies, keeping to the one forecaster helps produce a consistent picture for all the territories involved.
First off, the global forecast.
SVOD revenues for 138 countries are estimated to break $100 billion by 2025. This is an impressive doubling from the $50 billion recorded in 2019, with SVOD revenues also breaking the psychological $1 billion barrier in 16 countries in the same timeframe, again double the number from 2019.
The US retains the lion's share of the revenues, accounting for nearly $42 billion on its own by 2025. This is up an impressive $18 billion, but is actually a decline in market share from 49% to 42%. Indeed, one of the crucial takeaways from all this is that the US's dominance of the market is slowly starting to be eroded as other regions increase in prominence.
Steadily more content is being produced internationally rather than in the US, and that is a trend that could well continue.
In terms of subscriber numbers, we see a jump from 641 million to 1.17 billion, which means that ARPU also increases by around 9% from $78 to $85. China and the US will together account for 51% of the global total by 2025. This is actually significantly down from 63% in 2019, and, with no shrinkage in the forecasts, indicates that other countries are growing faster.
Finally for the global picture, it is interesting to see the projections for the big SVOD players in this picture. Digital TV Research reckons that Netflix, Disney+ and Amazon Prime Video will together control half the world's SVOD subscriptions by 2025, with Disney+ having 172 million, Netflix will have well broken the 200 million barrier on 263 million, and Amazon taking the rest (approximately 74 million).
It's worth pointing out that these are fairly volatile numbers, the analyst lowering the Disney+ 2025 forecast by 30 million over the course of five months, for instance, after the Disney+ additions decelerated after the initial launch periods.
Here's the regional breakdown of subscriber projections: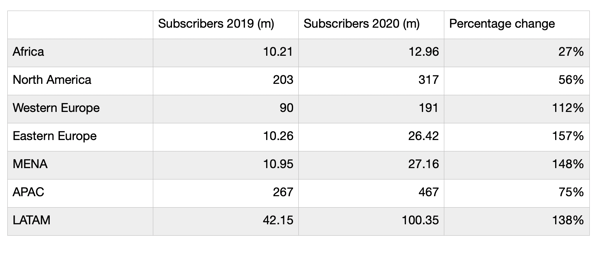 Growth is across the board, but its impact is uneven as are the opportunities that result from it. It's also instructive to chart the percentage of subscribers that the company thinks Netflix will achieve in each territory.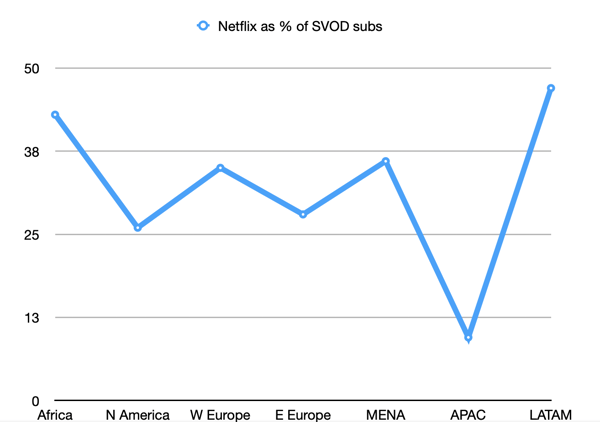 Of course, Netflix's presence does not close off the possibility of other providers also entering the market; service stacking is increasingly a part of life and only set to increase as aggregation and super aggregation takes hold as a business model. But it is interesting to note that APAC, with an astoundingly low 9.5% market share for Netflix, and LATAM (47%) are both significant outliers in its portfolio.
AVOD & TVOD in 2020
AVOD has undoubtedly been one of the success stories of 2020 so far, but quantifying it depends on slightly patchier figures than with the SVOD analysis. Much of the work has been done on US audiences, where AVOD offering have gained rapid traction thanks to the introduction of several high profile new offerings from the likes of Peacock and more.
According to Ampere Analysis figures, 17% of US internet users are now accessing a rapidly growing variety of AVOD services, up a respectable amount from the 13% who were in the previous year. As we reported recently, ad revenues for the five major AVOD platforms in the US also saw YoY revenues jump 31%.
What is interesting is that it seems that AVOD growth will not necessarily impact SVOD subs, with the audiences being separated slightly both by age and disposable income.
Ampere expects audiences to grow, and the movements by the major media conglomerates that tend to offer AVOD services as part of their portfolio suggest they are looking for a period of growth too. Pluto TV (owned by ViacomCBS) is accelerating its expansion into Europe, rolling out in Spain from the end of October followed by France and Italy in 2021. Moreover, AT&T is planning to offer HBO Max at a new, lower cost tier with advertising support next year.
All in all, it's a picture of growth that mirrors SVOD's. Digital TV Research crunched the numbers and reckons that AVOD expenditure will more than double between 2019 and 2025 to reach $53 billion across 138 countries (with the US cornering 45% of the market).
The data regarding growth in the TVOD market is even rawer and more scattered. However, what is certain is that with cinemas still shuttered and studios pivoting to Premium VOD release models — Disney's Mulan remains the high water release at $30, but we won't know until Disney's next earnings call in November how it did — there is a lot of interest in driving TVOD and PVOD on.
Why? Because as Forbes points out, as studios don't split the revenue with the theaters, a $93 million PVOD total is roughly equivalent to around $186 million in theatrical grosses.
"In the second quarter of 2020, stay-at-home consumers helped boost transactional VOD revenue to new heights," wrote Colin Dixon on nScreenMedia at the start of October. "In Q3, premium VOD releases continued the trend. Expect the 2020 TVOD growth to set records due to more PVOD in Q4."
Investment in OTT services continues
Finally, 2020 has also been a good year for investment in streaming services. From January to September, the total amount of video funds raised by streaming companies came to just short of $16 billion according to the financial hub BuyShares.
There seems to be a direct correlation between the amount of inbound investment and the severity of lockdown restrictions. Investment peaked with the lockdown orders in March and April, with $6.08 billion raised in April alone. Contrast that to the $18.57 million raised in January when Covid-19 was just a blip on the radar and the difference is an impressive one.
With an uncertain winter looming, at least in the northern hemisphere, and the likelihood of more lockdown orders driving people to their OTT services once more, there is every chance that investment could start to ramp up again too.
Will long-term subscriber projections also see an uptick? It appears there is still plenty of headroom in the market (see Billions of potential SVOD subscribers still to be signed up) and, as long as people still have disposable income, the boom in OTT services could well continue into 2021.