Industry insights: As Netflix Basic With Ads launches, some of the biggest social media platforms, a key component of any operator's online strategy, are facing turbulent times.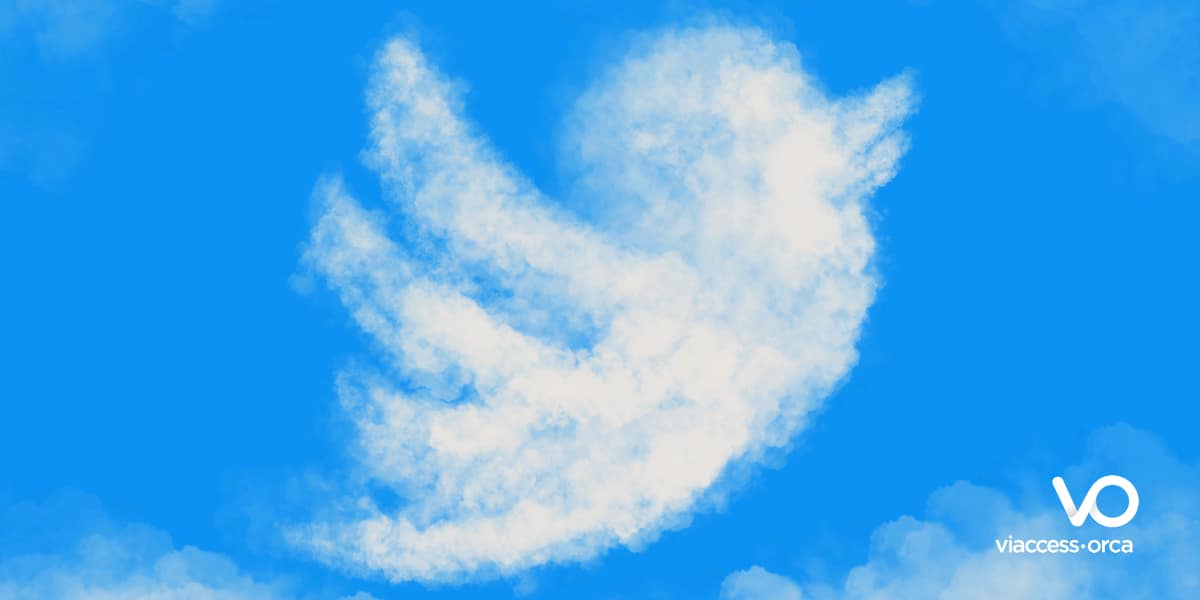 Social media hits headwinds
[Ars Technica, BBC]
With two of the technology's dominating platforms facing troubles in the current economic climate, it is a challenging time for social media, one that undoubtedly will also have a direct impact on many operators, who have been heavily reliant on them for boosting viewer engagement.
Twitter has been perhaps the most high-profile tech story in recent weeks, as Elon Musk's will he/won't he acquisition finally completed and the billionaire took sole control of the micro-blogging platform, taking it into private ownership. That effectively means he can pretty much do what he wants with it, and the resulting chaotic round of mass firings and occasional rehirings, a hurried roll out of paid for blue tick account verifications, changes to ranking algorithms, and severe doubts regarding Twitter 2.0's balance of content moderation versus free speech absolutism have made the platform even more of a pandemonium than usual.
Twitter is a key component of many operators' social media strategy, and many have invested much human capital into building followers for their channels, programs, and talent. Disruption and uncertainty are unwelcome. Meanwhile, users are departing en masse, advertisers are wary and pausing campaigns (Musk blames activists "trying to destroy free speech"), and to be honest, at time of writing no one knows what direction the ongoing mess is currently heading.
The general thrust of Muck's strategy seems to be one of ramping up monetisation and moving away from reliance on advertising. But, as an Ars Technica article on the whole mess puts it succinctly: "Elon Musk's strategy to make Twitter profitable as quickly as possible seems to be to turn Twitter into everything the platform is not, seemingly ignoring much of what made the platform profitable in the first place."
The situation, and the uncertainty, are ongoing.
Facebook, the other giant of the middle phase of social media, is also in difficulties. Parent company Meta has lost a huge amount of money as the year has gone on, and currently has a market capitalisation under a third of its much lauded trillion-dollar peak 16 months ago. At the start of the year shares were trading at $338 each. At time of writing they are down to $91.
So, what has gone wrong here? First, the same weakness in ad revenue that drove Musk to declare Twitter was losing $4m a day is having a severe impact on Facebook too. Ad budgets overall are down. Within that, in the digital space, there is a pivot towards targeted TV advertising solutions as third party cookies make online advertising less effective, and a new attitude to privacy is making it harder for the company to leverage its phenomenal data analysis capabilities. Meta estimates that Apple's recent strict privacy settings will cost it $10bn in lost revenue in 2022 alone, and it also has to contend with rapid growth from a later generation of social tools such as TikTok.
Added to that Facebook is spending a huge amount of money on metaverse development. It's sunk over $15bn into metaverse tech development since the start of 2021 alone in an attempt to stake an early claim on whatever opportunities might arise down the line. The problem is exactly how far down the line those might be, and, at the moment, returns are minimal. The company has an embryonic metaverse platform called Horizon Worlds, for which it was targeting 500,000 monthly active users by the end of the year. Current estimates have it only reaching 200,000 — and that is down from 300,000 in February.
The lack of broadcast industry metaverse content at IBC2022 surprised many people, but it may be that the industry is playing a waiting game just to see where the technology goes before investing any money in it (the EBU has only just established a working group looking at the issues this month). Certainly, though a degree of caution is what many investors currently wish that Facebook was bringing to the party.
"Meta has drifted into the land of excess — too many people, too many ideas, too little urgency. This lack of focus and fitness is obscured when growth is easy but deadly when growth slows and technology changes," wrote Brad Gerstner, chief executive at major Meta investor Altimeter Capital, in an open letter. The firing of 11,000 employees on 9 November is, perhaps, the start of the company listening to such opinions.
For broadcasters and operators, Facebook's problems matter because much of their current viewer engagement strategies are based on social media platforms. A change in the way that their algorithms surface content from amongst the millions of daily posts has real world consequences for businesses of any size.
Ironically, there is a potential upside too. Before the last World Cup we wrote that as many as 30 to 40% of links to illegal streams were being circulated by Facebook and Twitter, and that number has probably only increased since. If those can now start to become more difficult to find, that can only be a good thing.
Netflix's new ad tier will lead to increased ARPU
[Variety]
The new $6.99 Netflix Basic With Ads plan is now live, and viewers are getting to grips with the slimmed down service. It doesn't allow downloads for later viewing, is also missing 4K content (quality peaks at 720p), some key titles such as House of Cards and Peaky Blinders aren't on it, and, at launch, it is not working on Apple TV devices or older Chromecasts.
Data from the Variety Intelligence Platform suggests it is still a huge opportunity for the company though, despite any teething problems.
"While data suggests the plan will attract more current subscribers than non-subscribers, cannibalizing the core SVOD service, advertising gives Netflix the chance to monetize those subscribers more effectively without another alienating price hike," says the site. "Wells Fargo, for one, estimates that advertising could boost Netflix's domestic average revenue per user by nearly 25% by 2025."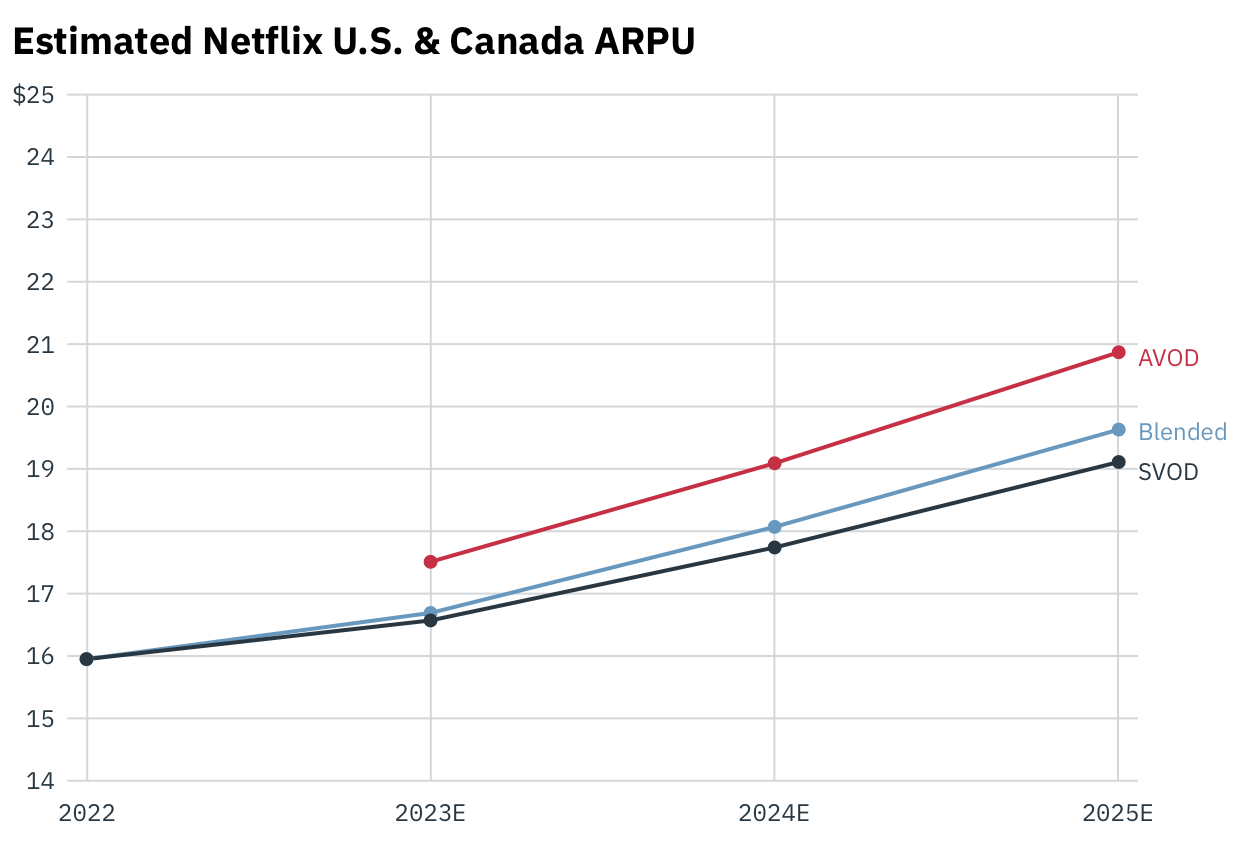 One of the keys to the success of AVOD is going to be time spent with the service and, in that metric, Netflix is already well placed. It accounts for 7.3% of all viewing time in the US and averages over 21% of time when narrowed down to streaming platforms. That is a lot of ads served to a lot of viewers.
Meanwhile, Disney+'s ad supported service launches next month and it is going to be fascinating to see how both the companies do with divergent strategies. Disney is raising the cost of its ad-free plan (currently $7.99 per month) by more than 35%, to $10.99, when the ad-supported version launches at $7.99. Netflix is taking the opposite tack, offering Basic With Ads for less than half the price of its most popular tier, "Standard," currently $15.49 a month after the company's January 2022 price hike.
Some argue it was that price hike that kicked off the rise in churn that necessitated the move towards AVOD. Others say that AVOD was probably always going to happen at some point. Either way it looks like that even if Netflix does cannibalise its own subscribers as a significant amount of them move to AVOD, the potential for increased ad revenue that brings will more than make up for it.
Starlink is getting daytime data caps
Elon Musk, or at least one of his companies, features again with news that Starlink has a new data policy that brings to mind the data caps that mobile phone networks used to impose on their users.
The satellite internet division of SpaceX plans to start throttling home internet for customers in the US and Canada from December if they breach the terms of the company's new fair use policy. It's a high bar, more than 1TB of Priority Access data per month during peak hours (defined as 7am in the morning until 11pm at night) but it is a bar all the same.
How much does 1TB of data get you? AT&T has a useful data calculator that lets you run the numbers, and you will have to be streaming 171 hours of 4K video a month to breach it. But that's under three movies a day and, if you've got lots of people using your link, not an impossible one to breach. Indeed, Starlink reckons that close to 10% of its customers will be affected by the new policy.
HD is, of course, more forgiving — you'll get 400 hours of that. But for those that go over the amount, additional peak time Priority Access data is available for 25 cents per GB. And, of course, there are no download limits overnight between 11pm and 7am. Downloading content for watching later on might well catch on again once more.