Industry insights: What happens now the SAG-AFTRA strike is over, there are significant differences between streaming services when it comes to viewer retention, and some of the trends underpinning streaming price rises.

The strikes are over! What comes next?
After 118 days, the SAG-AFTRA actors' stroke was finally called off on November 8. It didn't run for as long as the 148-day-long WGA writers' strike earlier in the year, but it was an uncomfortable time for the industry, especially in the period where the two overlapped. With a few exceptions, mainly confined to indie productions, production effectively shut down in North America. And while even English-language streaming programming can be considered a global industry nowadays, there will be definite consequences next year as streamers hurry to rebuild release schedules.
Indeed, it looks increasingly like the main thing that concentrated minds and forced a negotiation towards the end was the sure knowledge that the 2023-24 TV season would be lost entirely if work didn't start before Christmas and that next summer's movie season would be seriously impacted.
Regarding the streaming residuals — payments for reruns effectively — SAG-AFTRA's new contract is worth more than $1 billion over three years. But the union did not get one of its top priorities: a share of revenue from each streaming platform. Instead, actors will get a bonus percentage of their residuals depending on how successful a show is.
We also don't yet know the state of the union's success regarding the other big issue of the strike in AI. Only an 18-page summary of a 128-page memorandum of agreement has been released, and even in that summary, the number of qualifications regarding the studios' use of AI is pretty lengthy. Deadline has a detailed analysis here.
The deal is being voted on by the members now. But it is perhaps significant that only 86% of the union's board backed it, with many thinking that that number was surprisingly low.
So, what happens next?
First is logistics, getting the actors and the showrunners in the right place at the right time and ensuring that there is studio space for them to work in and equipment to shoot with. Given enough of a backlog, even favored locations can get double booked, so there will be a lot of short-term stress — and cost! — in the industry, as the wheels start spinning once more.
Unless there's a lot of VFX work, it usually takes three months for a typical program to hit screens once cameras start rolling. So, it will be February at least until shows shooting now in mid-November begin to air. As a consequence, even network shows might start to work on shorter series, say 6-8 episodes rather than the more usual 10-13 (and a far cry from the traditional 22-24 that dominated the industry in the pre-streaming era) in a bid to get back into their usual slot.
So, the content is coming. But it will be a flow, not a flood.
It has to be said that it might not be the end of industrial action affecting the industry either. The giant IATSE union representing 168,000 crew, tech, and craft workers in North America has its contract up for renewal in July 2024. It almost went on strike in 2021 and, seeing the concessions that the WGA and SAG-AFTRA have just wrestled out of the studios, might be in less of a mood to compromise next time.
How long do viewers maintain their streaming services?
The latest data from Parks Associates reveals a big difference in the length of time that viewers in the US market will maintain their streaming services. According to the analyst, Netflix and Prime Video have the most extended subscriber lifetimes compared to other streaming services. The average duration of each subscriber's tenure with these streaming services is over four years, indicating high customer loyalty.
It is worth noting that both Netflix and Prime Video have consistently maintained their superior subscriber numbers in Parks Associates surveys for several years.
In addition, the report indicates that the average subscription duration for both services has witnessed a rise of between three and four months from Q3 2022 to Q1 2023.
Here's how their services measure up against the other major streamers in the market. After HULU's three-year average, there is a notable drop in other service durations.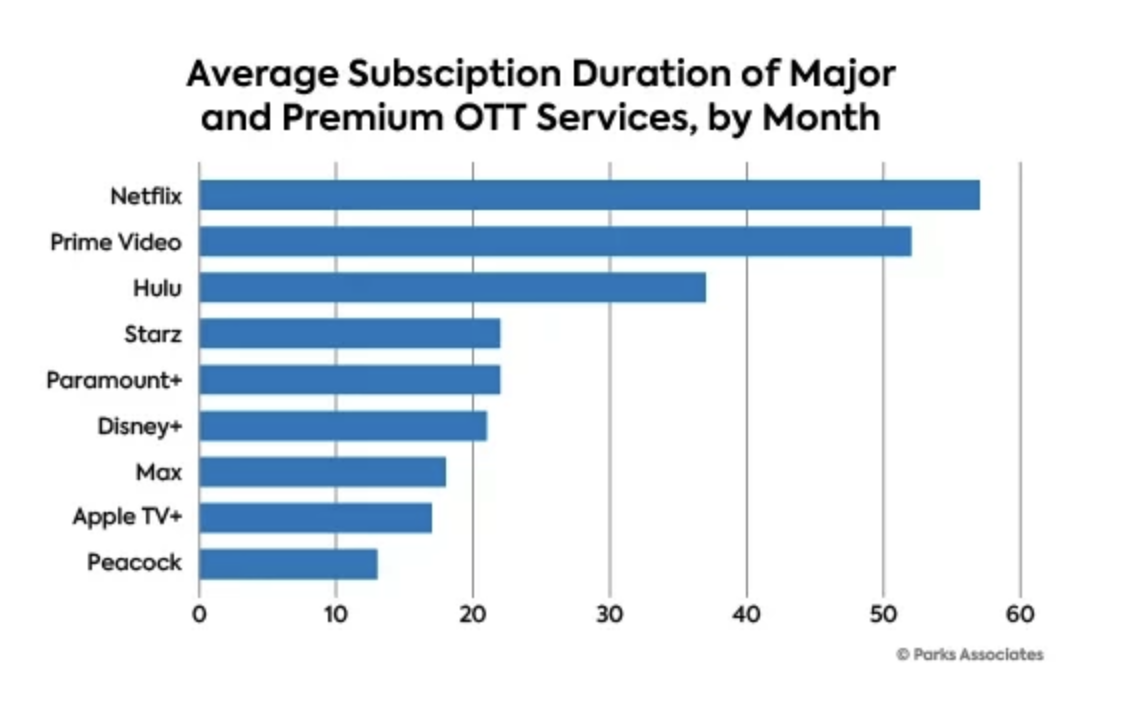 "Households are still experimenting with different services as they evolve over time to build their own service stack," said Eric Sorensen, Director, Streaming Video Tracker, Parks Associates. "Service consolidation has changed subscription dynamics, as Showtime has become part of Paramount+ and HBO is now Max, but even as consolidation occurs, it has a limited effect on churn for these services. Premium service subscriptions average around two years, which suggests consumers are getting better value out of the consolidated content."
Parks is releasing a lot of data in the run-up to its sixth annual Future of Video conference in California this week, and it's worth mentioning the growth it is detecting in AVOD and FAST services, too. It reckons the number of US internet households that recently used an AVOD/FAST video streaming service increased from 31% in Q1 2023 to 41% in Q3 2023. As the below graph shows, that is quite an uptick.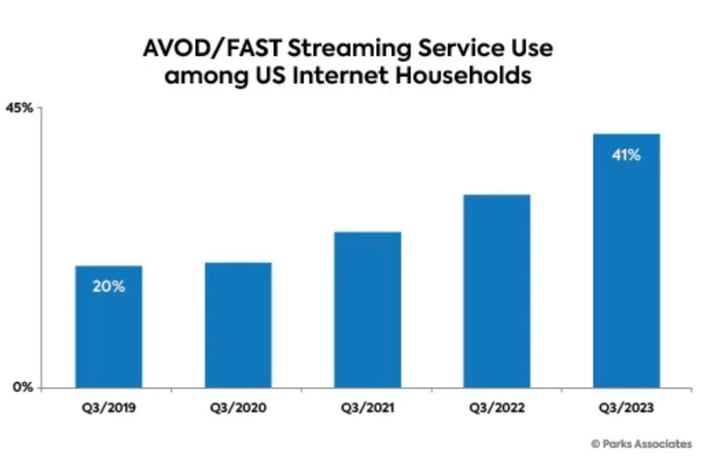 Analyzing the streaming price rises
One of the reasons for this growth in AVOD/FAST services is undoubtedly the rise in prices across the board of the core SVOD services.
According to Variety, seven top streaming plans increased their US pricing in October alone, and typically, these price changes ripple out around the world. If the price goes up in the US, it does wherever you may be viewing.
What is significant, though, is the level of the increases. Across those tiers, the monthly price rose on average 23%, which is hugely above the 3.7% 12-month inflation rate for the country as of September. Here's the complete list.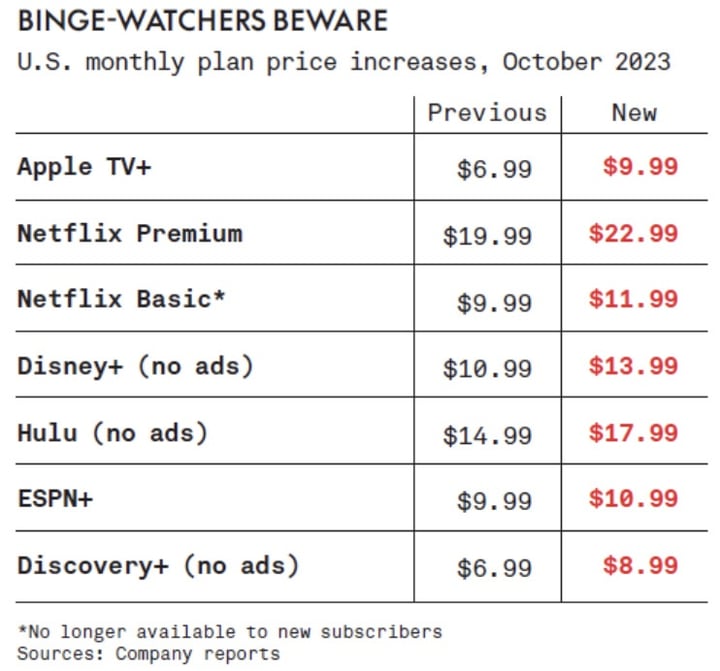 So, what are the drivers here? Variety points towards the end of the era of low cost growth. Streaming services were happy to underwrite the monthly cost of services as long as the subscriber numbers were going up. Once they have started to stablilize, then the strategy changes.
"Companies went from chasing subscribers to chasing profits," says Scott Purdy, US national media industry leader for professional services firm KPMG, who also coins the handy soundbite, "The era of 'streamflation' is here."
Netflix spent a decade expanding before it became profitable. Investor pressure in a much more difficult economy now means it is unlikely that the newer streamers can spend that long about it.
Another factor, which we covered recently, is that it looks like ARPU is higher for customers on the AVOD tiers than it is for those on the standard streaming ones once you factor in ad revenue. Netflix's total per-subscriber revenue is $1.84 higher on its AVOD service than the $15.49 value of a standard monthly subscription.
This is Ampere's Guy Bisson's take on the recent Disney price hikes. "Advertising is central to Disney's streaming strategy with international roll-outs of the ad tier beginning this month," he says. "We can expect continued moves to push customers (both old and new) towards the ad tier, both domestically and internationally. Advertising technology will remain a major investment area for the company, with Disney's ad expertise seen as another competitive advantage in an increasingly crowded market."
And there is one final factor in play, too. As a result of the (just settled) 2023 writers' and actors' strikes, there is liable to be a definite hike in content costs for the streaming companies. As well as the costs of restarting production, the strikes ended with both unions negotiating better payments for their members from the streaming services.
"Streaming companies have had a free ride on residuals," says Colin Dixon, founder of independent analyst and consulting firm nScreenMedia. "And that free ride is over."