Industry insight: The average TV screen is getting bigger and newer, while the latest sets on show at the virtual CES this year are more flexible than ever.
The state-of-the-art TV screen
[Rapid TV News, MSN, The Verge]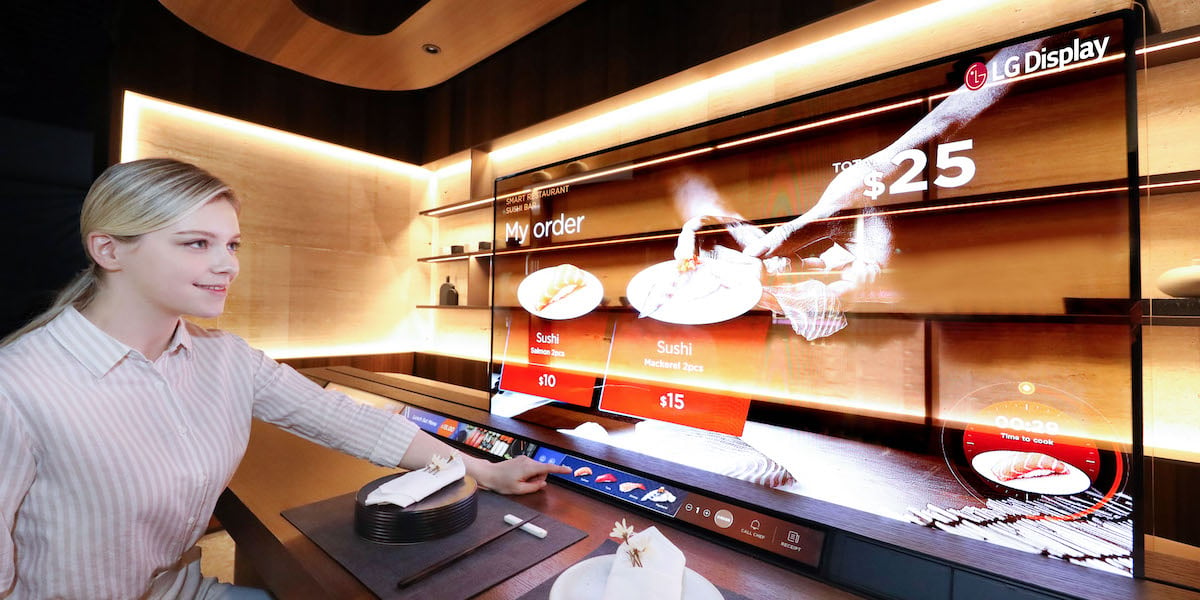 It seems that, at least as far as the US consumer goes, size counts. Research conducted towards the tail end of last year reveals that the US consumer at least is watching television on larger screens than ever. Not only that, but the refresh cycle is contracting and the average age of sets is falling.
TV sales are up across the board. We've recently talked about the rise of the Smart TV and the importance of Multi-DRM in securing content, but beyond that more people are also watching on the larger sets. As Rapid TV News notes, 15% of sets in the US are now 60 inches or larger in size, up from 11% a year ago. Meanwhile the average age of sets has come down to 4.9 years from 5.4 years in the same time period.
It's also worth noting that the average size of a replacement TV jumped to 51 inches from 49 inches in November 2019, and 47 inches in November 2018. Elsewhere, the availability of apps reportedly impacted 31% of replacement TV sales, up from 23% a year ago.
The type of television that the consumer will watch might be changing soon too. This year's CES is a far more restrained and virtual affair than the normal consumer tradeshow jamboree in Vegas every year, but there is still new television technology to talk about.
More will probably emerge over the next few days, but LG has made the early running with a couple of neat demonstrations. One shows a 48in flexible OLED panel that can curve for use in gaming but flatten again for conventional television use, the other highlights the flexibility that its transparent OLED brings to the market, especially as the entire screen can flex to act as a speaker as well. The pic above shows it in digital signage mode, but it's not hard to envisage it also popular for domestic TV uses.
The upshot? More screens in more places and coming to a flat (or curved) surface near you soon.
African Pay-TV expands over next five years
Pay-TV is having something of a renaissance in Africa, with the latest projections from Digital TV Research suggesting that it will put one something around 50% of its current subscriptions between 2020 and 2026. That amounts to an extra 17 million viewers and a continent-wide figure of just over 51 million.
Nigeria will be the largest single market, with 11 million viewers, followed by South Africa with 9 million. In terms of operators, Multichoice will lead the field with a growth profile that sees it reach just shy of 20 million subs, followed (and showing the potential of the consistent for investment) by China-based StarTimes/StarSat (17m) and France's Vivendi (7.9m).
Global video subs to hit 2 billion
Another projection, this time from Juniper Research, with even bigger numbers at the end. According to the analyst, there will be nearly 2 billion active subscriptions to on-demand video services by 2025, representing a 65% increase over the end of 2020.
Interestingly, it says the primary engine driving this growth is going to lie in activity from traditional broadcasters and launches such as NBCUniversal's Peacock and ViacomCBS, which is relaunching CBS All Access as Paramount+ later this year.
"Both Peacock and the soon-to-be Paramount+ use hybrid models that tap into subscription and advertising revenues," reports Fierce Video. "Juniper said that as subscription services become increasingly prominent, different models will be necessary for fighting off subscription fatigue. The firm's latest report estimated that in 2020 there was an average of four SVOD subscriptions per household in the U.S., but that growth could slow significantly in 2021."
Netflix content budget increases to massive $19 billion
[Bankr]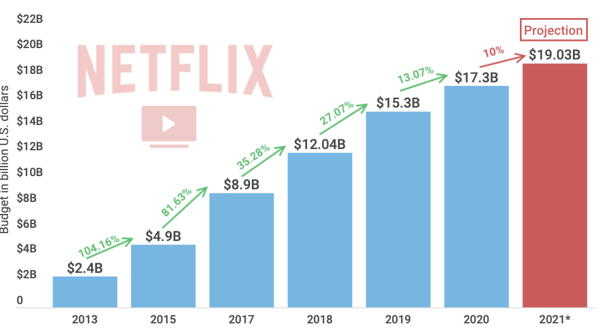 Analysis from The Netherlands' Bankr suggests that Netflix's spend on content is going to rise in 2021 to yet greater heights. Having been pegged at $17.3 billion in 2020, the investment bank now estimates that it will hit £19.03 billion in 2021.
This is based on a few interesting criteria.
An investor letter for 2020 Q3 states that the production of Netflix originals (which requires more cash upfront vs. second run content) matures.

Historically, Netflix's video budget has been growing in a declining trend on a yearly basis.

The pandemic pushed more users to onboard online streaming services.

Netflix reports an increasing number of paid subscribers every quarter since Q3 2011.
Sources confirm that Netflix plans to double spending on original content in Asia.
The second point in particular illustrates that the budget is actually slowing down. In 2013 it was a 'mere' $2.4 billion and growth has been as high as 104% a year. The 10% required to take it to over $19bn would be the smallest growth in the last eight years, but in doing so will mirror the slowdown in new subscribers. Nevertheless in terms of those numbers, it would be surprising if it didn't break the significant 200 million subscriber barrier in its next earnings report.
And for the curious, $19bn works out as roughly $95 spent on content per subscriber per year.