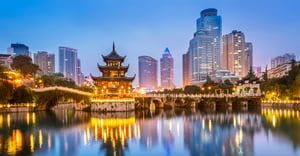 In the run up to Broadcast Asia, we look at the forecasts for the future of OTT in APAC. If you had to choose one word to describe it, that word would likely be 'booming'.
It's an impressive set of forecasts. Everywhere you look, APAC exhibits growth in one shape or form. And perhaps what makes it even more impressive is the way that these forecasts unite what is a very large, complex and diverse region. Few territories can boast the sheer diversity of APAC, from the very European-levels of ANZ, through the mature markets of Japan, Korea and Singapore, on to the fragmentation of the South East Asian market, and, of course, the huge standalone economies that are the world's most populous countries of India and China.
It is a territory like no other. And it is one that is soon set to take a leading position in the global video market.
Overtaking North America's OTT Market
We've written before about the impressive growth underway in the region, looking at how the APAC market was surging in 2016. And I was also interviewed to produce a piece that looks at the various APAC complexities that broadcasters and operators have to face. It's interesting to dive back into them and see what has change dinette intervening two years.
The real blue touch paper was lit under the APAC OTT market though a year before, in 2015, when Netflix debuted first in Japan and then in Australia. It slowly expanded across the rest of APAC the following year (though China, of course, remains a hold-out) and, as is often the case with the company, its presence also led to growth elsewhere in the sector across the region. Major regional players include Hong Kong's Viu, Korea-based Pooq, and China's iQiyi, Youku-Tudou ,and Tencent Video, with a host of smaller local pay-TV providers, also rolling out their own OTT services.
The statistics regarding growth are uniformly impressive. If you zoom in on SVOD, in 2016 APAC accounted for 35% of global SVOD subs contrasted against North America's 43%. According to Digital TV Research, however, SVOD subscriptions in the APAC region overtook those in North America at some point towards the end of last year and are on the way to almost reversing their position over the next handful of years. Indeed, by 2022 the analyst forecasts that APAC will account for 43% of global SVOD subs, with the North American share having fallen to 31%.
The explosion in revenues this activity will lead to is equally impressive as well. Asia Pacific OTT revenues from TV episodes and movies will reach $24.41 billion in 2022; just a shade under three times the $8.27 billion recorded in 2016. The main engine of growth here is China, where revenues quadruple to $12.2bn, but as you can see from the graph below it's not the only country to post impressive new figures, with rises across the board.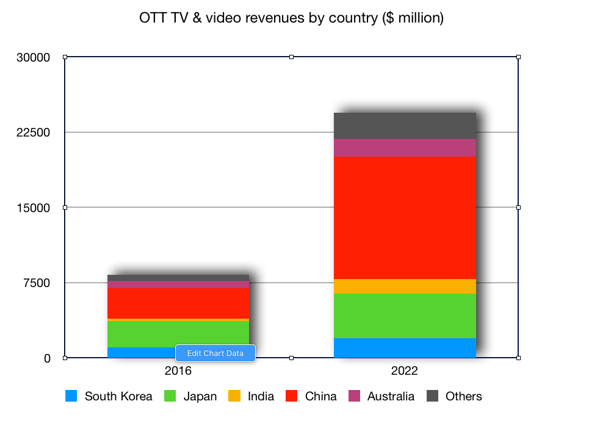 Source: Digital TV Research
APAC Prioritizes Mobile OTT First
One of the main factors driving this growth is the astonishing rise in mobile in the region. Between 2016 and 2020, APAC is forecast to add 600 million new mobile subscribers, taking the total to more than 3.1 billion people at a growth rate well above the global average. Perhaps more to the point, those 3.1 billion people will have approximately 4.5 billion connections between them, 3 billion of which will be smartphones.
What's more, 4G migration is gathering pace in many markets. A third of all APAC connections will be 4G by 2020 as network build-outs continue apace and subscribers migrate over from increasingly dated 3G technologies.
This is a crucial factor in the region's growth. Broadband infrastructure is patchy beyond the urban environment and access to affordable fixed lines services is patchy as best. By circumventing the need for a tethered infrastructure almost entirely, the region is effectively performing one of the most impressive technological growth hacks seen in the global video industry.
That doesn't mean the situation is without its challenges, however. For a start, that growth is going to put a lot of strain on the fledgling new networks. Smartphone users consume more data — usually in the shape of video — than normal phone users, 4G users consume more again than 3G users. Serving all that content reliably with the Quality of Service that video in particular demands across a geographically diverse region is not going to be easy.
There are also challenges to be met elsewhere in the industry.
OTT Content, Features & Competition
One of the consequences of the APAC OTT boom is that competition is on the rise. Markets that already have the global players of Netflix and Amazon Prime chasing viewers also have a host of national and regional OTT outfits chasing viewers. That there is room beyond the big two global players for other services is undisputed. Unfortunately, that the amount of room is finite is undisputed too.
Analysts GlobalData produced a market snapshot of the APAC OTT market earlier this year which highlighted some of the way that OTT providers are adapting in the increasingly crowded spaces available to them.
Content - Rather than investing in labelled content, some OTT platforms are beginning to focus on live streams, a strategy with a very low relative cost base. Niche categories such as gaming, fashion and makeup have had the most success so far.
Cost - Regional OTT video challengers have priced their SVOD services below the international giants, while single market video platforms tend to price SVOD the lowest.
Strategy - AVOD plays an important part in countries with lower OTT readiness as it helps to familiarize users with the legal options to access videos across multiple platforms before any introduction of a paid service.
User Experience - UHD, linear, and AR/VR content is increasingly being deployed as a differentiator.
"The abundance of free content on the Internet and low income levels are the major challenges for the monetization of OTT video in all the markets," concluded the company. "Most OTT players have adopted a hybrid model of AVoD and SVoD/TVoD, where AVoD is aimed at attracting users while SVoD drives monetisation. Some OTT players are even partnering with telcos to offer both benefits, which are believed to help OTT players in addressing billing challenges."
APAC OTT Providers in the Hyperconnected Age
It's worth mentioning one more quote from GlobalData, this from analyst Malcolm Rogers. "OTT players can expect rosy days ahead in APAC region. Apart from expansion of 4G, the availability of low priced smartphones and sizable population of internet users in the region will also support the growth of [the] OTT video market."
It's worth pointing out that this rosy picture is not just constrained to OTT either. The APAC pay-TV sector is also bucking the downward trends in much of the rest of the world. Projections indicate that, driven primarily by China and India, subscribers will grow by 78 million and revenues by $2.73 billion between 2017 and 2027.
But OTT remains the main story. And as faster bandwidth, expanding 4G coverage, and growing smartphone and pay-TV penetration on the one hand lead many commentators to refer to APAC as the world's first hyper-connected region; that is also set against a backdrop of an increasing variety of payment options, falling data tariffs and rising per capita income. One set of criteria alone would lead to growth, add both together — the technical and infrastructure development on the one hand and the positive economic factors on the other — and that growth can well be considered explosive for some time to come.