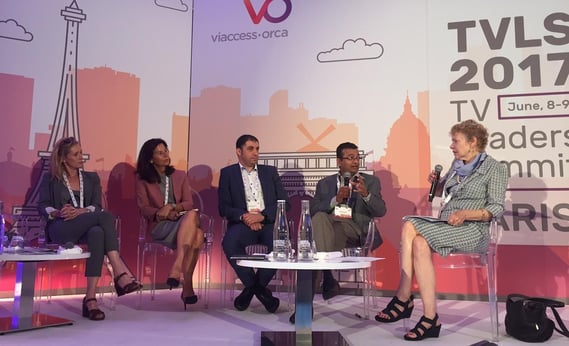 This year, VO's TV Leaders Summit brought together an eclectic group of executives, researchers, analysts, and academics to mull over the challenges and opportunities in the rapidly changing media business.
One thing that was immediately obvious was that this wasn't your garden-variety TV confab. Instead, attendees found themselves engaged in some heated debates over the presentation of some exclusive, eyebrow-raising data and unabashedly opinionated predications about the fate of the TV business as we know it.
It was the first time my partner Bruce Tuchman and I worked with Viaccess-Orca to produce their annual TVLS event so I wanted to get some honest feedback on the content and speakers we put together. I knew I'd get an unbiased and unfiltered view from our day-two moderator, Elizabeth Guider so I asked for her impressions and key take aways. Elizabeth is a long-time trade journalist whose credits include stints as editor of The Hollywood Reporter, Executive Editor of Variety, and International Editor of Variety, so she knows the TV business inside and out. What follows is our post-conference conversation about what struck a chord with her and her perceptions of how some of the ideas presented resonated with the attendees.
Patricia Frith: Elizabeth, first off, thank you for your contribution to TVLS this year. You had some outstanding and thought-provoking questions for our panellists. After two days of some intense discussion and, in some cases, harsh reality checks, what did you take away from this event?
Elizabeth Guider: Thank you. It was a real pleasure to have been invited!
My overall impression in hearing so many interesting viewpoints is that companies across Europe are actively and more determinedly grappling with the ongoing disruptions in the media business -- and preparing for even more changes arriving at an even faster clip. As one panellist told me with respect to his company, anyone whose head was "buried in the sand" has now been "passed over or fired."
PF: There certainly seemed to be a few people who had some strong words of caution about ignoring the changes that OTT has ushered in. Odile McDonald of Wildcats Productions, who was on the Networks & Producers panel you moderated, compared the resistance by some TV executives to accept the inevitable death of linear TV to the 5 Stages of Loss you learn about in Psychology class — the first stage of which is denial! "We've got a long way to the acceptance phase," she joked.
Bruce Tuchman, who co-hosted the event, was even more direct in his keynote presentation on OTT, SVOD and the state of the TV business. Bruce is a veteran of the global TV business and has always been on the cutting edge of change in our industry. Now, as an investor and advisor in several digital media businesses, he had some very insightful learnings and prognostications to share that gave the audience a lot to think about.
EG: Bruce's bracing keynote presaged a media landscape dominated by apps, one which will leave traditional legacy players of all stripes on the sidelines, if not in the dust. Even current cable darlings, like, say, AMC and FX, are likely to be taken down a peg or two, he opined, as the costs of high-end content become unsustainable. A few panelists pushed back on the timing of this shift to an app-only world, but most all agreed that legacy players would be playing lesser roles or still had a ways to go to adapt.
PF: Another hotly debated topic at the conference was issue of content piracy and what to do about it. I think most agreed that there aren't any real positives to piracy.
EG: Rarely in my career have I attended a session on piracy that wasn't boring and predictable. However, Summit panelists had a lively, informative debate on the topic. Among their agreed-upon suggestions to combat the problem were:
a) making streaming and downloading easier and more user-friendly
b) making day-and-date avails wherever possible
c) coming up with lower-cost and more creative legitimate viewing options
PF: And Rahul Telang, Professor of Information Systems at Carnegie Mellon University, who spoke on that panel made a point of saying we need to get everyone involved, including the search engines. This is starting to happen because groups like Netflix and Amazon are also concerned, when they weren't before.
Interested in more insights from Prof. Rahul Telang? Click here.
On a broader level, I think an over-arching theme throughout the Summit was that there are no "one-size fits all" solutions to any of the challenges that have been brought on or accelerated by content delivery over the internet. Do you think the panelists you talked with are embracing a spirit of cooperation through this transition phase? Or was the feeling more like we need to toss out the antiquated business models entirely and start anew?
EG: On the Transformation panel I was struck by the ways in which traditional and digital competencies are, according to the panelists, being melded at companies as diverse as Vice and L'Express Group. For example: rigor and discipline are being superimposed on some of these digitally-minded operations at the same time that energy, enterprise and, as one panelist put it, "the ability to pivot nimbly after whatever misstep or failure" are recognized as valuable assets.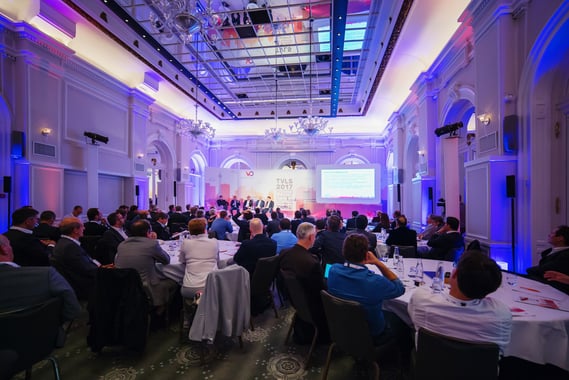 PF: Yes, that was a good example of how traditional and disruptive services are finding common ground in order to move both of their businesses forward. We also saw that in the data Simon Murray from Digital TV Research presented, showing that the majority of OTT deals around the world are with established cable and telco platforms.
But I think one area where we heard some very divergent points of view was in the future of audience measurement panel that Bruce moderated. While most agreed that existing panel measurement systems can't simply be thrown away until we have something useful to replace them with, Rahul Telang and Parrot Analytics' Courtney Williams thought many people in the TV industry are still placing too much emphasis on extrapolated measuring systems. They believe we can and should be aggregating and sharing actual interface data from platforms, broadcasters and data specialists.
No doubt, the next 12 months will bring about more change and we'll likely look back at the observations and predictions made at TVLS 2017 with a mixture of contented satisfaction of getting some things very right, and a little humility in areas where perhaps we got too far ahead of ourselves! But the discussions will go on and we'll continue to benefit from the insights of our peers in all facets of this complicated and fascinating business.
Discover ways that TV Business Analytics can grow your business here.